The Templafy team is back in the office after three fast-paced days in scenic Carlsbad, California, for ANA Brand Masters 2022.
For many attendees (including our team), ANA Brand Masters marked the long-awaited return of the in-person conference. Over 150 brand leaders gathered to enjoy everything we've missed over the last two years: drinking too much conference coffee, the new connections made in exhibit hall conversations and juggling Slack messages from coworkers who promise they only have one quick question! It was great to be back.
Alongside more than 800 virtual attendees, Brand Masters attendees enjoyed over 20 keynote sessions on Brand Marketing's most trending topics, including brand authenticity, creating brands for humans, and of course, brand activation.
Returning to the office feeling inspired, we want to share some learnings from four speakers we feel stole the Brand Masters show.
4 takeaways from ANA Brand Masters 2022
From speedy rebrands to the demand for greater brand authenticity, here are our top insights from this year's conference.

1. Rebrand timelines are getting shorter
Rebrands and brand evolutions are happening faster than ever - just ask Sharon Otterman, CMO of entertainment group Caesars.

Sharon's keynote, one of our main conference highlights, revealed how her team successfully launched Caesar's Sportsbook brand in just 99 days. If your jaw is on the floor, you're not the only one!

2. Audiences need authenticity, not fluff
The modern world, propelled by social media, is pushing brands to quickly become more inclusive, authentic, and responsive to defining cultural moments.

In her keynote on authenticity, Colleen Kelly from Anheuser-Busch summed up this trend by stating: "consumers are sick of fluff and pandering."

3. Brands need to evolve to remain relevant
Keeping up with a new era of consumer expectations, today's brands need to regularly check in with who they are and if their messaging aligns with target audiences.
This task can be more challenging for some brands than others - particularly if, like Joe Rivas, a VP of Marketing at IBM, you're given the herculean brief of reinventing an iconic brand over 100 years old.

Speaking of his company's rebrand, Joe shared how he approached redefining what exactly IBM, a company of over 50,000 employees, does in 2022. The outcome was IBM's impressive new "Let's Create" campaign, a global multi-platform marketing investment set to create long-term value for partners and clients through innovation and collaboration.

4. Employees always drive brand success
Creating a modern brand is one thing, but how can you ensure effective brand activation?
In her keynote, Lorraine Barber-Miller, EVP of Marketing at Philips, addressed this question, inspiring attendees with the story of how Phillips executes change management on a massive scale.
Relaying her experience working with a classic brand housing multiple products across diverse industry sectors, Lorraine revealed that her team rose to the challenge by developing a "customer-centric approach" to marketing, meeting customers where they are with a single Philips message.

Her secret to effective change management? Focus on people. She stated: "Marketing is the responsibility of every employee and every leader." Emphasizing this point, Lorraine advised all Marketing Executives to "build a coalition of advocates."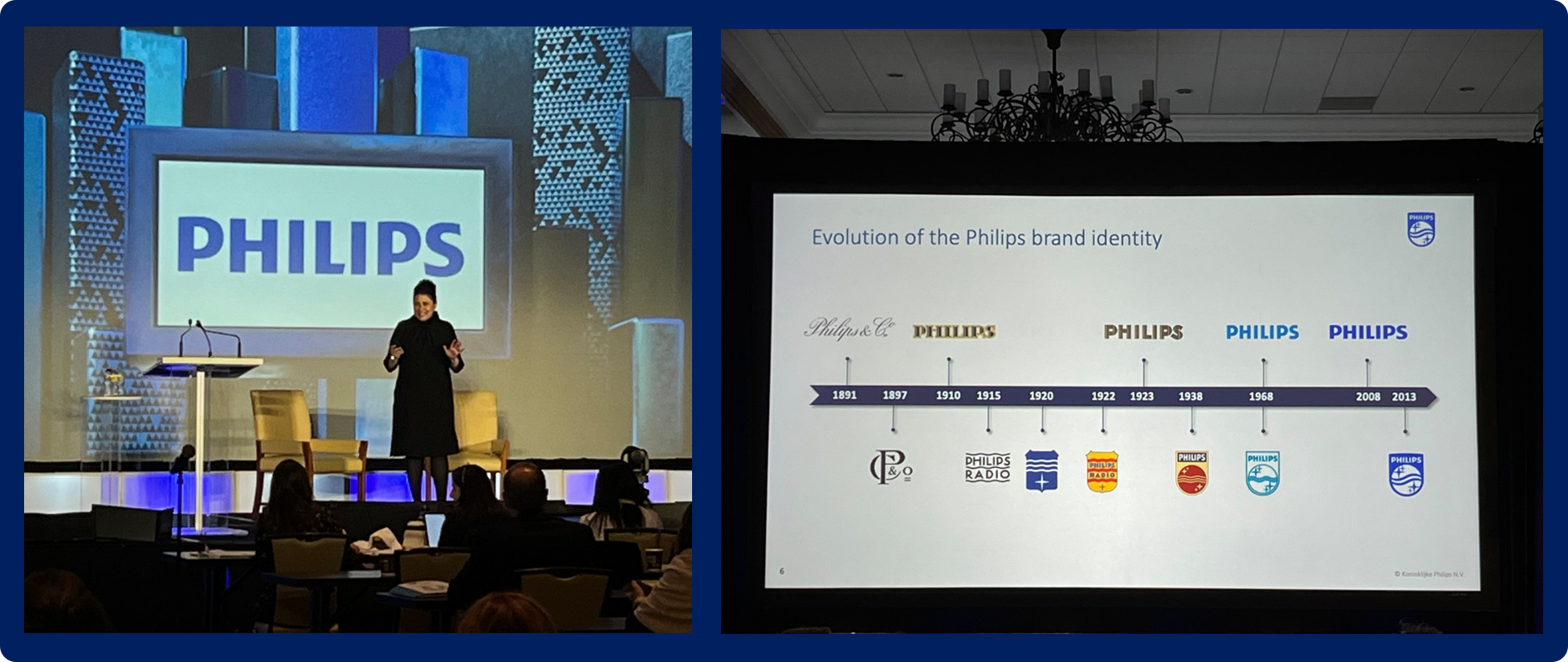 Final thoughts: arm your brand ambassadors with the tools they need
Leaving this year's Brand Masters conference, there was little doubt about the criteria for creating a leading brand.
Today's brands need to be modern, authentic, and exciting. They should also be flexible, with the ability to adapt to fast-moving consumer expectations quickly. At the heart of any successful branding activity are employees, who must act as brand ambassadors to support effective brand activation.
But building a coalition of brand ambassadors can be hard work. Without proper training and technology, your employees can be the biggest risk factor to your brand.
Each year, employees produce millions of pieces of business content – emails, documents, presentations – that transmit your brand to customers. However, according to our latest (re)brand activation research, the majority of businesses aren't giving their teams the tools they need to create on-brand content consistently.
When creating company content, 73% of employees say they don't use the latest company-approved version of relevant content, and 69% admit to regularly using Google to find company visuals.
To set your brand up for success, you need to give your brand ambassadors tools and know-how to access and distribute your brand easily. That's where next gen document generation platform Templafy comes in. We help align your workforce and enable all employees to create on-brand, high-performing business content faster. Embedded in company-wide workflows, our solution serves teams exactly what they need, when and where they need it within the applications they already work in, while allowing organizations to effortlessly govern content and track performance.


***
To learn more about Templafy's solution for brand departments, visit our dedicated page and find out how to make staying on-brand easier than going off-brand.