Branding is agile. It develops with the times. Well-branded companies recognize that what served them once will no longer suit audiences living in a different time with different priorities. And as a concept that is so necessarily adaptable to the changing trends in the world around them, it makes sense that branding keeps up with technology developments. And that's why automation and AI are so important to branding.
Branding automation is often viewed negatively 
Although it's a tool that offers countless benefits to your organization, from swifter processes and workflows to happier employees and better-targeted sales, branding automation is mostly regarded with skepticism. Perhaps it's because branding is a creative process, and there's a distrust of technology seen through a lens of destroying creativity.
And that's before we even get onto the role of AI in branding – viewed with even more skepticism, as people struggle to mar together the ideas of artificial intelligence and a creative process. In the light of increasing advancements resulting in art and articles created by AI, it's understandable that branding and marketing professionals are concerned about the impact of technology on their professions.
Data published at the beginning of 2020 revealed that this skepticism is reflected in the attitudes of marketers – 56% of those surveyed believed that AI and automation would negatively impact their brand, while 23% do not believe marketing can be automated. There's clearly a general reluctance to adopting brand technology, and a significant proportion of this reluctance may come from a lack of understanding.
But research suggests that 78% of businesses surveyed have received significant or moderate value from automating brand and adding AI tools to their marketing tasks. Alongside this, the global Martech industry has an estimated value of over $121.5 million. As a result, branding and marketing departments must be aware of the benefits that automation and AI technologies can add to their organization so that they can utilize these tools. 
What are the benefits of brand automation?
Firstly, it's necessary to understand what brand automation is, as the misconceptions surrounding the area suggest that the majority of professionals in relevant fields fail to grasp this. 
Branding automation has been defined as 'the process of using technology to automate manual yet predictable on-brand marketing tasks associated with the production process'. In practice, this means tasks such as content creation are simplified and can happen quicker, for example, because branded assets are quicker to access and find. Or it may be that the templates for content are readily available, and instead of creating content from scratch every time, it's easy to just add pre-approved branded elements. Essentially, branding automation uses software to speed up the process of branding wherever possible.
The benefits of this are significant, and the main ones include:
1. More brand consistency
Consumers are increasingly interacting with brands across more platforms than ever before and also caring more about brand authenticity than ever before. As a result, it's imperative that brands act in consistent ways across every piece of content and communication. Marketers spend nearly 17% of the workweek (an entire day!) on online reputation management to ensure branding consistency. Using automation tools makes this easier to achieve, as it's simpler to ensure the same brand assets and designs appear everywhere.
Find out how LRW ensures brand consistency
2. More time saved
No one likes spending their days doing manual tasks. 50% of respondents to a survey reported that they used marketing automation for the administrative tasks associated with content creation. It enables small tasks that are unnecessarily time-consuming to be lifted, freeing up professionals to concentrate on the parts of their branding role that require more thought, creativity, and talent.
3. Better personalization
Branding automation allows different options and testing to be a far simpler process than when it is manual. Technology provides better testing and data results, allowing a tailor-made view of content to be presented. It's also beneficial for localized marketing, as it enables this to happen easily, in a consistent and on-brand manner.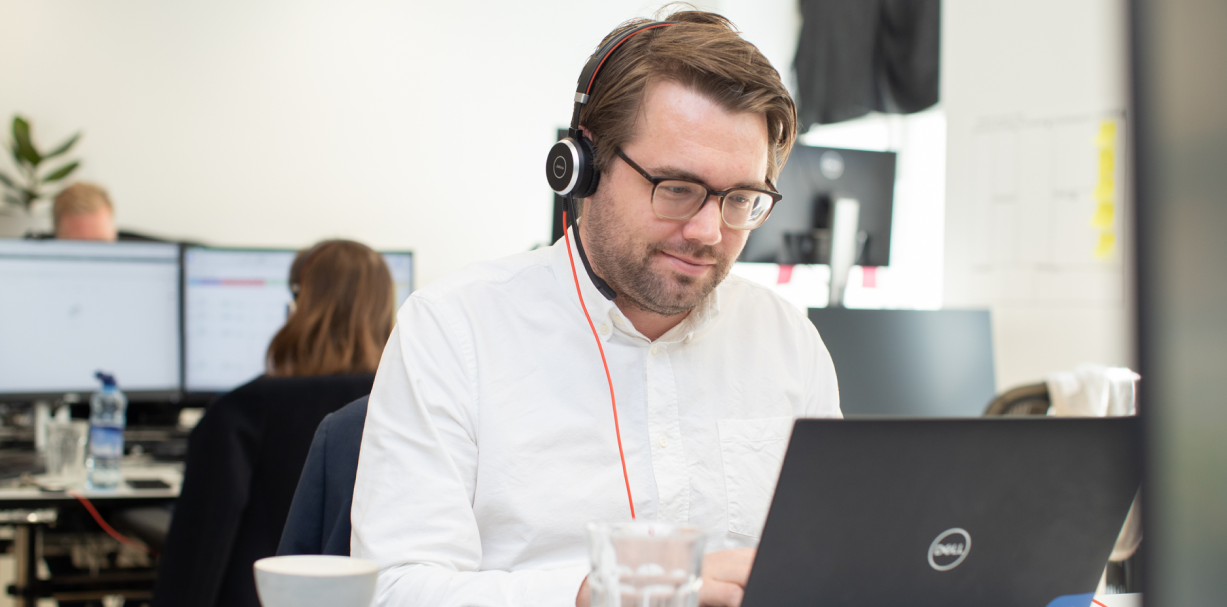 The benefits of AI branding automation tools
Artificial intelligence is still widely misunderstood in society, but at its essence, it is intelligence demonstrated by machines, based on the data they receive and are programmed to interpret. For branding and marketing, this means that AI technology can quickly and easily provide information and data that can be leveraged to improve processes and provide better customer services.
The most common applications of artificial intelligence for brand and marketing purposes include analytics (such as providing and interpreting data insights), identifying patterns and clusters in customer data to further understanding, improving the customer experience, and offering personalized product recommendations based on past actions.
Through all this, AI automation software achieves the purpose of improving processes and providing brand and marketing departments with more sophisticated data that creates better results.
The benefits are too numerous to detail, but here are some of the main ones:
1. Improving the customer experience
Would you view a brand more favorably if it had a customer interface that was easy to use, made sense, and also offered you personalized product suggestions and personalized chatbot messages? Although some people can see that as an infringement, it still makes it more likely that you would take relevant action in comparison to a brand that does the opposite. Where customers have a better brand experience, they are more likely to be loyal to the brand, leading to more revenue and success for the brand.
2. Analytics
As any marketing professional knows, data is vital for success. Data allows monitoring and furthers understanding of what has been successful, offering insights as to why this has been. The more accurate data provided, the easier it is for marketers to adapt their actions as necessary to lead to more success. AI provides data and analytical insights that outrival most other types of technology. In turn, this can be used in campaign creation, dynamic websites, recommendations for images and tone of voice, and more.
3. Security
A common concern that results from ongoing digitization is cybersecurity, as both companies and individuals are more exposed to threat. 8 out of 10 consumers are increasingly concerned that their data is not secure when using online platforms. But did you know that AI tools are often used to improve security? Where customer data is gathered by AI software, there is security built into the process to ensure that the risks of exposure to hacking are minimum, and all data is stored in a compliant manner. Both companies using data and customers interacting with the platforms can be sure that AI brand tools are ensuring the highest level of security.
Read next: The new DAM: Brand automation
In conclusion: AI and automation tools are a worthwhile investment
Can branding automation create a new brand for you? No, of course it can't. Can branding technology produce a rebrand full of work? By no means. Does branding AI mean that there is no need for designers, copywriters, and all other brand specialists? Not at all – even sophisticated technology can't replace these roles. But it can provide significant benefits that make everyday work tasks easier for your employees and offer a strategic advantage to your organization.
Brand and marketing professionals are only going to face success when they invest in tools that improve workflow processes and reduce manual tasks. Add to this the fact that these software options can improve analytics, offer more sophisticated data, and improve security and it's clear that the future of branding is powered by automation and AI.