Business proposals are high-stakes, high-value documents that, when produced perfectly, will grow your business. But what happens when proposals are produced imperfectly? And why is it so difficult for people to get them right without spending excessive amounts of time?  
There are good arguments for saying business proposals are the most valuable documents your company produces. The business impact of proposals – at least the ones made well – is huge! It's the pitch that can secure new business agreements by using the power of persuasion to sell your service or product.
Getting the fine details right -no surprise- takes a lot of effort when the creation process has a lot of manual steps. But small human errors, like misalignments in formatting, typos, inconsistencies, or questionable graphics, happen all too frequently – and the consequences are pretty depressing. In a global study of nearly 2,300 full-time professionals, 89% agree that even small errors in finalized content can damage client trust.
Unassisted workflows are causing productivity loss and errors
For skilled tasks that take a lot of time, it's normal to expect people to find the most efficient route to getting it done. In the case of proposal creation, it's pretty common to find employees reusing older versions by chopping up old proposals stored locally on their desktop and replacing information to suit a new prospect. In fact, 2022 research found that 36% of those creating sales content start from scratch each time (17%) or save over a previous version (19%)*.
Why would employees do this when it leaves documents vulnerable to branding and legal errors? It's not because they are obstinately refusing to adhere to brand and legal guidelines; it's because rarely does anyone have the desire to spend time researching the latest standards. Instead, it's probably more intuitive for an individual to lean into their productivity instincts and focus on creating the proposal in the most efficient manner they perceive.
How bad can the problem be?
As mentioned above, almost nine in ten people (89%) agree that errors can damage client trust. So, when that same research uncovers that an eye-popping 94% of respondents agree that errors still make their way into content that has already been reviewed and approved, the scale of the problem becomes apparent. The research goes further and says that 18% stated that this happens "often" -- and those who said their teams were overloaded were 50% more likely than average to say this.
Proposing a solution
As explored above, when the sole responsibility of creating high-quality, high-performing proposals is left to individual employees to figure out a workable workflow, this is when employee desire for efficiency is pitted against company desire for compliance. And nobody wants to compromise on either of these.
However, there is a win-win solution: and it's called automation.
Automating proposal generation does two crucial things. 1) it adds control of brand and legal compliance and puts it in the hands of the company. 2) It cuts out the inefficient, manual steps for employees creating proposals and offers them a simple and secure workflow to create business proposals that are, by definition, more effective because they look great and contain all the right content.
How proposal automation helps employees build better documents – in half the time
When the information employees need to piece together a proposal is scattered across different applications and requires manually finding and inserting the right pieces to create a coherent end-product; this translates to a frustrating workflow. In fact, a 2021 report showed that over a quarter (28%) of employees feel exhausted from going back and forth between applications all day.
While companies are most certainly providing all these necessary elements to create a great proposal, there is a gap between the distribution of content-elements to company repositories and the employee sitting with an open Word or Google Doc.
Just as video streaming services changed the movie-access game by pushing movies out to where people were watching, the technological shift is now happening with Templafy's document generation platform. Templafy pushes the right document content out to individuals in the applications they are using and adds automation to generate a precise document.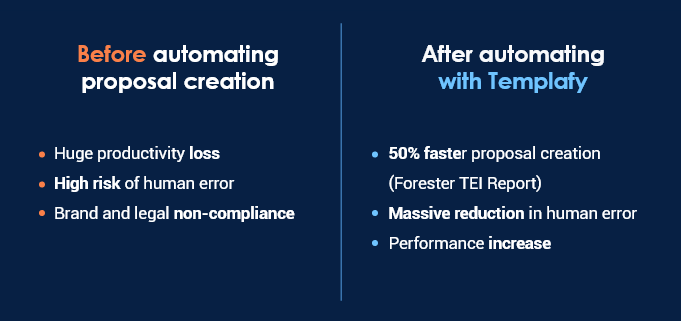 Templafy's proposal generation solution
By putting content directly into the applications where proposals are created, Templafy ensures that the company's desire for compliance is met by giving them that control over essential content reaching employees. Simultaneously, it provides employees with an intuitive workflow where the content they need is served directly to them exactly in the application where they are working, whether that's in Microsoft Word, PowerPoint, Google Workspace or Salesforce.
Templafy's proposal automation software pulls the correct content from across all connected applications right into the appropriate company template. And for the finishing touches, Templafy provides a suite of productivity tools for employees to finalize the parts that can't be automated.
In this way, efficiency and compliance are no longer competing, as the employee desire to work efficiently is met by the company providing them a smart and compliant workflow with automation taking care of the essential document details.
Remember when we used to go to the video rental store to find a movie? Well, pretty soon, we predict the old-fashioned manual way of creating documents will come with a hint of nostalgia too. Because when documents look after themselves, that's when you can focus on doing your work, only better.
See how much time you can save on proposal creation with Templafy.

*Templafy research: an online survey of adult full-time employees in the United States, United Kingdom, Germany and Australia was conducted between December 2021 and January 2022. The maximum margin of sampling error was +/- 4 percentage points with a 95 percent level of confidence.