In an era where many organizations are seeing remote working happening on a wider scale than ever anticipated, it's important that workers are suitably equipped to handle everything they can.
Unfortunately, technology can't keep your cat away from the computer or keep your child from interrupting your meetings, but it can help you work as productively as you're able to.
We know that everyone is facing this struggle together, and as we all get used to holding meetings from home and the difference that the remote workforce makes to both our personal professional life and the collaborations we're involved in, we want to help you out by providing a list of the top tools we find helpful:
1. Slack
Slack is an instant messaging tool for workplaces, which allows you to connect to the other members of your team. Through the use of channels (locked groups dedicated to specific purposes, for example 'marketing' or 'support') relevant messages or requests can be shared with entire members of a team in order to keep everyone updated. As few of us are able to just swivel round on our office chairs and ask a colleague a request at present, so Slack is the next best thing, and has the added advantage of being less interruptive to people's work. It's quick and easy way to make requests, stay connected, and update the relevant teams about what's going on.
Aside from strictly work tasks, Slack can also be used to help the company stay connected despite remote working. Channels can be created to share interests, for example dedicated to films or TV series. Through the use of the Donut app (link), individuals across the company are paired for a weekly virtual coffee date, in order to stay connected and get to know each other better – this also works well for organizations which are spread across different locations or are growing rapidly, as it helps people get to know each other.
"Slack is an integral part of making internal business communication and workflows seamless. Now that we're working from home and apart physically, it's even more important to use Slack to come together socially. We've integrated donut.ai into Slack so we can pair employees randomly on a global scale and locally in New York to chat over coffee. Employees are getting to now meet with co-workers they may have never had the chance to before, which allows them to feel the heartbeat of the company's culture on a global scale. The #coffee-buddies slack pairings have now become such part of Templafy's cultural structure, that I know we'll carry them on long after the quarantine is over." – Drew McColley, Head op Business Development
Slack is an integral part of making internal business communication and workflows seamless. Now that we're working from home and apart physically, it's even more important to use Slack to come together socially.
2. Zoom
As most people are now aware, Zoom is a video conferencing platform, which allows video calls to take place between individuals, and also large groups of people. Zoom has soared in popularity lately, due to its ease of use, and the fact that it has features such as screen sharing, which allows presentations to be shared virtually. Zoom also has a chat option, where the messages from any members of the call show up in a side panel, meaning that, for example, a speaker can address the questions at the end of a presentation easily. Although Slack is great, sometimes written communication isn't quite able to facilitate adequate communication, particularly when something complicated is being described, and that's where a Zoom call can be a better choice. It also minimizes the risk of misunderstanding, allows demonstration of how to perform tasks and face-to-face communication helps the feeling of being connected. A top tip for using Zoom is that the host can select to 'mute all', which is especially helpful for large calls when you're not sure whose child or pet is being loud in the background. Zoom is also great for hosting company events to continue company culture even with a remote workforce, for example having happy hour drinks each week with the organization, or daily check-ins with teams – try changing your virtual background for these for added amusement.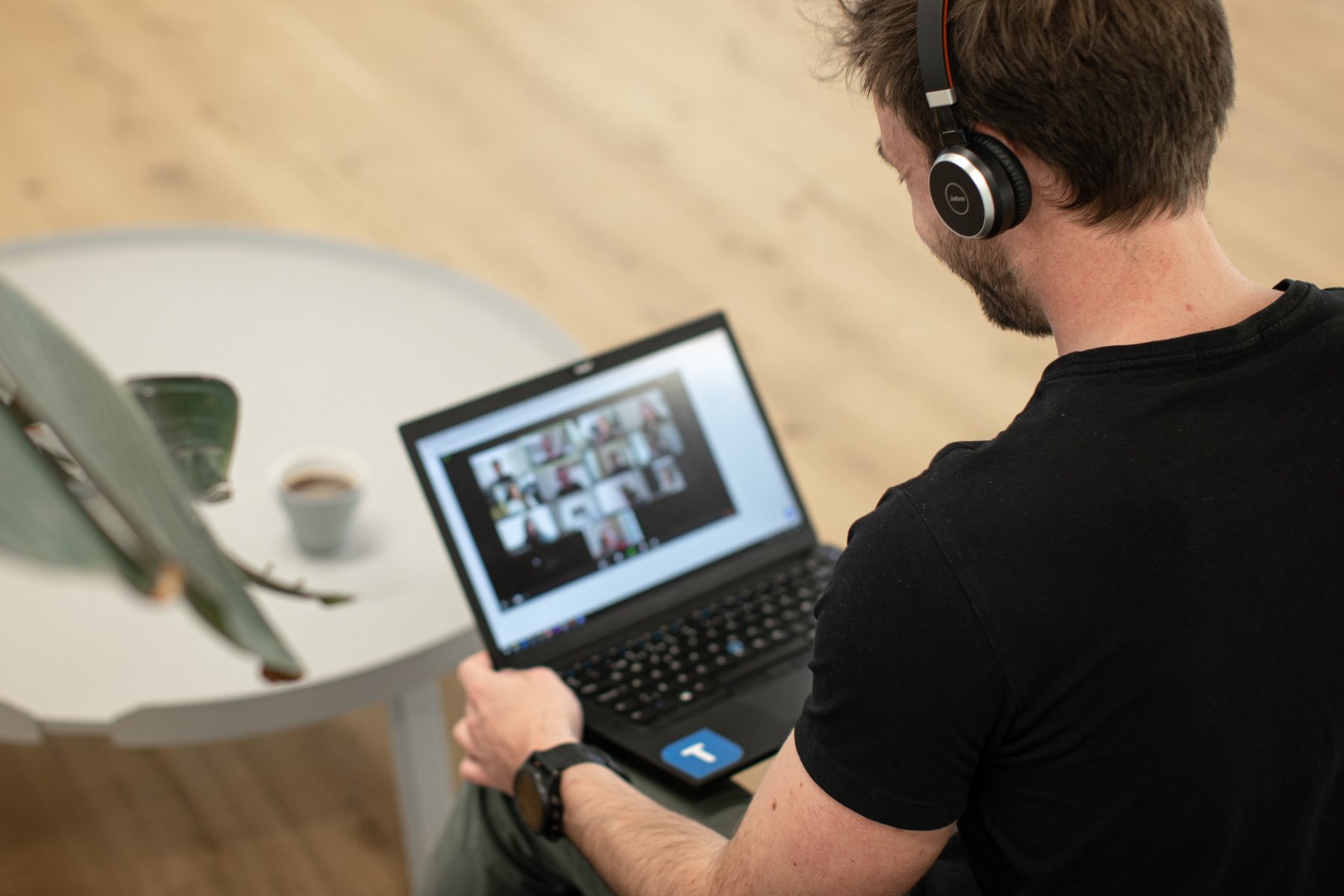 3. Trello
Left your sticky notes of to-do lists at the office? No problem – Trello has you covered. Trello's software allows you to keep track of all the tasks you're working on through their easy and simple online interface. In Trello, you create 'boards' where you can keep track of all the work you need to do – you can also add other team members to boards, meaning that it's easy to share the progress on collaborative tasks. Boards can contain images, links and checklists, alongside many other features, meaning they can be adapted to the needs of your specific task. It's helpful to be able to store all the information you need in an ordered and clear manner, but it's even more helpful to be able to see updates to tasks from colleagues in this way.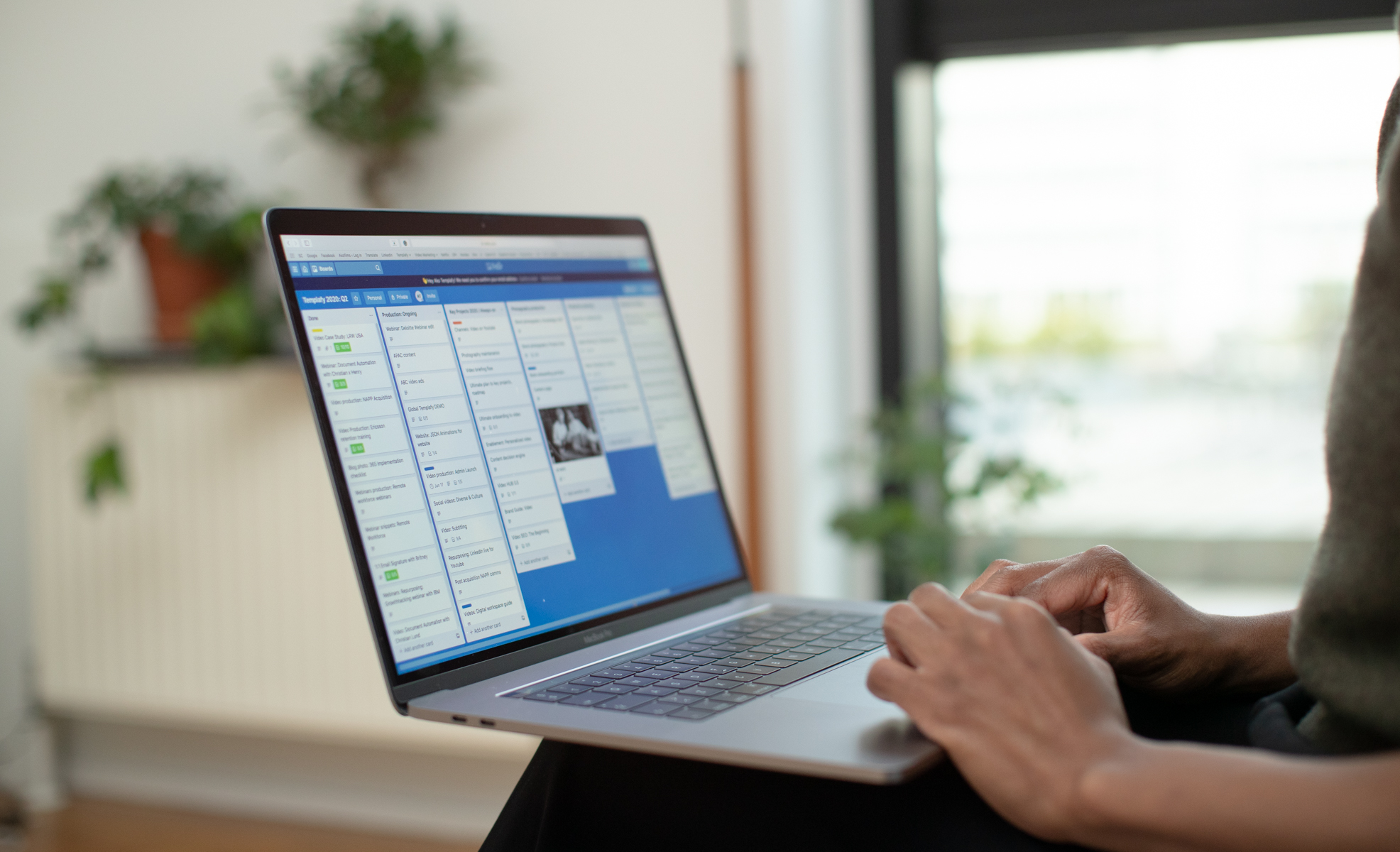 Through Trello, you no longer have to disturb their work day to ask for the latest updates, but can check the relevant Trello board to understand what's been done, and what still needs to be completed. Trello boards also provide a useful history of what completed work, meaning it will always be easy to see what was completed and when – plus, if you always have the correct links attached, you will be easily able to find relevant information for certain projects even months later.
"I use Trello in the same way as I used post-it notes, but with all the extra functionality and none of the mess. It's an excellent memory-app for the constant stream of incoming tasks, a handy collaboration tool, and it keeps my workload transparent for the team." Sue Cleary - Senior Copywriter
I use Trello in the same way as I used post-it notes, but with all the extra functionality and none of the mess. It's an excellent memory-app for the constant stream of incoming tasks, a handy collaboration tool, and it keeps my workload transparent for the team.
4. Office 365 or G Suite
Unfortunately, we're not all able to access all the relevant technology we'd have at work from home. This may mean that we are having to use one small laptop screen instead of the dual display we're used to, or are missing our ergonomic desk chairs as we have to make do with dining table chairs, but it may also mean that we're disconnected from the accessibility options we have in the office.
As a result of this, we can't just ask a colleague to quickly check a document, but will have to send it to them via email, for example if we need to get a signature on something which they would normally just sign. Or it may even be that using your own device at home means you don't have a regular Office package installed, so you're struggling to access documents.
This is where Office 365, or G Suite, is really helpful. These are online versions of software, where all you need is internet access and you will be able to create and edit documents easily. Both these types of cloud-based solution are beneficial for working from home for a number of reasons:
firstly, as discussed, they can be accessed through any internet browser on any device, meaning you're not limited by the tools you have available.
Secondly, multiple people can work in these documents at one time with changes saved in real-time, meaning that a colleague can come in and provide a signature, or do some editing and the file does not have to be saved, downloaded, sent, and then the same process repeated, leading to confusion.
And finally, online software such as this normally auto-saves to a secure online location, which means that you won't lose the latest version if your computer crashes, and you can leave your work immediately if a family member suddenly needs your help, whilst trusting that your work will be safe.
5. Templafy
Similar to Office 365 and Google G Suite, Templafy provides easy access, but to documents instead of software. As mentioned, one of the difficulties of working from home is being unable to access things you need, and this commonly results in difficulties accessing templates which are used by your company. If your device isn't connected to the internal system, it can be hard to find what's needed.
Templafy solves these problems, by providing access to all your company documents, templates and assets from directly within the software you're using. Even if you're working from home and limited to a non-work issued laptop, you can still access what you need. Not only this, but through using company templates, productivity is enhanced as less time is spent creating documents from scratch, and you can be sure the documents are always compliant and on-brand. Plus, Templafy is centrally controlled by admins, and they are also able to do this from home, meaning that regardless of where anyone is working from, the latest versions will always be available.
Templafy also integrates with many of the other technologies used in your organization, for example DAM systems, CRM systems, and security systems, meaning that you can access all the information you require to create company documents. With Templafy, working from home won't hinder the creation of perfect business documents.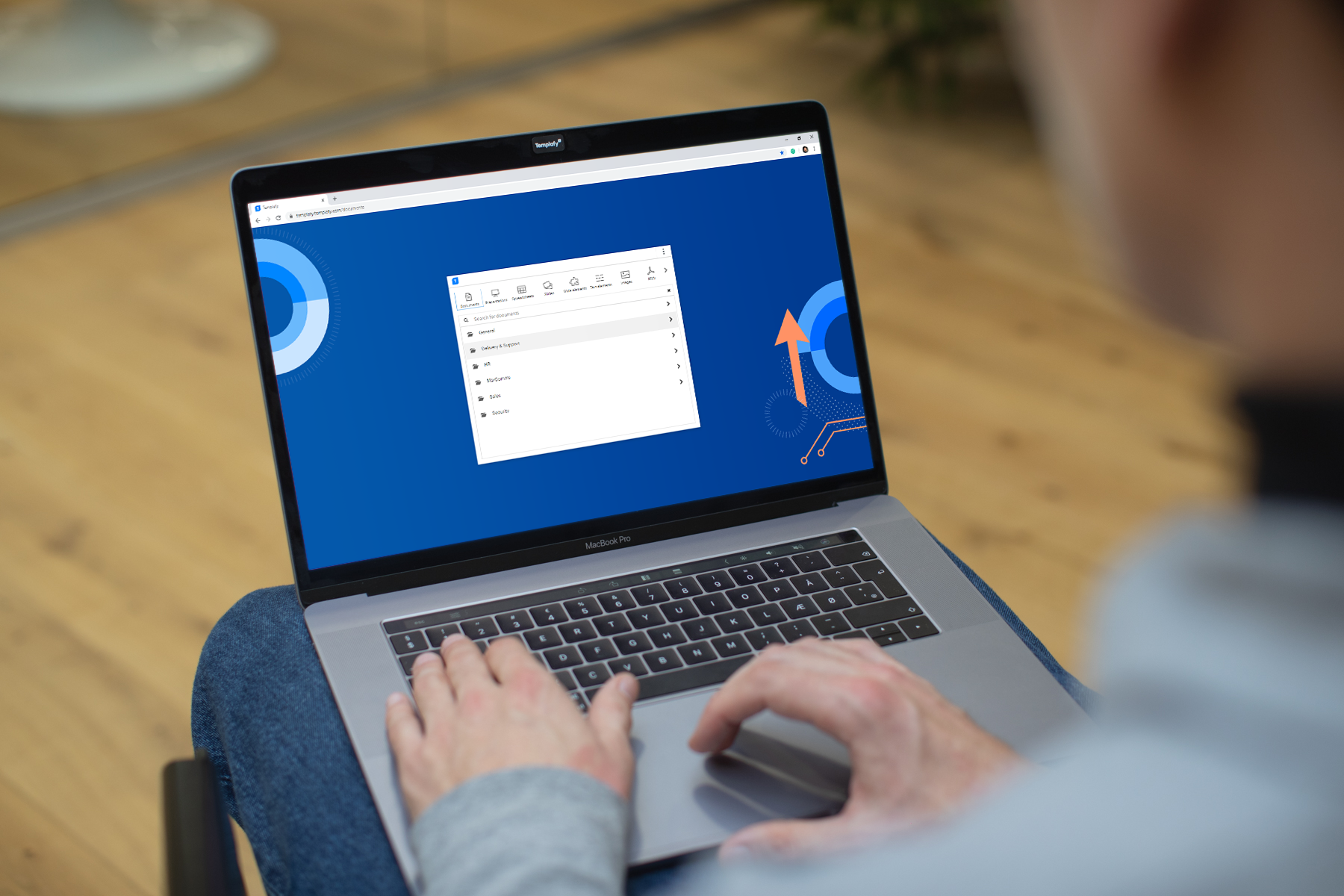 Other tools to assist working from home
We see the above tools as the core basis of your working from home setup – you can't go far wrong with them. However, we appreciate that depending on your specific role and organization, there will be other tools that are helpful. If you work in a creative role, then Adobe cloud is a necessity for allowing you to access the files you are working on in Adobe. In a sales role, Salesforce online (cloud or whatever it is) will provide access to all your contacts and allow you to track your deals and see the progress of your prospects. Although these job-specific tools are important, we believe that they should come after the basic grounding of the tools outlined earlier, as without these fundamental ways of connecting, sharing and accessing all your workforce information, any other work will be inhibited.
Digital workplace management in 2020: how to choose the right tools
And finally, the last piece of technology that we feel is necessary for the home office is, of course, a trusty coffeemaker. If, like some of us, you're realizing just how much responsibility you took for depleting the office coffee supply, then now is the time to invest. A good coffee maker will optimize your working from home productivity, and bring much more joy into your day. It helps support all the other tools mentioned in this article too!
If you're interested in finding out more about improving your own working from home life, or helping your team and organization to do the same, check out our working from home guide.