Have you ever dreamt of moving abroad, settling down in a new country, meeting new people, and simultaneously boosting your career? How about doing all this, but together with your family?
It might sound complex, but certainly not impossible. We asked Daniil Doronkin, our Senior Software Engineer, to share his story of moving to the Netherlands from Russia in late 2020 amidst the COVID-19 pandemic.
Read on to learn about relocating challenges, the benefits of the Dutch lifestyle, and adapting to his new home.
Tell us a bit about your background and family.
My wife and I come from Kazakhstan; however, we moved to Saint Petersburg, Russia, where our daughter Veronika was born a few years ago. We moved to Eindhoven almost a year ago, when our little one was only two years old. My wife is a medical doctor, but currently, she is trying to find a new career path for herself.
Why did you decide to consider the Netherlands as your future home?
We have traveled a lot as a family, and we wanted to experience more places. Previously I had a chance to live in Russia and Kazakhstan; however, the situation and lifestyle in those countries were not ideal for us. Many friends already lived in Holland, and we decided to consider [Eindhoven] as the desired location. I love how the Dutch raise children, the education system, and the calm and stable lifestyle.
How did you learn about Templafy, and how was the recruiting process?
When I was approached on LinkedIn by Templafy's Talent Acquisition team, I was curious and decided to take the conversation. If not about getting the job, then at least to learn more about the process and opportunities in the Netherlands.
After the first talk, I got excited and decided to investigate a bit more about Templafy and the company's products. I loved the tech stack the engineers are working with and its cutting-edge technologies that I did not have prior experience with; however, I was eager to learn, so it was a pretty good match. Moreover, I love that the company is very international and has offices in various countries, so the environment is very global and there are many opportunities to travel.
How did Templafy support you with the relocation formalities?
When I signed the contract, Templafy helped me get all the necessary documents. The local People Partner heavily supported me and some to-be-peers who also relocated from Russia. They told me how to get the documents ready in the shortest amount of time, look for housing, day care, and answered other questions that popped into my head.
Templafy applied for a working visa for my whole family, so all I needed to do was pick up our passport at the Dutch embassy in Moscow. Additionally, we received a relocation bonus, which was enough to rent the apartment in Eindhoven for the first month, book our flights, and move our stuff. In total, it took around three months for us to have the papers ready, and, finally, it was time to move!
I loved the fact that the company is very international and has offices in various countries, so the environment is very global and there are many opportunities to travel.
Tell us about the day when you left your country.
As for the day we had to move, I remember that all our fears were mainly related to the Covid-19 pandemic going back to when we moved in November 2020. The borders were closed everywhere, so it was a big relief when we entered the country.
We had a nice temporary place booked and went straight to our hotel from the airport. I also remember that upon our arrival, we were calling our friends already living in the Netherlands and asking them for food delivery options because we didn't know where to buy food, and it was pretty late. It was a funny situation, but we did get dinner that evening after all!
On your arrival to Eindhoven, what were your biggest surprises and challenges?
We were quite surprised by Eindhoven and its city skyline. In Russia, people mainly live in huge apartment blocks, while it is normal to have a townhouse here. The whole lifestyle is quite different, with people primarily using bikes for their daily commute, and the downtown is cozy but also very lively, especially in summer.
Of course, it took us a while to learn more about the city and to feel its vibe because the greatest challenge my family had to go through upon arrival was the Covid-19 pandemic. We arrived in the Netherlands during the lockdown, so nothing was happening in the city. Nowadays it's different, of course, there are plenty of activities for both adults and kids, like festivals, concerts, different sports sections, and many other cool events.
How do you feel at your new place of living now?
We are starting to feel at home here. My daughter, who is almost three years old, attends Dutch day care and understands Dutch. As for myself, Templafy provides free Dutch classes for all employees coming from abroad. Despite the majority of the Dutch-speaking English well, I prefer to learn Dutch because it helps you deal with administrative issues and simply chat with people on the street and make friends with locals.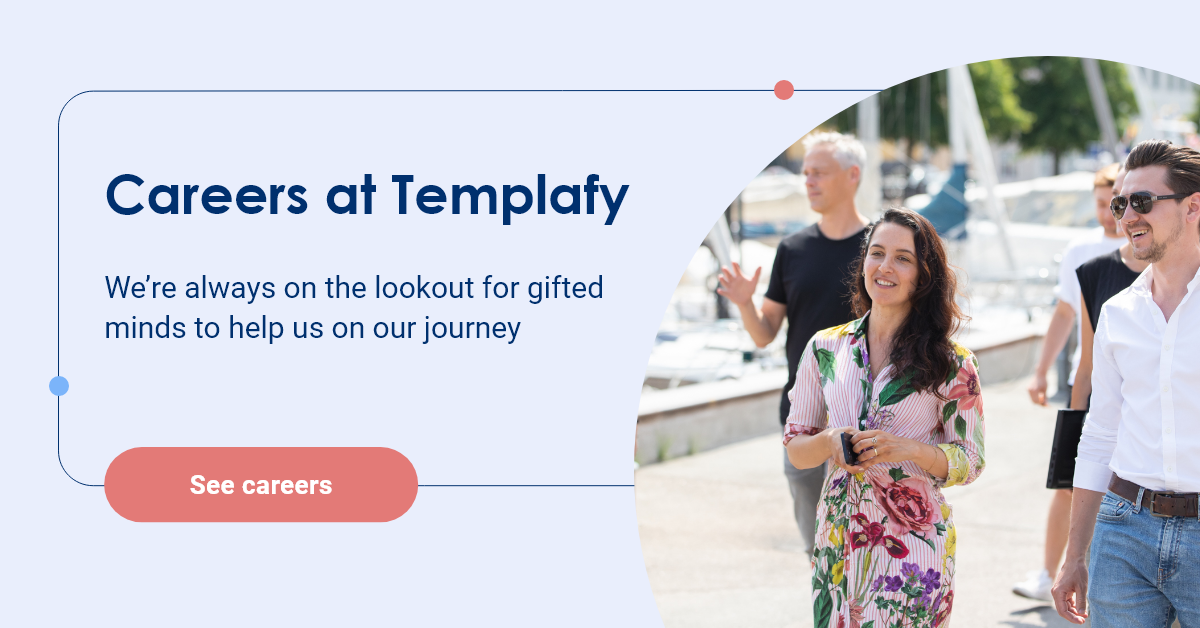 What are your tips for anyone considering relocation with a family?
Of course, before moving abroad, it is essential to realize the consequences fully. For example, it is not easy to find your ideal accommodation in Eindhoven; however, it is not impossible. In fact, we just bought a house and are currently very busy turning it into our home.
The positive aspects outweigh most of the struggles. I believe the biggest benefit of living in the Netherlands is the work-life balance. The Dutch are really nice; they are very straightforward and open, so you always know what to expect from them.
Almost everyone speaks English fluently, so you do not feel excluded from social life. What I like the most about staying here is how chill and relaxed everyone is. So, as for me, the best way to integrate is basically to follow this trend and just enjoy!
Our team in the Eindhoven office are currently looking for talented and motivated people to join. Check out our careers page and LinkedIn to view the latest opportunities.