The Excel Link in the ProductivityPlus module connects Excel charts and tables directly to PowerPoint presentations. Linking ensures that any changes made in the Excel file will instantly update Excel elements in the PowerPoint with one click. With this update, we have made our Excel Link stronger by introducing even more functionality. This Excel Link is now optimized to deliver usability improvements for both the admin and end-user, and to link all the types of data supported by Excel, including individual cells in Excel.
Why is this update important?
Heavy users of PowerPoint require ways to improve their workflow and increase efficiency. And company admins want to have full control over the use of business-critical information, such as pricing or company data. By providing the flexibility to control business-critical data via a live Link to governed data in Excel, this update offers assurance that all employees creating presentations company-wide are working more efficiently and with total accuracy.
How does it work?
Individual end-users creating PowerPoint presentations can link data from their own maintained Excel sheets to any presentation they are working on by simply copy-pasting the graph, table or data from an individual cell. This allows them to keep all their presentations that contain Excel Links up-to-date in a more productive workflow.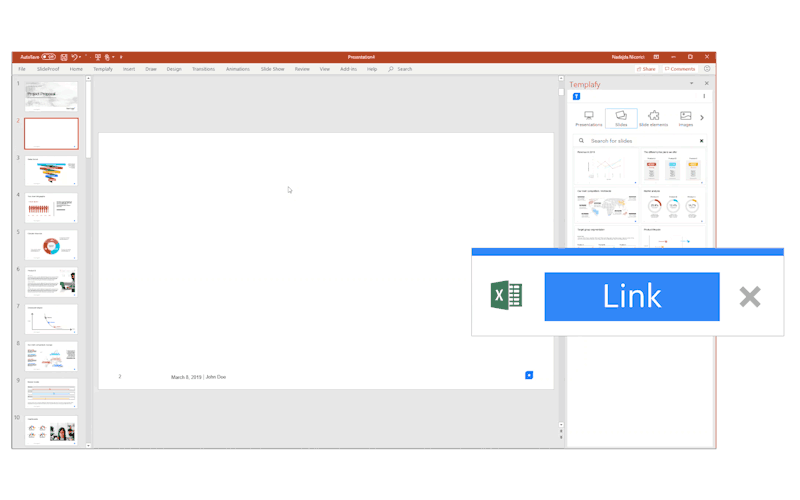 Admin users can upload ready-made slides to Templafy containing Excel Links to company-controlled data and distribute them company-wide instantly. All governed data linked in the slides are centrally controlled by the company, taking the burden off individual end-users to search for the latest data. Admin users need only update the Excel sheet data to keep all slides with Links in Templafy up-to-date.