Document productivity isn't set to become any less important in 2021. On the contrary, in an era where remote working is set to continue, and technology is continuing to advance and provide new solutions, finding the most productive ways of working within documents remains paramount for organizations' successes.
The vast majority of jobs involve working in documents. Regardless of the specific industry, there will always be tasks that require documents - whether that's letters, contracts, memos, presentations, emails, or spreadsheets. That's why enhancing document productivity is vital for every organization.
Why is document productivity so important in 2021?
Arguably, document productivity has always been important for organizations – the more productive employees are and the less time they spend on manual tasks, the more time and money is saved across the organization. But this isn't news. Document productivity has always been important for organizations – so why does it matter more than ever now?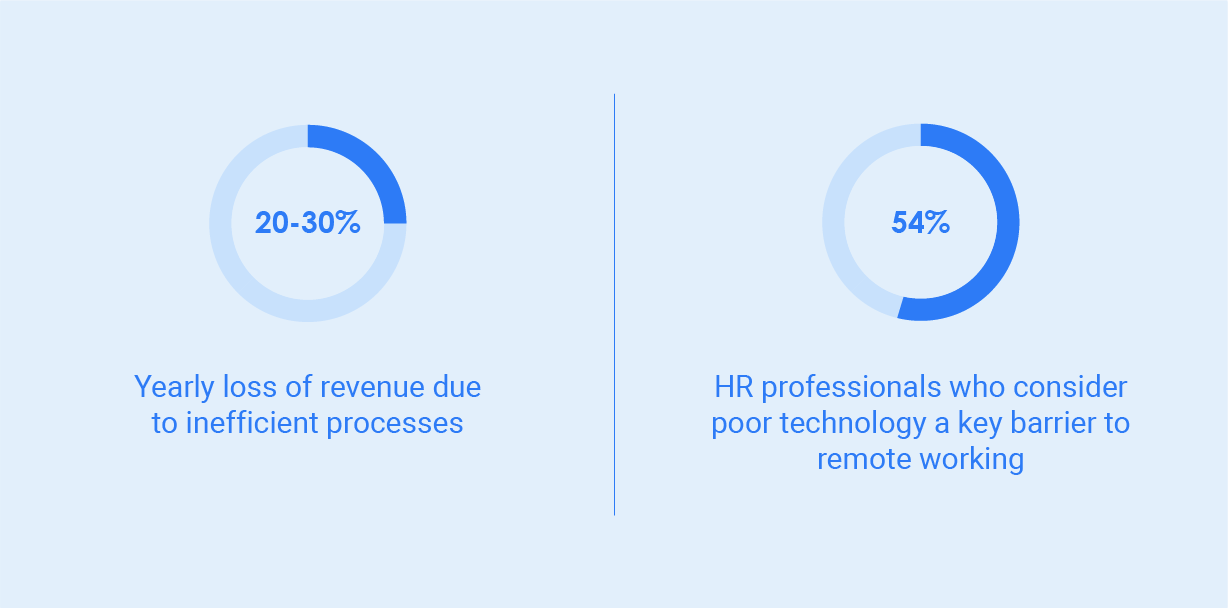 Research suggests that organizations lose 20-30% of revenue every year due to inefficient processes. That's reason enough to ensure the processes and solutions that you have for working in documents are as optimized as they can be. But that's not all.
2020 has revolutionized working trends in a lot of ways, with the sharp increase of working from home, which looks to continue for the vast majority of large organizations. But within this, 54% of HR professionals have identified poor technology and infrastructure as the biggest barrier to effective working from home.  
Based on this, and the fact that working remotely is looking likely to continue, it's clearly in the best interest of your organization to ensure they optimize document productivity, particularly for remote workers. Nowadays, there's a vast array of document productivity tools available, providing solutions to the most common difficulties in document productivity. The available software is continuously developing, with new solutions available promising new benefits for document positivity. Amongst such a developing landscape, the question arises of how to choose the correct tools to improve your document productivity?
To help answer this, we've rounded up the top document productivity trends for 2021 – the things that, according to the latest research, will be most important to help optimize your document productivity in 2021 and beyond.
Before we delve into these trends, it's important to note the main difference between the 2021 trends and what's come before. Often, it can be easy to get swept away with the specific trends and lose the bigger picture of why they're important for document productivity.
In light of this, it's important to remember that the key difference from 2020 to 2021 relating to document productivity is the change from tools that were nice to have in 2020 and tools that are necessary to have in 2021. The forecasts for 2020 did not predict the COVID-19 crisis and the impact that would have on the digital workplace and productivity within it and provided solutions that would be helpful but were not essential. However, one year on, and the trends are no longer just helpful, but necessary to take note of and invest in. If your organization is to gain or retain a competitive edge in a digital working era, productivity can't be taken lightly or seen as a second priority. It must be embedded in the core of workflows and optimized throughout every task.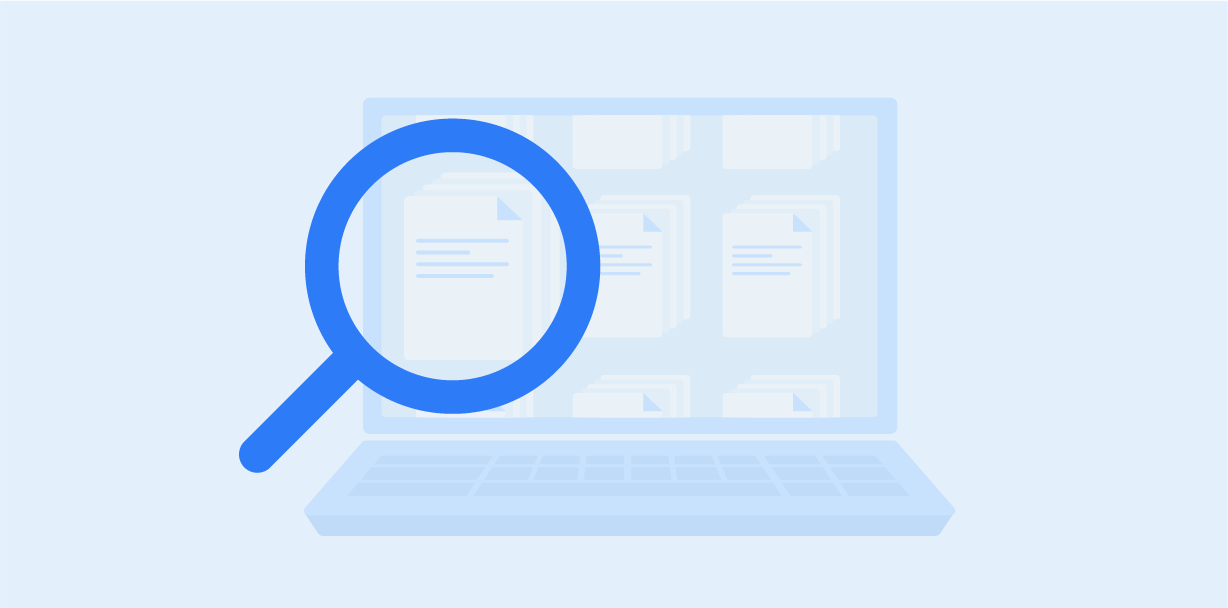 Let's take a look at the top trends relating to document productivity in 2021
1. Accessibility
Firstly, and arguably most importantly, is accessibility. Did you know that employees can spend up to 18 minutes trying to locate a document manually? In a time-limited workday, it's of no benefit to anyone if employees take so long trying to access the correct document. It slows down the pace of works and increases demotivation, neither of which is conducive to productive work. Although the reasons for accessibility struggles are varied, ranging from storage systems to devices used or how documents are shared, accessibility is a central trend in a remote working era because if it is hindered, it can seriously harm your organization.
Thankfully, there are a wide variety of solutions available to improve accessibility and aid productivity. These range from DAM systems to document management systems, and it's important to find the correct one for your organization. Due to the variety of work locations and devices used, accessibility has to mean accessibility from anywhere – any device, any internet connection, any document creation software. The best way to achieve this is through ensuring access is cloud-based. The cloud enables secure storage and provides access that isn't limited in the same way on-premise solutions are. With more and more organizations turning to the cloud for its accessibility benefits, it's likely those that don't will be left behind by the competition.
The first step of any work with documents is accessing them, and the more quickly and easily this access is achieved, the more productive the employee is likely to be within them.
2. Integrations
Although accessing content needed for documents is the first step, sometimes it's more beneficial when this content is linked to document workflows, and integrations are what allow this.
Integrations offer a streamlined workflow that connects all the different elements necessary to create a document. This increases document productivity as it brings all assets into one place to make it simple to work on the document itself. Whether you're incorporating customer information from a CRM, using a template stored in your document management system, or utilizing your storage system, integrations bring these all into the same workflow.
Commonly, organizations invest in software they know will help with certain parts of the workflow without fully considering how exactly it fits in with the bigger picture. Where different solutions are used in isolation, they may help with the task they are created for but will also deepen siloes in workflows and lessen productivity overall as employees have to switch from application to application. Integrations remove this difficulty, bringing all the tools needed into one effective workflow happening from one place – usually within document creation applications. This improves uptake of the individual systems and also increases document productivity by the time it saves and the easy fluid nature of the workflow.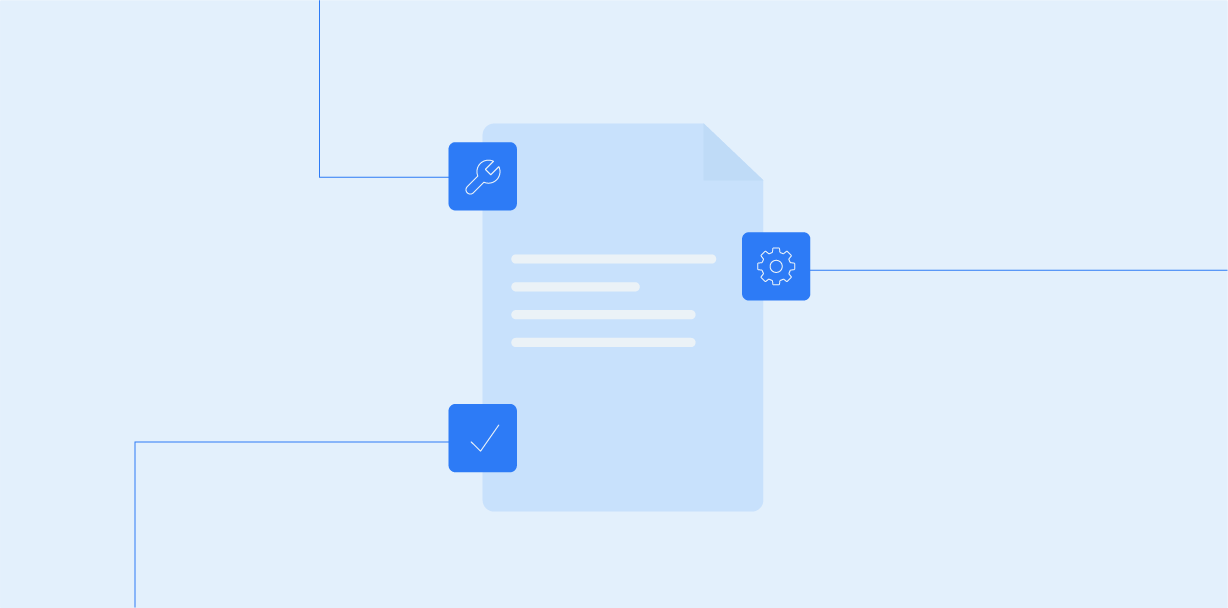 3. Collaboration
A smooth workflow is beneficial for productivity, but a document is rarely 'finished' when one employee has completed their task – that's why those serious about document productivity need to pay attention to collaborations. And with 83% of employees stating that they have wasted time on the wrong version of a document, it's clear that collaboration is something organizations should be prioritizing.
Most documents require some form of collaborative input, whether it's a colleague adding more slides to a presentation, a member of your legal team checking a contract, or a contract needing debate with someone external. Documents need collaboration, and for document productivity, collaboration needs to be a seamless process. The difficulty is, this so often isn't the case. Documents can be shared over emails or links, often between multiple recipients, and different versions are saved in different places, with important changes often overwritten and errors made.  
Using systems that make collaboration easy provides a clear benefit for your document productivity. Choosing software that allows this promotes a better workflow. Examples include software that allows multiple user access in one version, programs that show versioning and changes to make sure no important details are overwritten or lost, and software that allows document tracking to see which sections have the most interaction.
Particularly where employees are all working in different locations, or even just with international teams, it is vital to transform workflows to ensure collaboration is as seamless as possible. When feedback is needed or input required, it's in the best interests of document productivity to enable this as effortlessly as possible.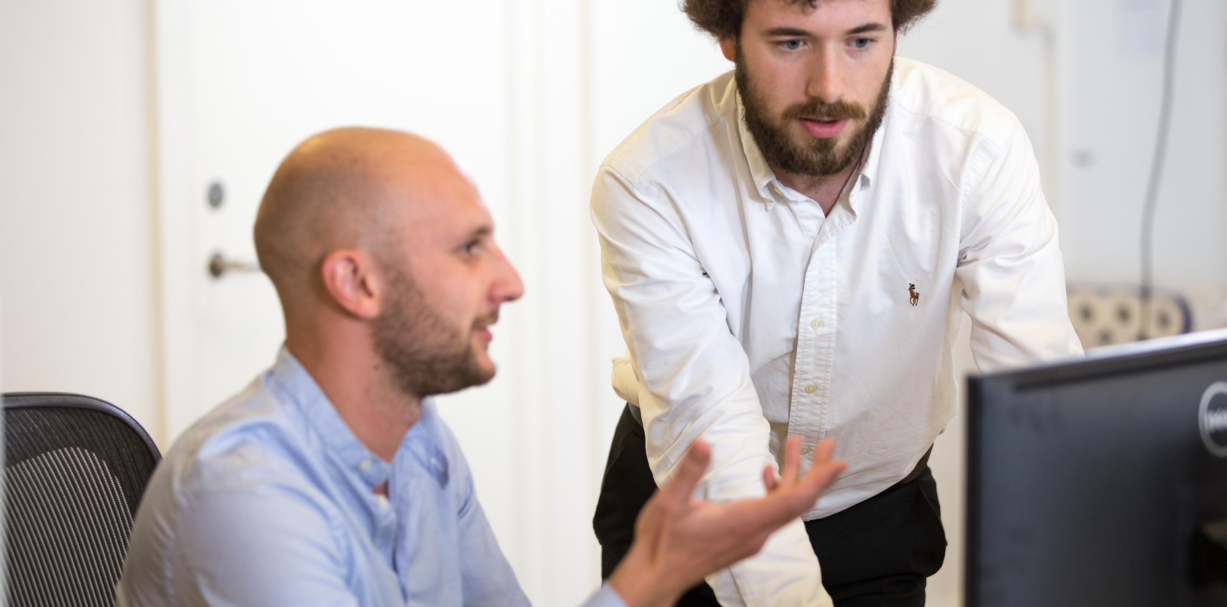 4. Artificial Intelligence
Automation has been increasing document productivity for some time now, but automation is getting smarter, and in particular, automation based on AI is gaining traction in relation to document productivity.
Often, the mention of artificial intelligence brings to mind robots, voice-activated commands, complicated algorithms, and so on. But AI doesn't have to mean far-fetched solutions. By 2021, AI is estimated to recover 6.2 billion hours of worker productivity, and this is through how it allows improvements to document productivity.
AI is a key way of enabling workflows to run intuitively and helping workers find the information that they need. Microsoft describes the benefits of this as, from aiding with searching for documents, to suggesting next actions based on a history of stored data, and even with collaboration issues such as translation to allow more effective communication between different countries of an organization.
The field of AI is still relatively new, so the benefits it is adding in the areas in areas relating to document productivity are just beginning. Despite this, we're in no doubt that they will continue to spread throughout the next year, providing a strategic advantage for document productivity in the organizations which use them.
The above trends all look set to change and improve workplaces. Where document productivity increases, employees use less time on manual tasks and can focus on the aspects of their job that are more important. In turn, this promotes employee happiness and creates higher levels of job satisfaction, leading to an increased level of motivation. Alongside utilizing document productivity trends to save time and money, it's also an important way to help your employees and make the most of their skills – both in 2021 and beyond.