The acceleration of the Internet of Things is staggering. As of the beginning of 2020, the digital universe consisted of 44 zettabytes of data. For context – that number of bytes is 40 times more than the number of stars that can be observed in the entire universe. The speed and volume of today's data and a generation of content producers has fundamentally impacted the modern workplace. As employees ditch the physical world for digital, they're creating an ever-rising number of online documents – from sales presentations to invoices, standard contracts to finance reports, press releases to blog articles.
As the number of documents has grown, so has the importance of document management control. Companies need to know that their teams are producing and distributing on-brand, legally-compliant and consistent information - which is why the document control checklist has become an essential tool for any enterprise looking to optimize documentation standards and improve document compliance.
Why does your business need a document control checklist?
Building a strong brand that is successful is about consistency at every touchpoint. However, if employees are left to create documents based on their individual preferences and approaches, you'd soon find your company's output full of discrepancies due to difficulties in finding guidelines and personal preference. For instance, some may use color to highlight important text whereas others might bold their words, some individuals might go font crazy, or busy employees might sacrifice formatting completely. The result is disjointed and unprofessional work with your brand name assigned to it. Although a brand style guide can be helpful, often these are an overarching set of guidelines which are difficult to translate into the every day document - when was the last time you looked at a style guide before sending an email or writing a letter?
This is where document control checklists come in. They are a useful weapon for standardizing documents and getting your whole team on the same page to avoid brand inconsistencies, and provide clear guidelines for the most common customer touch points: documents.
Without document control checklists, businesses expose themselves to compliance breaches. In terms of brand compliance, off-brand elements such as fonts, images, and logos could come into circulation. For legal compliance, employers can't be sure that employees aren't using outdated information such as old legal disclaimers.
Then there's the important issue of an ISO document control checklist. The ISO 9001:2015 is the "international standard that specifies requirements for a quality management system (QMS)." This standard is used by businesses to demonstrate to clients and regulatory bodies that they can provide and maintain consistency and performance across their products and services.
You can find more information about the ISO document control checklist here - but as an overview, it involves elements referring to protection, availability, storage, change control, retention, disposition and distribution of documents, and details the mandatory document information that an organization needs to have on their document control internal audit checklist.
What does a document control checklist look like?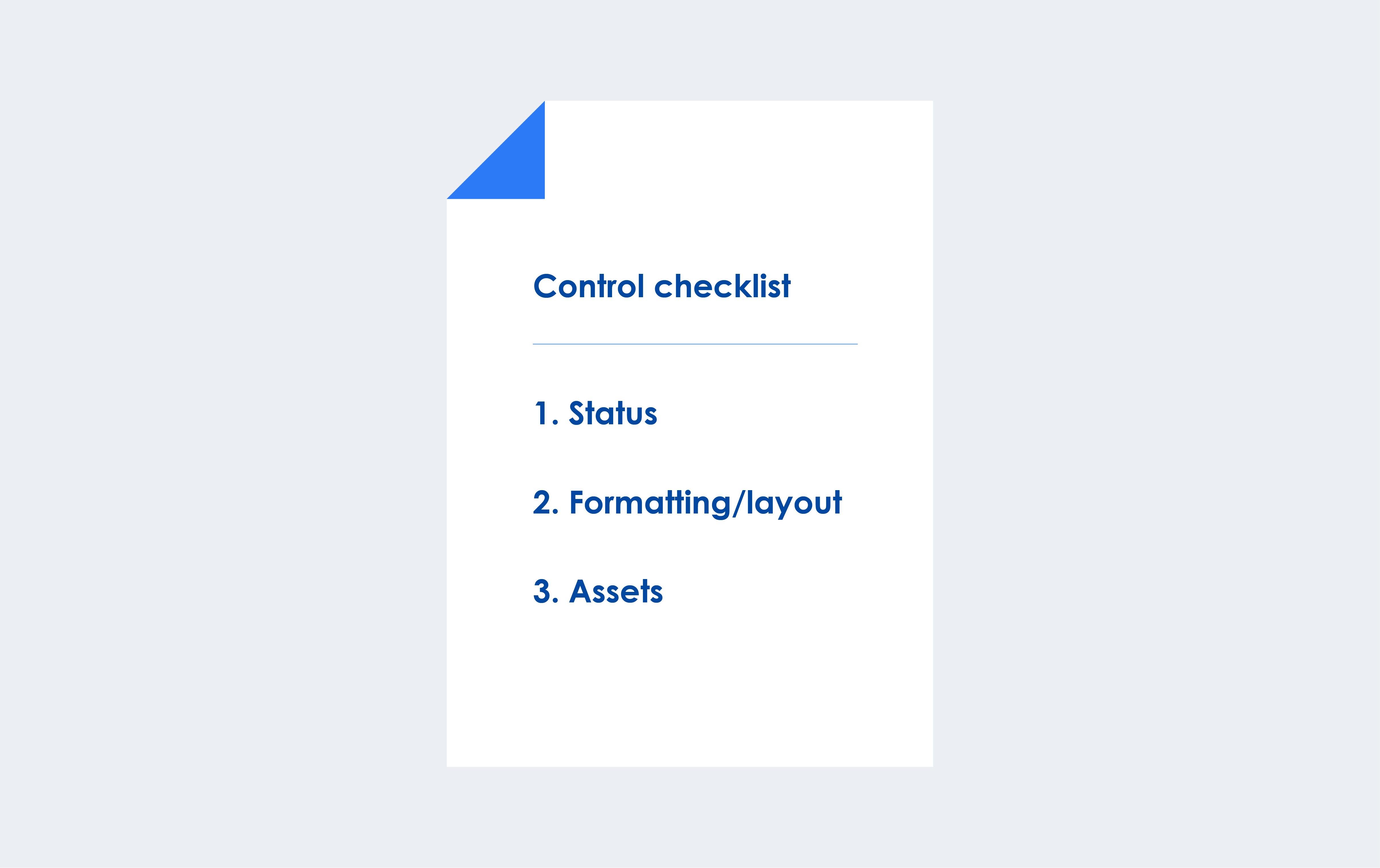 Document control checklists will vary significantly from organization to organization. However, in general, they cover areas such as document status, formatting/layout, and assets. We've listed some sample document control checklist questions to consider below:
1. Status
Has the document been approved or is it in draft mode?
Who has been involved in the approval process? Does the document show approvals and co-creators?
Have track changes been accepted/rejected and turned off?
Does it show where the original document is located?
Does the document have a live date and expiry date?
2. Formatting/layout:
Does the document use brand-approved fonts styles and colors?
Are all pages paginated?
Do all URLs contain the correct hyperlinks and display the full URL?
Has the document been formatted using Style elements (Title, Subtitle, Heading 1, Heading 2, Body text)? Are these in hierarchical order?
Are there any spaces and special characters in the document file name?
Has the document been reviewed in Print Preview?
3. Assets:
Are all assets rights-free or belonging to your organization?
Do all non-text elements such as images have alternative text descriptions? Do these accurately describe the non-text elements?
Is "In Line with Text" used as image text wrapping style?
Are all table columns named?
Are column cells centered and documents free of merged cells?
How can Templafy benefit companies using document control checklists?
Templafy simplifies and enhances document control for both employees and Document Control Managers by providing a one-stop-shop for everything employees need to create on-brand and legally compliant documents.
Accessible within all employee's Office applications, Templafy's cloud-based solution provides employees with direct access to document templates which are already set-up with on-brand, pre-defined checklist elements. When using a document template from Templafy users can trust the format, logo, and font follow the latest company standards.
Templafy's Library feature provides deep integrations with DAM systems, giving employees access to approved document assets such as images, logos, icons and infographics - so there's no need for rogue Googling or checking an image's alt- description is correct. Plus, there's no need to spend time consulting a document control checklist or referring back to the latest internal audit checklist for document control.
Document Control Managers can rest assured that employees have the tools needed to always create on-brand and legally compliant documents with Templafy's Validator. The Validator identifies any off-brand elements in layout, text or visual fields, alerts the creator and offers them on-brand alternatives at the click of a button.
These solutions are cloud-based, making them available whenever employees need them, and work both online and offline. In offline mode, Templafy automatically synchronizes templates and assets to each employee's desktop so they can create on-brand work wherever they are.
For those in charge of document control, all document changes can be made quickly and rolled out instantly through Templafy's centralized administration hub. In this online interface, access to document elements can be controlled, employees assigned particular assets dependent on their team, location or position through filtering choices, and new templates can be published in real-time - saving IT time and boosting the organization's workflow.