In October 2020, Google announced that its enterprise platform, Google Workspace, had surpassed 6 million business users after onboarding one million new customers in just under two years.
For anyone familiar with Google Workspace (formerly G Suite), which includes those who work for schools, governments and global brands such as PwC, Salesforce, Uber, BuzzFeed and HubSpot, this surge in popularity will come as no surprise. Whether you're a small start-up or an international, multi-office corporation the list of reasons to use Google Workspace is a long one.
Google Workspace offers access to great digital products
Before we dive into Google Workspace benefits, if you're wondering 'What is Google Workspace?', here's a quick overview: Google Workspace, formerly known as Google Apps, is Google's suite of innovative, cloud-hosted tools designed to facilitate enterprise creation, collaboration, productivity and mobility.
Perhaps the number one reason to use Google Workspace is to gain full access to this bundle of productivity-boosting apps. Backed up with 24/7 customer support through live chat, email, or phone, these products give employees all the fundamental tools they need to create and collaborate effectively on daily business projects.
Some of our favorite Google Workspace features and apps include:
Gmail: Create professional and personalized business email accounts for as many employees as you need using Gmail's email hosting service. This is one of the major Google Workspace benefits for small businesses but no matter what size your company, you can take advantage of smart in-app Google Workspace features such as email scheduling, Google Translate, 'Nudge' alerts, and Smart Compose, which uses Google AI to write your emails for you.
Google Docs, Sheets, and Slides: Use these dynamic document creation apps to create and edit text documents, spreadsheets, or presentations from within your web browser. These programs aid optimum team collaboration through easy document sharing, real-time editing, comments, multi-author creation, version-checking, built-in chat, and automatic saving.
Google Drive: Store all your documents and files in this centralized, cloud-hosted hub. All assets can be easily shared with their own link and permission settings and can be found within seconds thanks to Google Workspace's advanced search functionality. Google Workspace is also the source of another of the biggest Google Workspace benefits - unlimited data (more on this below).
Cloud Search: Supercharge your search abilities with this enterprise-wide search tool. Track down any file hosted in your company across Gmail, G Drive and Calendar apps.
Google Calendar: Easily schedule internal and external meetings with Google's native calendar app. Google Calendar, which is handily connected directly to Gmail, gives you access to a whole host of useful Google Workspace features such as multiple calendar creation, email reminders for meetings (along with real-time traffic information) and calendar integration with meeting rooms and your colleagues' diaries to prevent back and forth communications about availability.
Google Hangouts/Meet: Keep in touch with colleagues and clients using these Google alternatives to Zoom. Both video conferencing apps are fully integrated with Google Workspace programmes and can be accessed by anyone with a link, allowing for high-quality virtual meetings, whether they're 1:1 or group situations. Google Meet can host up to 250 participants on a call and supports 100,000 viewers for a live-streaming event.
And these products are just the beginning of the benefits of Google Workspace. All of them come with the following in-built benefits offering real advantages to organizations choosing to use them.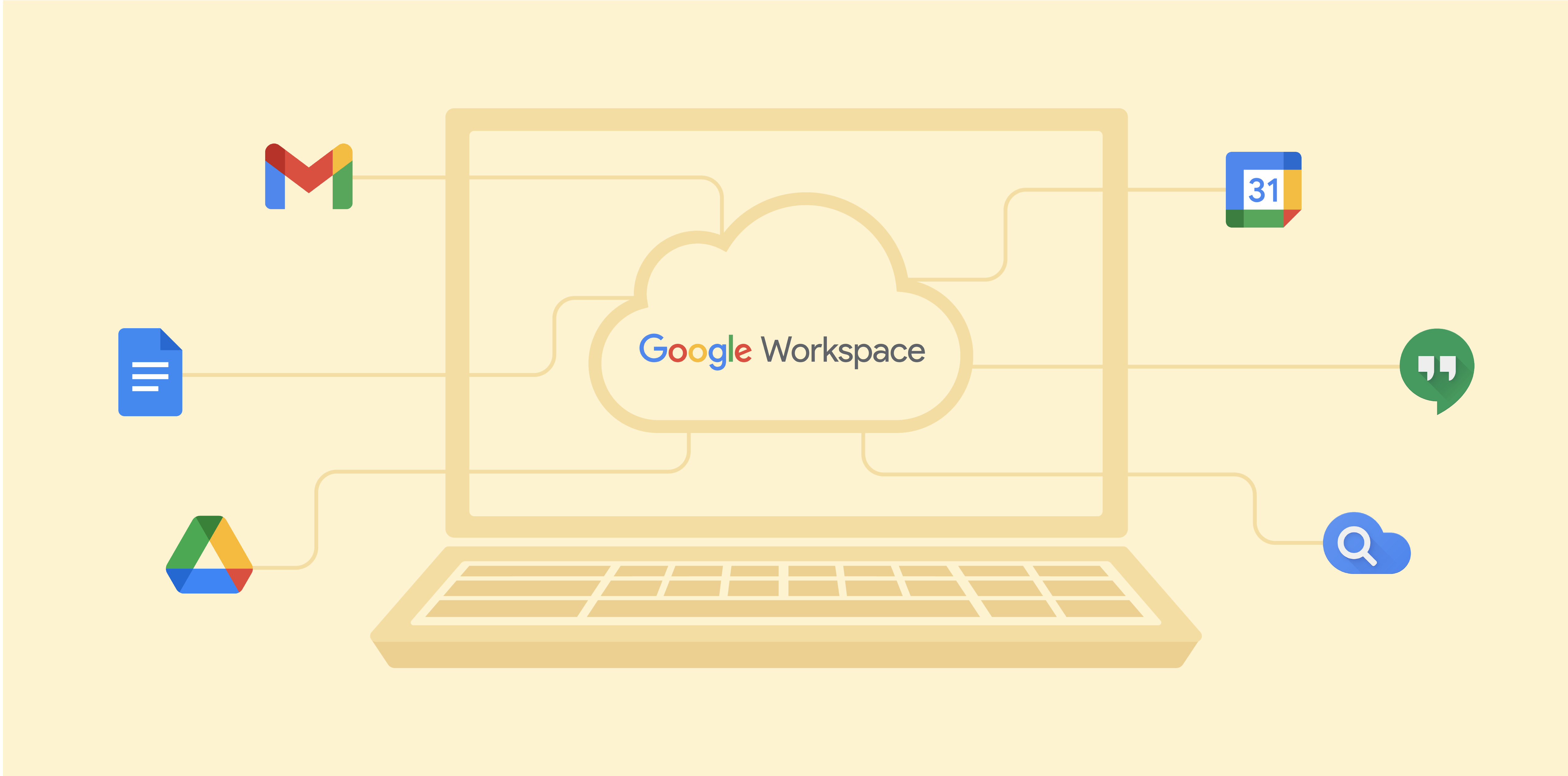 1. Accessibility anytime, anywhere
As a cloud-hosted platform, Google Workspace (formerly G Suite) for business can be accessed 24/7, from any location. As Google Workspace apps are compatible with all browsers, you can also use any device to access your Google Workspace features and content, whether Mac or PC, Android phone or Apple tablet.
With Google Workspace's offline features, you don't need to rely on the internet to get your work done or to access your data. If you prefer to have a copy of your files hosted locally for peace of mind or offline working, G File Stream can sync your latest G Drive content to your device. In doing so, Google ensures you're always working with the latest files and don't need to waste time moving or duplicating assets.
It's also reassuring to know that Google Workspace has a 99.9% Service Level Agreement (SLA) for its apps, meaning it never has any downtime or scheduled maintenance and you'll always be able to access your files.
The underlying benefit of Google Workspace's accessibility is that remote and on-the-go working is fully facilitated. Employees can create documents, collaborate with colleagues in real-time, video call clients or send emails at any time, from anywhere in the world.
Read next: Templafy integrations
2. Industry-leading enterprise security
Another of the main reasons to use Google Workspace is that the platform works hard to keep your information safe. Google employs rigorous, industry-leading security protocols for both its physical data centers and cloud-hosted operations.
Some of these measures include:
2-Step Verification: If someone signs in from an unrecognised device, the user of the account is immediately sent a text message with a verification code to provide an extra layer of security.
State of the art security: "Mission: Impossible" style laser detection and biometrics are just a couple of the 'top notch' security measures used to protect Google's physical data centres.
Perfect forward secrecy: All content that moves between Google's servers and those of other companies is encrypted. For example every email you send or receive is 100% encrypted so it's safe to open. Admins can also set customized encryption rules for specific content.
AI detection of login monitoring: To counteract any suspicious activity, Google will alert admins immediately if it detects new or unusual login behaviour.
3. Unlimited data
Unlike free Gmail accounts (which give users up to 15GB of free data), with Google Workspace for business you get unlimited data for all your assets such as files, apps, photos, documents and emails.
Google Workspace also provides you with intuitive Data Migration tools and services to help you migrate data securely from your device or office server so you can store and manage all of your data and files in one centralized hub.
If relying on the cloud to keep all your information safe makes you nervous, don't worry, Google Workspace has several options for further data protection. With Vault, for example, you can manage, search and export your company emails and files to a local device, as well as set retention policies on any archive material. Google BackUp and Sync also allows you to keep a copy of any cloud-hosted data on your device or company server.
4. Easy admin governance
Google Workspace's Admin Console is a power tool that gives managers and business owners greater control over company activity. Using the Admin Panel, users can apply restrictions or conditions on employee accounts, data, devices, verification settings and apps to make sure they're being used correctly.
The Console's Reports panel also generates reports on user activity, giving admins key insights into how employees are using Google Workspace for business. In a few clicks, admins can gather useful information such as how much content is being created, which team members are making the most of productivity -enhancing features or who's device could pose a potential security threat.
5. Cost effective solutions
There are many ways that Google Workspace can save your company money. You no longer have to buy and maintain company servers and hardware. Security protocols and checks are all taken care of by Google. Collaboration tools mean you can cut down on travel or even office space if you wish. Scaling up and down is easily done. You just pay for another Google Workspace account rather than more software or storage.
Coming in at a monthly cost of $12 per user for Google Workspace Business and $25 per user for Google Workspace Enterprise, these are just some of the budget-friendly Google Workspace benefits for small businesses and large enterprises alike.
6. On-brand content creation
Third-party integrations are another great benefit of Google Workspace for business, as the platform which plays well with external programmes including CRM solutions and template management platforms such as Templafy.
For example, Templafy and Google Workspace work together to give users everything they need to create smart documents and presentations. Dynamic templates are accessible directly from within Google Workspace apps, pulling through any personalized information, formatting, disclaimers and brand visuals an employee needs to create their document. These dynamic templates drastically cut creation time and result in compliant, well-designed and on-brand documents.