Templafy's Employee Resource Groups strive to create a culture of inclusivity and belonging throughout the company. One of the groups – TemplaPride, has had a busy summer with Pride festivities occurring across all our global offices. Check out more about the work they do to support LGBTQIA+ Templafyers.
We spoke to Kristan Polak, People Operations Partner in Copenhagen and Collin McCarthy, Strategic Account Director in New York, who are founding members of the group. They talk about their motivations behind creating it, recent achievements, and what the future holds.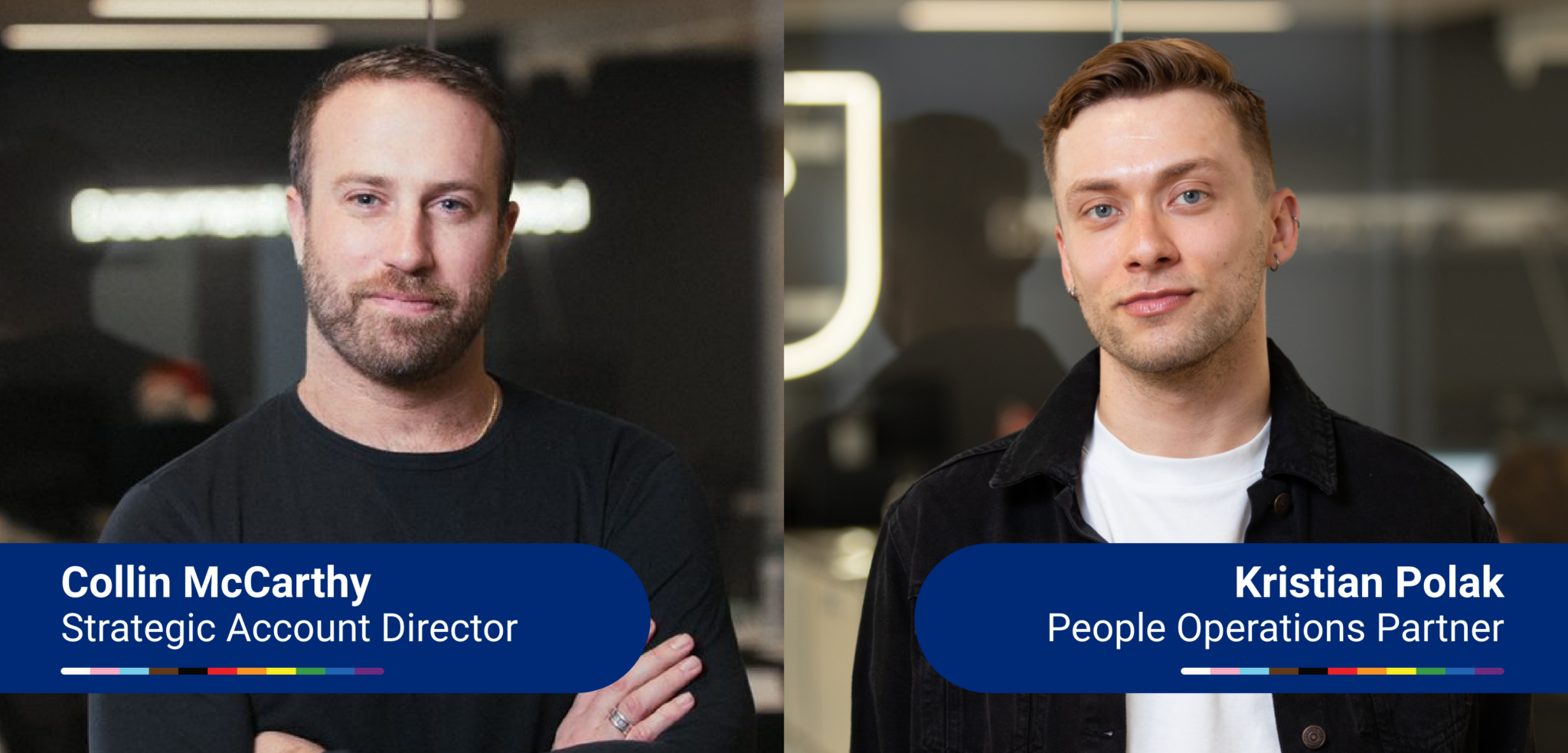 Why did you decide to start TemplaPride?
Collin and Kristian:
Our main goal was to make sure that our colleagues are embraced for their diversity. As an Employee Resource Group, we aim to create a safe space for everyone, regardless of their ethnicity, gender identity, religion, or sexual orientation.
We started TemplaPride almost a year ago, with huge support from our CEO, Jesper Theill Eriksen. Since then, the initiative has gained incredible momentum throughout the organization, with teams from all offices taking part in events and sharing our values and ideas.
Were there any personal reasons behind starting TemplaPride?
Kristian:
I wanted to become more open-minded and learn more – through putting myself in other people's shoes and acting as a champion for minority groups.
Our goal is not to push for other people's ideas, but to make sure their voice is being heard and that they feel safe in the workplace.
Collin:
For me, it was about creating role models. This is particularly relevant when starting a new job, where it can feel like there's a pressure to come out again to new colleagues.
I want to create an environment where everyone is free to be themselves and comfortable expressing who they are within the workplace.
Can you share any recent initiatives or achievements?
Kristian:
We use gender-neutral pronouns in our contracts and addendums we send to employees and candidates, as well as throughout our careers site. Our job descriptions also get checked by a software tool that spots non-inclusive language and suggests alternatives.
Templafy employees can choose a pronoun they would like to add to their email signature to help others refer to them in the correct way or to simply show solidarity with the community.
We're really proud of our pronouns campaign that's been running across the entire organization. We created a suite of training resources to help everyone learn about using pronouns in an inclusive way. This isn't just important internally, but also externally.
Collin:
With the pronouns training, it wasn't only about raising awareness about the importance of using the right pronoun, but also what to do when we don't know which one to use. We wanted to give a communication tool to our colleagues, which can be used both internally and with our clients.
Another big achievement is the employee referral bonus scheme we have at Templafy. We believe that it can have a big impact on recruitment by encouraging our colleagues to refer people from their own network of diverse talent. We also do some sourcing events connected to our office's local Pride months, which is a constructive way for us to reach out to a wider talent pool.
How do you celebrate Pride at Templafy?
Kristian:
As an international company, we align activities with the Pride month of the country where the office is located.
For example, in June we had a great party organized by our New York office and in July it was Berlin's turn. They organized a quiz relating to different countries and cultures and as well as LGBTQIA+ community questions. It was a very educational but also fun way to learn more about our colleagues and their cultures.
Another amazing initiative is our fundraising to support the LGBT Asylum, a Copenhagen-based organization that works to improve the conditions and rights of LGBT+ persons in Denmark.
We try not to limit people or tell them what to do. Our goal is to support the initiatives coming from employees, and we're happy to see there are plenty of them!
Do you think your mission will ever be complete?
Collin:
I don't think our job will ever be done. As an organization, we judge our success by increasing diversity and creating an inclusive environment.
However, this can be difficult to track. So for me, it's all about the small steps – how can we create a more diverse pipeline of candidates, how can we improve our work environment, and can we give people the tools they need to deal with challenging situations.
Kristian:
Our mission is to create a safe space for everyone. We want to make sure our employees feel they belong and we're a community where everyone is welcome.
There will always be more to do, but no matter what, I hope this initiative will continue to have a positive impact within Templafy and outside of it.
And on that note, we look forward to seeing what's next for TemplaPride in its mission to create a safe and inclusive environment for everyone at Templafy.
Stay tuned for future spotlights and check out our other posts to learn more about life inside Templafy.