Digital disruption and transformation has come a long way for an industry notoriously slow to embrace technology. Overcoming widespread security hangups and navigating tricky legacy system transitions, today's law firms know they need to innovate to stay competitive and relevant in the sector. 
In fact, according to PWC, 100% of the top 10 firms identify technology as the key challenge to growth in the next 2 years and the American Bar Association have recently stated that legal organizations ignoring law firm technology trends such as AI or analytics tools will "scarcely be able to compete for new business."
It's no wonder then, that legal service providers are keeping a close eye on the rapidly evolving tech scene. McKinsey's new 'Disruptive Technologies' report identified twelve emerging technologies that will drastically reshape the world we live in and will combine to bring in an annual economic impact at $33 trillion by 2025.
The leader of this disruptive tech pack (second only to mobile internet) is knowledge automation software. In fact, McKinsey predicts that knowledge automation will generate an estimated $5-7 trillion in annual value across a wide range of industries.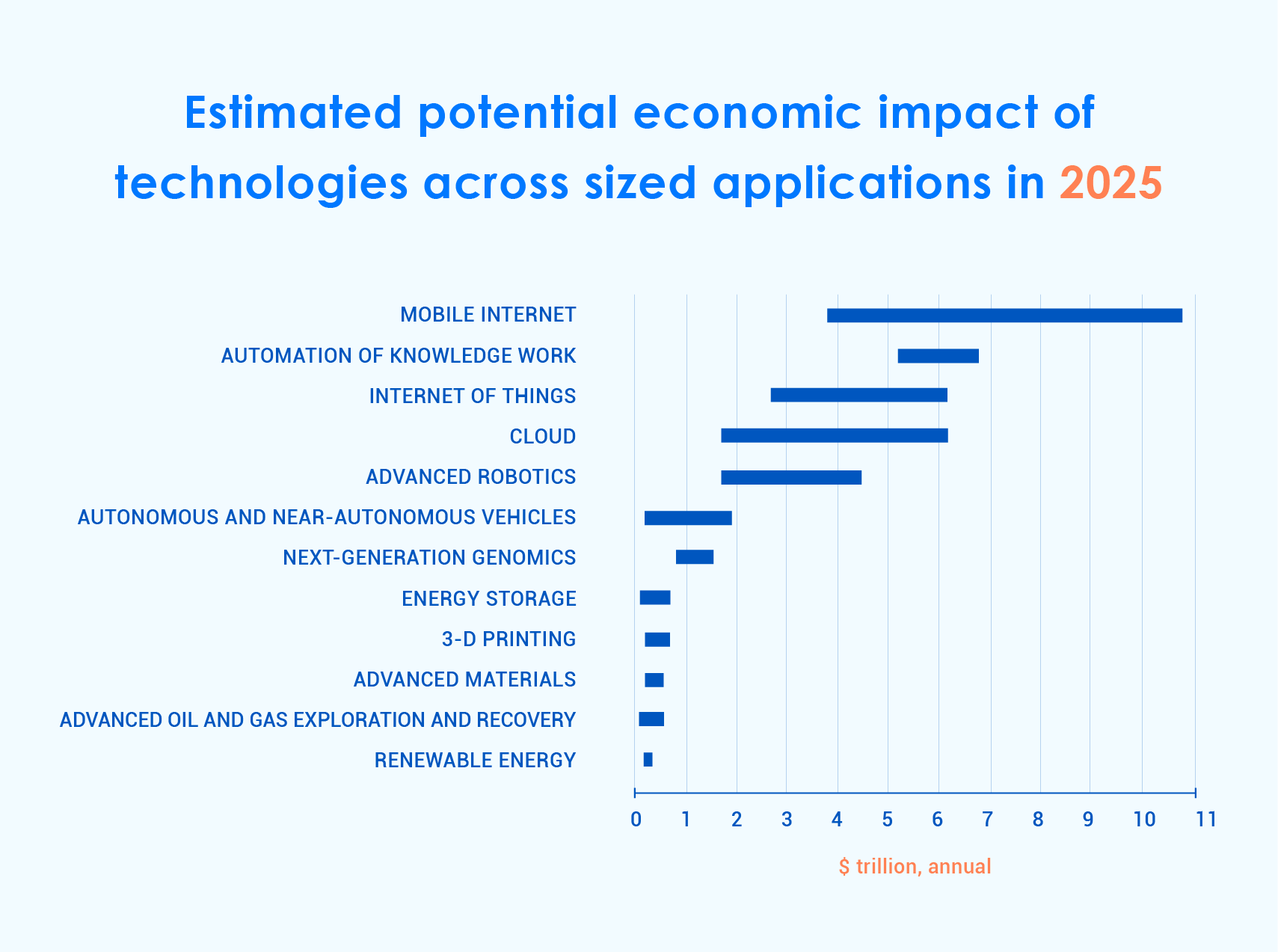 When 23% of lawyers' time can be automated, it's no surprise that alongside continued investment in 2018's law firm technology trends, legal knowledge automation has become a priority for leading law practices. Knowledge automation is fast becoming one of the most interesting, profitable and innovative components of legal tech stacks. 
From taking a closer look at the terminology of this tech trend to highlighting some key use cases, here we explore what legal  knowledge automation looks like in today's law offices. 
Defining one of the leading law firm technology trends: knowledge automation
Legal knowledge automation is a combination of artificial intelligence, machine learning, and easy to use interfaces. It offers companies the ability to work smarter, faster and free up a lot of time and resources previously dedicated to manual tasks.
Legal teams are already inundated with non-billable, time-consuming aspects of legal work, including legal billing, client intake forms, case management tasks, calendaring, routine client communications, follow-ups and other repetitive tasks.
While law firm knowledge automation doesn't typically cover these tasks, it can save time (that can be dedicated to billable work) and increase profitability by automating the more complex tasks like formatting legal documents, drafting legal agreements, reviewing legal documents and much more.
However, with its close connection to artificial intelligence, knowledge automation advancements are often conflated with other emerging legal technologies (i.e., practice management software), so it's important to define exactly what we're dealing with when we're talking about law firm knowledge automation.
Across all sectors, at its very basic, knowledge can be described as "what we know" and in law firms this knowledge is built on extracting value from a huge variation of data and information sources - from testimonials to the latest research on a specialist subject. It's this collective knowledge of employees that enables a company to differentiate itself and gain an edge over both its opponents and its competitors. 
Knowledge automation therefore is any process or software that uses machine technologies to replace previously laborious manual tasks associated with the extraction of meaning from the data (e.g. searching through file cabinets for the right documents, collating new report findings, formatting legal documents, researching opponents or reviewing hundreds of documents to find their winning argument) and results in more efficient, large-scale outcomes for both employees and enterprises. 
This ultimately redefines the relationship between those creating and managing information and the work they do, as highlighted by McKinsey:
"It is increasingly possible to interact with a machine the way one would with a coworker. So, instead of assigning a team member to pull all the information on the performance of a certain product in a specific market or waiting for such a request to be turned into a job for the IT department, a manager or executive could simply ask a computer to provide the information. This has the potential to provide more timely access to information and raise the quality and pace of decision making and, consequently, performance."
Why is law firm knowledge automation important in the legal industry?
For anyone working in the sector, the reason for using law firm automation software for automating legal processes is clear – Every practice area throughout the industry is drowning in an ever-increasing amount of data - a concept highlighted by Rich McClain, Chief Information Officer of Hunton & Williams. Speaking to legal think tank Artificial Lawyer about his firm's experience, the CIO commented: 'The explosion of information exceeds a 'human-centric' way of managing. Our work product needs to speak for itself, and existing technologies can give it a voice.' 
In the US alone there are 350,000 new cases brought to court every year, each creating piles of information, from witness statements to courtroom transcripts.  Automating manual tasks associated with these legal processes not only allows lawyers to focus on higher value elements of their case, it's also become necessary to keep large and small firms competitive and relevant. According to Thomson Reuters, alternative legal service providers (ALSPs) is now a $10 billion market and growing. It's showing 37% of clients and 43% of small businesses now opting for faster, more convenient legal services than those provided by traditional practices. If a firm bills a client for days (or weeks) spent processing information when an ALSP has the tech and workflow automation to crunch the same data in seconds, it's easy to see which company will win their business.  
Read next: Find out more about how Templafy can enhance your law firms current technology setup and further increase productivity, compliance and quality of work
How are leading law firms incorporating legal knowledge automation strategies into their tech stack?
Aware of how vital emerging legal software trends in knowledge automation have become, the legal sector has seen major innovation in this space from both traditional organizations and rising ALSPs. From onboarding the latest legal tech startups on the market to developing their own in-house solutions, here are a few examples of the ways legal companies are adopting law firm knowledge automation.
Allen & Overy: Automating legal document creation and review
Launched in 2017, Allen & Overy's tech innovative space 'Fuse' is a hotbed for trialling and developing emerging tech-enabled solutions. Alongside the likes of cutting-edge platforms such as Scissero - which automates the reading, drafting and marking up legal agreements and Signal Media – a software that uses artificial intelligence to turn millions of content-rich sources from news media to global regulatory updates into useful business knowledge, Kira Systems is a fundamental component in Allen & Overy's approach to legal knowledge automation.
Designed to counter issues of volume and human error in due diligence, Kira Systems provides an automated contract review process which searches, highlights and extracts relevant content from the company's contracts. Alongside delivering a more comprehensive and thorough due diligence analysis, the software company also claims the platform can complete associated tasks up to 90% faster than a human lawyer. 
Baker McKenzie: Contract automation on a global scale
Global heavyweight, Baker McKenzie, is another big player leading the way in law firm knowledge automation and management. In November 2018, the firm officially partnered with end-to-end contract automation platform, Avvoka, enabling large scale collaboration on multi-jurisdictional matters and global trade mark projects.
Rolled out across 11 offices in Asia, Europe and North America, AI-powered eBrevia is another powerful component to Baker McKenzie's legal knowledge automation technology mix. Using natural language processing and machine learning, the service extracts vital data from legal files to help lawyers drastically reduce time spent reviewing and reporting on documents - analyzing 50 documents in less than a minute and generating results that are 10% more accurate than manual reviews.
DLA Piper: Automating knowledge access
As a first-class example of software that combines complex knowledge automation with a user-friendly interface, it's no wonder DLA Piper, with its 40 global offices, use Casetext's CARA to get ahead on their cases.
Among its suite of automation tools, lawyers can use CARA's drag and drop feature to input a complaint or brief into the programme then add in a few search terms and the software pulls up any other existing and relevant documents to the case. This covers everything such as federal and state case law, statutes, regulations, briefs, legal analyses and Black Letter Law. CARA can even go as far as to detect patterns such as if a file or evidence has been deemed unreliable by other legal professionals, ensuring lawyers are as clued up on their cases as possible.
JPMorgan: Automating contract and document review
JPMorgan, like many other leading ALSPs, has been a key player in bringing new, innovative tech to the legal knowledge automation scene. Developed in-house and launched in 2017, COIN (shorthand for Contract Intelligence) automates contract and document reviewal processes using image recognition and classification-focused algorithms.
Identifying and categorizing repeated clauses, COIN takes mere seconds to process documents that would previously have taken lawyers 360,000 hours to work through. JPMorgan says COIN isn't just faster than manual legal processes, it's also more accurate, so alongside cutting costs (drastically reducing billable hours to offer a more competitive service) it also raises the quality of JPMorgan's contract review process.

Deloitte: Automating contract validation
An example of ALSPs adopting disruptive new law firm knowledge automation technologies, LawGeex - with its promise to reduce contract review and approval time by 80%, is used by the likes of Deloitte to automate the process of contract validation. The software uses a combination of machine learning, text processing and industry statistics to measure specific contracts against predefined policies, giving lawyers optimum knowledge on the value of and time for a required case. 
Magic Circle: Templafy for automating for compliance and productivity
Leveraging 15 years of experience in template and document management sectors within the legal knowledge automation field, Magic Law Firms have benefitted from Templafy's services and insights into this emerging law firm technology trend.
Speak to any lawyer (or paralegal) and they'll tell you that creating, editing and sending legal documents takes up a significant part of their working week (which itself racks up serious billable hours for their firm). Yet keeping up with the pace of case developments can often lead to poorly drafted communications with unprofessional flaws such as outdated content and grammatical errors. 
Templafy's template and document automation tools enable law firms to streamline their document assembly process by implementing automated solutions that can reduce document creation time by up to 50%. Saving time is particularly relevant for longer documents such as contracts. For example, a 120-page contract can largely be automated using Templafy's gating questionnaire functionality. It makes the process of complex contract creation faster and more accurate.
For instance, rather than starting a new legal document such as a contract or client letter from scratch (or editing old versions of boilerplate texts manually), companies such as Magic Circle law firms now use Templafy's dynamic questionnaires to build complex legal documents accurately and fast. Gated questions such as a checklist of fields (including location, document type and user profile) are used to automatically pull in unique information, branding and formatting for a firm's different offices, ensuring documents are compliant with their specific jurisdiction.
At the same time, through its deep integration with an organization's chosen DMS, the versioning of each document is being tracked, meaning it's even easier for several people to work on the same document whilst avoid overriding important changes or duplicating work. 
Saving time during document assembly process, the firms we've worked with have also improved the consistency and quality of internal and outgoing communications, while remaining competitive due to a reduction on billable hours spent compiling and monitoring communications. 
Interested to know how to increase productivity of document creation by 30%, while connecting your current systems and providing lawyers and paralegals with all the assets and content they need right in the applications they use for building documents and presentations? Let's chat!