What are the main challenges facing today's content creators? We explore four major obstacles in today's content creation process.
How many pieces of content will you and your team create this week?
Thanks to a rise of digital touchpoints and the growing definition of 'content', our new Content is Everything report reveals employees are spending an average of 15 hours a week creating content, with 60% of surveyed respondents agreeing that individual team members produce a staggering ten pieces of content a week or more.

Whether you're generating document metadata or invoices, sales pitches or LinkedIn posts, you'll know that this content creation process comes with an added level of responsibility. Employers expect you to deliver this content quickly while meeting the company's latest brand, business, and legal standards.

That's a big ask for any busy employee, and unless you're supported by the right tech infrastructure, our global study of over 2,000 professionals also found that your enterprise content creation processes will likely be inefficient, risky, and off-brand.
For the second installment of our new Content is Everything blog series, which breaks down some of the findings of our new report, we take a look at some of the main challenges facing content creators in today's Digital HQ and examine how businesses can overcome these obstacles to maximize the value of their enterprise content.
1. Content creation processes are flawed from the start
There was a time when Microsoft Office could be considered the sole source of an organization's content.

However, today, when everything is considered content - from video clips to metadata, the number of content creation touch points has exploded, and according to our report, 77% of our respondents have more tools than ever to house and create content.

Yet, despite better access to content creation tools, the overwhelming majority of those we spoke to run into content creation challenges from the very start of a document's lifecycle.
When creating content, 73% of respondents say they usually save over an old version (47%) or start from scratch and pull from wherever is easiest (26%) - even if they have access to updated brand guidelines.

These content creation behaviors inevitably lead to productivity and quality issues. For example, 62% say their team wastes time recreating content that likely already exists in their organization, and 41% of respondents report having to ask their colleagues for information or searching for digital assets every day.

With a further 16% stating they have to trouble colleagues with content requests multiple times a day, it's hardly surprising that over half of our surveyed respondents (52%) confessed that their colleagues constantly complain about the content creation process.
2. Review processes are cumbersome
Unfortunately, content creation isn't the only process impacting the productivity and experience of today's content creators.

Whether fine-tuning an investment deck or approving a press release, review processes are integral for ensuring the quality, consistency, and compliance of content that circulates within and beyond an organization. In fact, 62% of our panelists in managerial roles agree that reviewing and policing content is the most important component of their job.

Carrying such weight, this stage of content production should be a major focus for all modern enterprises. However, when businesses don't have the right tech infrastructure in place to support accurate, on-brand, compliant content from the point of creation, the review process is both long and prone to human error.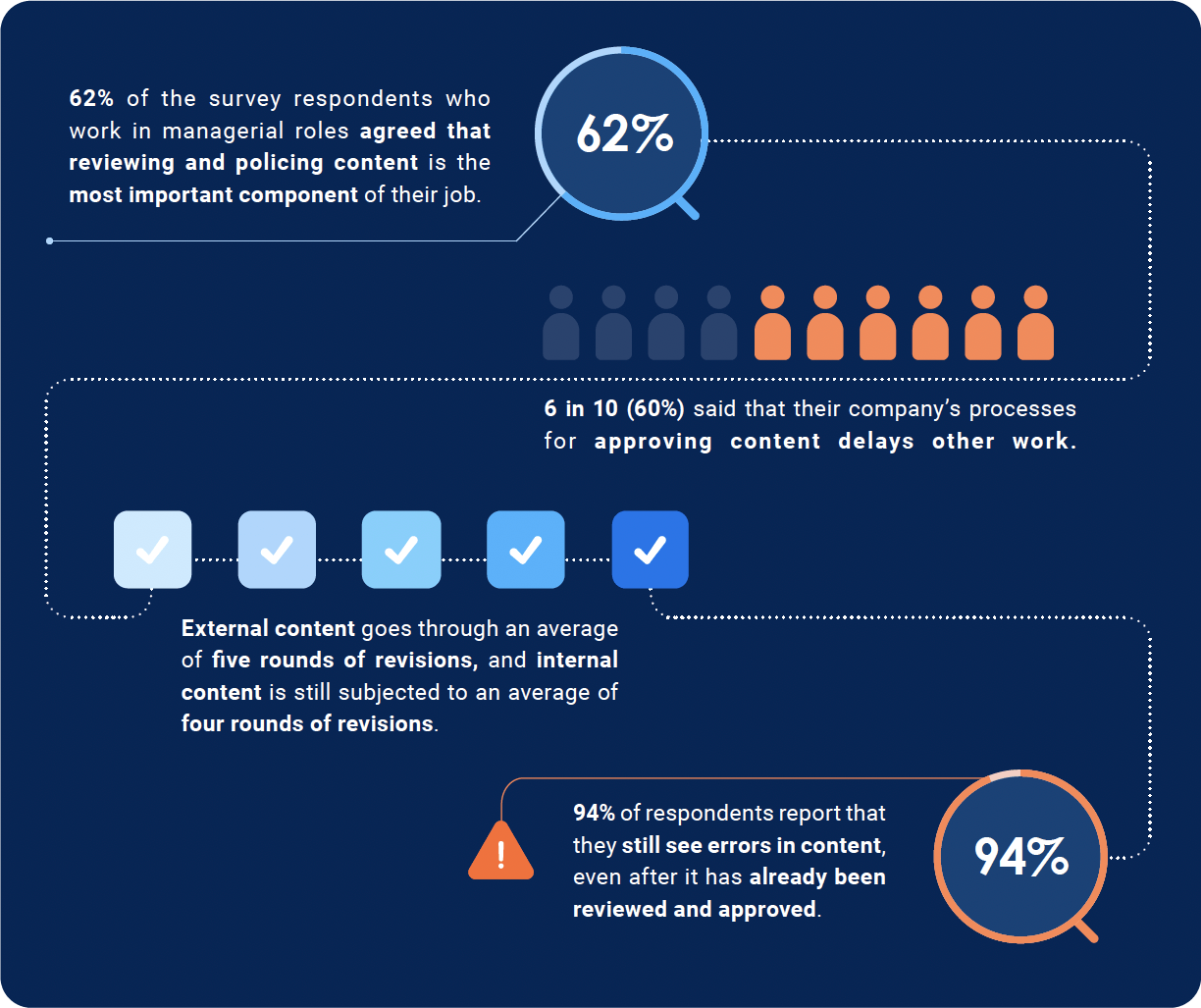 For instance, our report found that, on average, five employees are involved in reviewing each piece of content, with external-facing content going through around five rounds of revisions and internal content averaging four.
Dedicating so much time to the reviews then has a knock-on effect on employee workloads. 6 in 10 respondents told us their company's process for reviewing and approving content delays other work, and 48% stated that lags in the content creation process could be attributable to time spent in review.
3. Company standards aren't being met
In the Digital HQ, every employee is a brand ambassador because they're creating some kind of content.
It doesn't matter if they are sending invoices from the warehouse, producing mailers for customers, collating client meeting notes or editing a video; if someone is contributing to your content creation process, they have the potential to strengthen or weaken a brand's identity and integrity.
Worryingly, our report reveals that the majority of employees fall into the latter group, becoming a risk rather than an asset to their company's brand and content development efforts. Only 27% of surveyed respondents said they use the latest company-approved version of relevant digital assets when creating content, and more than half (54%) reported that they often do not feel confident they are creating content aligned with their company's current guidelines.
When asked why they opt not to use a company-approved version, 48% said they believe their desktop version is better, 40% said they simply don't have time to retrieve the latest branded content, and 31% admitted that they don't actually know where to find it.

Even those with access to a Digital Asset Management (DAM) system reported struggling to find the materials they need to build documents efficiently, with 67% of panelists saying they pull content from their DAM less than half of the time
4. The content creation process isn't prioritized the way it should be
If a business wants to achieve consistency across every touch point and ensure employees bolster their brand and business efforts, they need to support their teams with the right content creation tools, processes, and infrastructure.
When people don't have these solutions in place, they open the business up to risky scenarios. For example, a busy employee forgets to update their email signature, old templates with the wrong branding are used, an internal document with confidential information is sent to the wrong recipient, or boilerplates are inserted with outdated legal disclaimers.
However, our report found that despite 9 in 10 respondents agreeing that content is essential to their company's financial solvency and around a third telling us that more than half their annual revenue is directly connected to content, businesses aren't placing content creation at the top of their agendas.
Regarding tools, 58% also say that investment in good content tools is not prioritized enough by their company.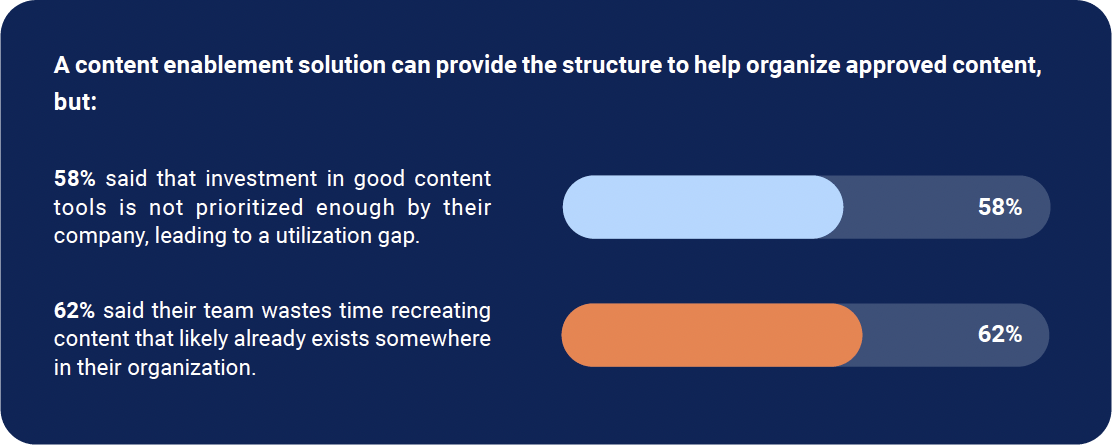 When those at the top aren't prioritizing effective content tools and processes, it's no wonder that employees are struggling to meet brand standards or taking the path of least resistance and grabbing the most accessible (instead of most accurate) pieces of content available to them.
The solution to content creators' problems: Content Enablement technology
From cumbersome review processes to a lack of support from the top, all of the major issues faced by today's content creators could be resolved by a company's decision to implement Content Enablement technologies.
Rather than demanding employees seek out content, modern enterprises need to bring the right content to users at the moment they need it from within the application they're already using.
That's where Content Enablement technologies such as Templafy come in. Our next-generation document generation platform connects pre-approved content to users where they already work.
Employees no longer need to switch between applications, resort to Googling, or trouble colleagues for the information when working on enterprise content. They always have everything they need at the moment they need it, empowering them to create content quickly and effectively.

When content creation is embedded into workflows in this way, businesses eliminate the risks littered within manual content creation processes, achieving compliance with their latest brand and company standards, streamlining the review stage, and ensuring quality enterprise-wide. Ultimately allowing business content to do what it does best: drive results.
For more information about how Content Enablement technologies can benefit your business and its content strategy, download your free copy of our Content is Everything report here.