Whether you work in Sales or Operations, HR or PR, in today's digital-first workplace, your job also needs you to be a content creator – and a prolific one at that.
From emails sent on the go to pitches you present, Slack messages you fire off to contracts you edit, every day you produce a huge volume of different types of enterprise content just to get through your to-do list.
According to our new global study of over 2,295 professionals, this role of the everyday content creator is becoming more integral to the work we do. 86% of those we surveyed agree that given the increasing number of work interactions that occur in a digital environment, everything could be considered content.
When everything is content, and everyone is a content creator, what exactly is enterprise content in the modern workplace? What role does it play? And what does that mean for those producing, managing, and evaluating it?
In the first of our four-part "Content is everything" blog series, we set out to answer these questions by drawing on some of the key data findings from our accompanying report.
Read on to find out more about the current state of content in the workplace, including the varied ways employees use content, as well as its value, potential, and the main challenges it presents to today's businesses if managed poorly.
Content is king everything
In 1996, Bill Gates took to Microsoft's website and coined the phrase "Content is King".
Timed alongside the rapid digital transformation of our work environments, this observation about the importance of content has become so entrenched in business culture that almost two decades later, the majority of our survey respondents (68%) said they were familiar with the concept.
But, a lot has changed since Gates made this once ground-breaking statement.
Whereas Gates placed Microsoft at the heart of the Content is King movement, today, the number of content creation touchpoints has exploded, and what we refer to as content has evolved far beyond what anyone could have imagined 16 years ago.
What's clear is that in 2022, the term "content" is no longer restricted to the marketing department or reserved for traditional formats such as promotional collateral. Instead, it has come to define an increasingly broad spectrum of digital communications produced by the entire enterprise.

With content now created by all employees across all departments, it's time that Content is King makes way for a new phrase - Content is Everything.
Content is a high-value driver
With employees producing growing volumes and types of content, businesses are finding that the role content plays in their organization is more important than ever.
9 in 10 respondents we surveyed agree that content is essential to their company's financial solvency, and around a third told us that more than half their annual business revenue is directly connected to content.
Just as the definition of 'content' is no longer reserved for marketing materials, companies are realizing the value different types of content make on their bottom line. For instance, a sales pitch may secure new business, whereas a LinkedIn post could attract a potential investor. A shareholder report may lead to a budget increase, and metadata that keeps a document compliant and trackable could help reassure an existing client or safeguard your business from future risk or fines.
However, not all content is created equal. For today's enterprises, quality matters, and 75% of respondents stated that good content is the number one most important driver for business success.
Looking forward, the high value placed on content is only expected to increase, with 94% of those we surveyed confirming that the role of content is becoming more important to their organization as time goes on.
Content is essential for effective communication
Much of the value and predicted value growth of content can be explained by how employees are using it.
From custom feedback channels to leadership videos, social media posts to employee apps, content has become an instrumental tool for internal communications. 77% of surveyed respondents say their company communicates with employees through content, and 31% agree that their business uses content to communicate with prospective hires.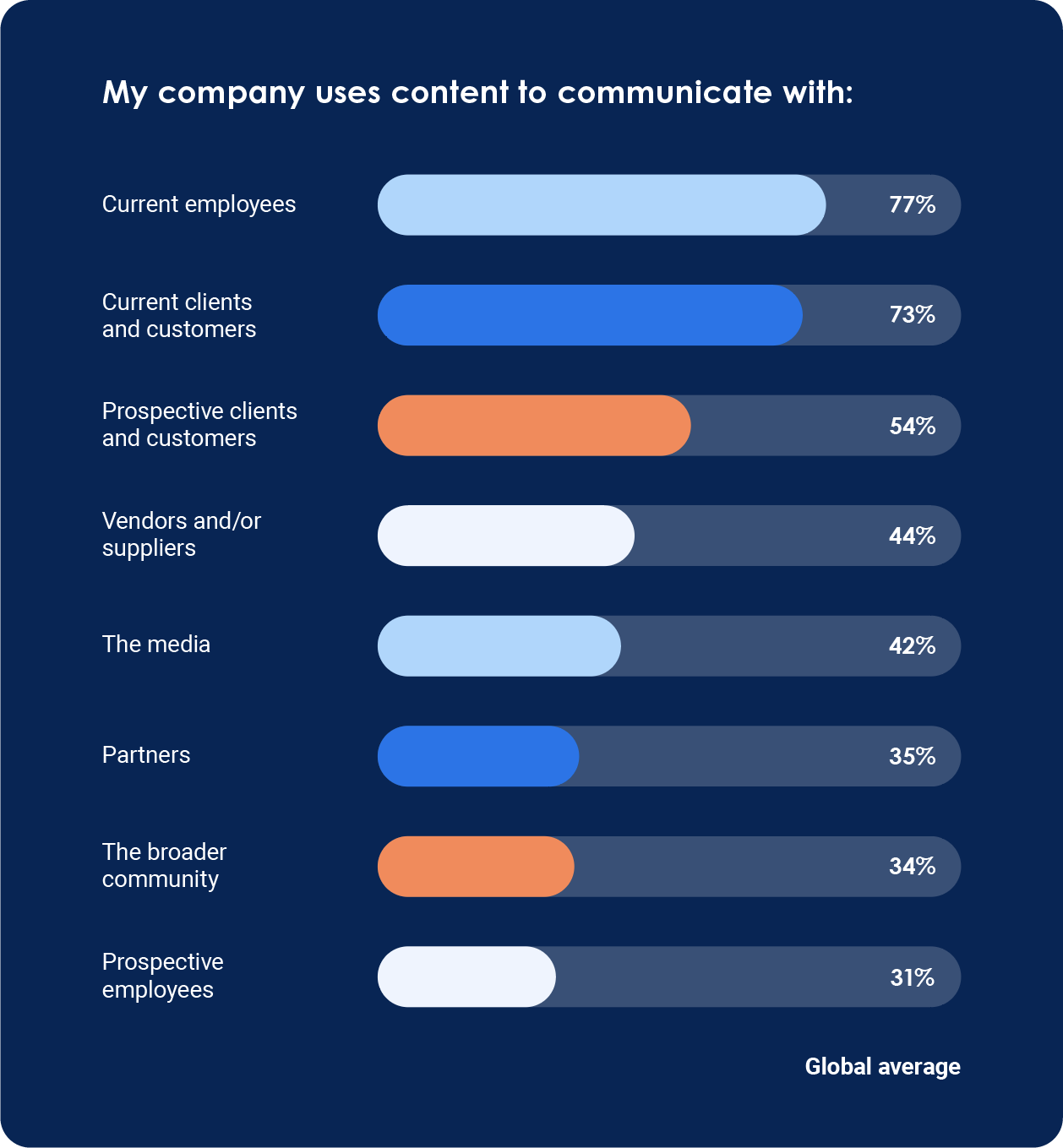 We know content will continue to power internal communication as a way to drive information management. More and more companies are prioritizing not just the creation of this type of business content but new innovative tech tools popping up within this space. For example, the new offering from Axios with its smart, clutter-free 'Axios HQ', which promises to empower users to get their message across in half the time.
Outside of internal teams, 35% of respondents say their company uses content to communicate with partners, and 44% use content to communicate with vendors and suppliers.

Beyond the organization, content also plays a key role in maintaining client relationships and winning new business. 73% of respondents say their company uses content to communicate with existing clients, and 54% use content to communicate with prospective customers. A further 42% say their company increases brand reach by using content to communicate with the media.
Content is sometimes compromised
With the value and volume of content set to rise, are businesses prepared to capitalize on its potential?
Worryingly not. Only 12% of respondents were able to say that content bottlenecks never impact their company's revenue, with 47% admitting that if these bottlenecks were eliminated, revenue would increase by more than 20%.
Streamlining content production processes isn't the only problem facing today's organizations. Measuring content performance also ranked high on challenges businesses faced, with over half of our panelists reporting that they lack any actionable data regarding the performance of their content.
This lack of insights is problematic. Without data and analytics to track content performance, the value of content reduces. Once content has left an organization, people are left blindly guessing how it performed with no real idea of what worked, what didn't, and how to adapt their content strategy for maximum impact.
Introducing the two words that unlock the value of content
If organizations want to tap into the power of the content their employees are producing, they need to find new ways of managing and activating it. This requires a shift from traditional Enterprise Content Management solutions (ECM) to Content Enablement.
When content is simply managed as it was with enterprise content management tools, it sits static, stored in repositories, and disconnected from people and workflows. Employees waste time locating this information and open their company up to risk, productivity and revenue loss.
Through Content Enablement technologies such as Templafy's next-gen document generation platform, content becomes 'enabled' rather than static. Enabled content is active, finding people at the moment they need it from within the tools they are already using.
By bringing content closer to business processes, Templafy streamlines the content creation workflow. In turn, activating and protecting brands, driving governance, securing compliance, and enabling better document management and creation at enterprise-level complexity and scale.
Fully automating workflows from the pitch creation process within PowerPoint to generating pre-approved email templates in Outlook, Templafy ensures business content is always on-brand, compliant, and measurable. As a result, companies produce higher-quality content built by a more efficient workforce.
You can learn more about Content Enablement and how Content Enablement technologies can benefit your company in our new global study 'Content is Everything.' Download your copy of the report here.