If 2020 has taught us one overriding lesson, it's that businesses need to be prepared to offer employees secure and flexible ways of working.
One of the fundamental tools that has enabled companies of all sizes and industries to easily transition to the digital workspace is file-sharing software. Without the ability to securely send business documents to colleagues and clients, the toll on this year's business workflows and productivity would have been devastating.
What is a file-sharing software?
File-sharing software providers, vendors and apps allow users to share, save, download, and receive a range of business files, including documents, PDFs, presentations, images, and videos. Market-leading file-sharing services also enable effective collaboration between users, and contain helpful features such as centralized file storage.
The most popular form of this software is cloud-based file-sharing applications. Unlike client-server or system native programs, cloud-based file-sharing software isn't reliant on local servers or networks. Instead, users can send and receive files on-the-go, from anywhere in the world, using any device.
Employees can access their files either through an app they've installed on their device or using a web browser. All that's required is an internet connection, although some providers also offer offline services.
What are the common features of file-sharing software?
File-sharing programs have come a long way from initial 'upload and download' models. Here are some of the main features you can expect from today's vendors:
File transfer: Any file sharing app's core function is its ability to transfer a wide range of file types from one user to another. The usability, convenience, and speed of this process are vital factors to consider when selecting your app of choice.
Centralized data storage: Many platforms offer centralized databases or 'hubs' where files can be stored, then transferred to recipients. Keeping all files in one easily accessible and manageable destination allows companies to control how and what content is shared.
Data recovery: Several solutions, such as file protection, retrieval, and backups are important for preventing the accidental deletion of crucial business information.
Version tracking: One of the many ways file-sharing vendors are developing their collaborative capabilities is through version tracking. This feature ensures every file author and recipient has the very latest version of a file, avoiding replication or time wasted working on the wrong document.
Security: Leading providers will offer state of the art protection for your data, employing protocols such as advanced encryption, rigorous testing, and AI activity monitoring to keep your information safe.
Admin dashboards: Much like document and template management solutions, today's sharing platforms can provide enterprise-level administration features such as permission settings, reporting, and monitoring to ensure greater compliance and control.
Third-party integrations: No enterprise technology should exist in a silo, which is why modern file-sharing software is designed to play well with other programs, forming a key role in your company's digital transformation strategy.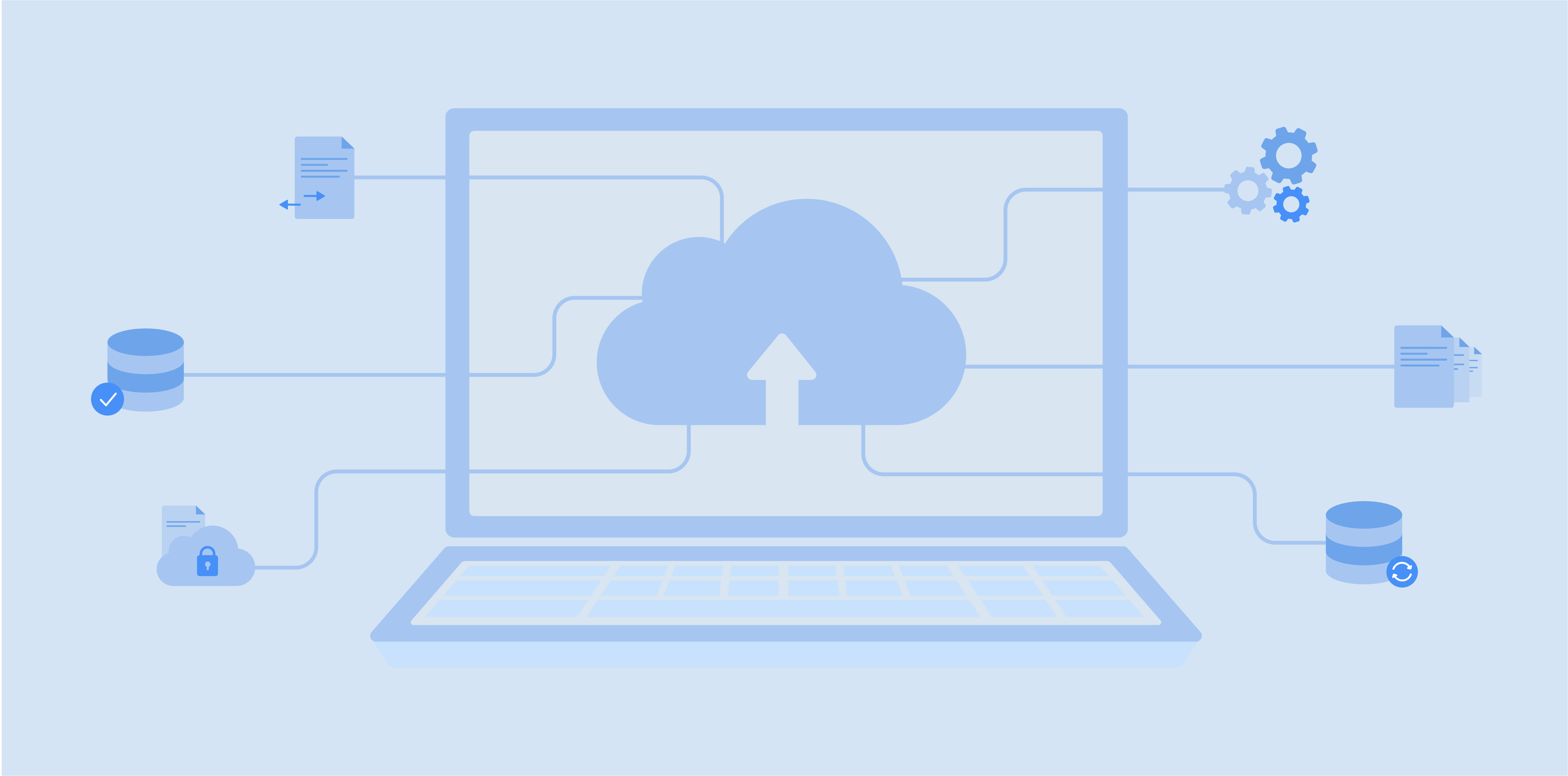 What is the best file sharing software?
Due to high demand and differing needs, there's a wide range of different file sharing solutions on the market, each with unique selling points and benefits. Below, we explore four market leaders in detail to provide you with a clear idea of the services and features available.
Dropbox Business is one of the leading corporate file-sharing providers. The cloud-hosted app is currently used by over 150,000 business global organizations, including Spotify, Expedia, Yahoo. Corporate, Macmillan, and National Geographic.
This premium service of Dropbox, which is used by over 500 million people worldwide, is incredibly user-friendly with standout features that include flexible and generous storage plans, file recovery, permission settings, admin control, automated back-up, smart syncing, and third-party integrations with over 300,000 apps.
Another hugely popular file-sharing service is Google Drive, the preferred solution for the likes of Salesforce, Colgate-Palmolive, Nielsen, PwC, and Hubspot (as well as 6 million business users).
One of the major selling points of G Drive is its instant synchronization with G suite apps, including Gmail, Google Docs, Google Sheets, and Google Slides. This connectivity means any information a user creates in G Suite is automatically saved and stored in their G Drive, making it even easier to store, share, and collaborate on the work files.
Like Dropbox, Google Drive offers a suite of productivity and compliance features such as admin dashboards, information back-up, third-party plug-ins, and security protocols, including SSL encryption and 'Mission Impossible' style protection of its physical servers. Its offline work capabilities and sophisticated enterprise search functions are also big perks of this file-sharing solution.
With over 85% of the Fortune 500 using it, and customers including Accenture, DBS, Chevon, and Nestle, OneDrive is another leading file sharing solution for modern enterprises.
Similar to Google's model, OneDrive users benefit from instant syncing, storage, and backup of all files across the Microsoft 365 platform. For instance, alongside easy file-sharing of Word, Excel, and PowerPoint documents, you can quickly add shared files of up to 100 GB from Microsoft Teams or SharePoint to OneDrive.
Alongside features such as data loss prevention and enhanced admin control, Microsoft is also renowned for its industry-leading security measures, ensuring once again, your data is kept safe whether you're sharing files internally or externally.
Named by Gartner, Forrester, and IDC as a leader in its category, Box's cloud-based file-sharing services are employed by international names such as AstraZeneca, The Coca-Cola Company, Oxfam, Eurostar, and GE.
Box boasts a range of advanced features, including unlimited storage, large file transfers, automatic syncing, version control, a cloud-hosted shared workspace, and third-party integration with thousands of apps such as Slack, O365, and G Suite.
Regarding security, Box gives admins seven different permission levels and granular access capabilities to effectively manage folder and file permissions. Files can be given expiration dates, be password-protected, and are compliant with regulations like HIPAA, FedRAMP, and FINRA.
Other market-leading solutions worth mentioning here include MediaFire, ShareFile, WeTransfer, Send Anywhere, Hightail, Egnyte, ProofHub, and Synology Drive - to name just a few.
Read next: Reasons to use Google Workspace: benefits for business
What are the security risks of file sharing software?
As with any cloud-hosted technology, security has become the primary concern for any business looking to adopt file-sharing services.
In light of increasingly sophisticated cyberattacks, fine-inducing privacy legislation, and data-savvy consumers, these concerns surrounding enterprise data are, of course, valid. However, today's market-leading file-sharing vendors are either as safe or safer than in-house data security processes.
For instance, while many in-house security protocols may be watertight, with more and more employees working remotely, companies open themselves up to the likely scenario of people sharing sensitive information via personal email addresses or low-security file sharing sites. This activity leaves businesses exposed to hackers who can more readily target unguarded channels.

In contrast, as we've touched on with our run-through of the best file-sharing software vendors, any reputable file sharing solution takes security incredibly seriously, adopting a range of state of the art measures to safeguard your data.
Standard enterprise-grade security features include:
Data encryption: Sensitive data is encrypted (and therefore rendered unreadable) while in-transit and at-rest. This double form of encryption reduces the surface of attack by cutting out lower layers of hardware and software stack.
Permission settings: Numerous admin settings, such as the allocation of permission-based user roles, give companies the ability to control internal and external access to content, as well as editing rights and downloading and printing capabilities, in just a few clicks.
Password protection: Files can be password protected to add an extra layer of security to essential documents.
Two-factor authentication: If someone signs in from an unrecognized device, the account user is immediately sent a text message with a verification code.
Watermarking: Digital watermarks can be added to provide visible signals of a file's privacy status.
AI-powered behavior detection: Google is leading the way for machine-learning through monitoring unusual and suspicious behavior on Google Drive. The anomalous alert activity tool identifies potential breaches by analyzing security signals and detecting risks such as data exfiltration, policy violations, unusual external file sharing, and download behavior.
Up to date industry certifications: With the online world evolving at an ever-increasing pace, file-sharing software keeps up with the latest industry security standards, so you don't have to. For example, Dropbox combines major accepted standards with compliance risk assessment measures, including ISO 27001, SOC 1, 2 and 3, GDPR, the CSA Code of Conduct, and HIPAA/HITECH.
What are the benefits of digital file sharing tools?
Without file-sharing software, any company will struggle to facilitate effective collaboration between its colleagues. If tools for sending, sharing, and storing key business documents are only accessible while working within office walls, businesses are placing limitations on how and when their employees can work.
On the other hand, file-sharing solutions provide secure channels to enable information flow in just a few clicks. Collaboration is made easy from anywhere in the world, whether that's simply on-the-go on your commute or tapping into expertise and resources from international offices.
Another key benefit of file-sharing software is reducing the cost of company infrastructure. By outsourcing file sending and storage to vendors, companies eliminate the need to purchase, maintain, and operate this part of their tech stack. IT professionals are also freed up to work on higher-value tasks such as digital roadmap.
Lastly, file sharing services help bring about best practices when it comes to data. Employees are encouraged to use secure channels to send sensitive information, which is then stored in one central location and easily controlled and monitored to prevent sensitive information from falling into the wrong hands.