Brand updates, including rebrands, are a powerful way of keeping up with consumer and industry demands. Here's how to ensure your new brand activation strategy succeeds.
What do Baskin-Robbins, Peloton, Instagram, The New York Philharmonic, and legacy brewer AB InBev have in common?
From redesigning logos to shaking up their offering, these globally recognized names all chose 2022 as the year to embark on one of the most powerful forms of brand activation: the rebrand.
These businesses are not alone. According to our recent research, 53% of companies plan to rebrand within the next five years.
Offering organizations the opportunity to grow, change and reposition amidst fast-moving consumer, digital, and market trends, assessing brand strategy is becoming increasingly popular across all industries and we're seeing more and more companies tap into the revenue-generating benefits of updating their branded communications.

But this category of brand activation is no easy feat. When today's Digital HQ demands that content is everything and everyone is a content creator, to be successful, a rebrand must go far beyond protecting the usage of a new logo design or mission statement in documents.
To ensure brand consistency and compliance, a modern rebrand strategy must protect the brand in all types of business content produced within an enterprise - from sales pitches and invoices to email signatures and contracts.
If a company doesn't have the right infrastructure or brand management tools in place to facilitate enterprise-wide branded content creation, a rebrand can be an incredibly time and content-intensive exercise, putting many off from making important brand changes entirely.
For instance, despite 54% of our panelists agreeing that a rebrand would be beneficial in helping their company achieve its goals, over half (54%) said concerns about content rollout had held them back from making updates to their brand.
In the next installment of our Content is Everything blog series, we take a closer look at some of the potential challenges that are holding back or delaying company brand efforts and discuss how your business can overcome these pitfalls to set your brand activation strategy up for success.
The problem of enterprise-wide brand asset management
When a company unveils brand updates, much attention is paid to external communications - ensuring the slightly tweaked color palette or catchy slogan is captured on the new website or ad campaign.
While these elements are visually exciting, for any brand activation to be truly successful, the rollout of internal content updates – like an email signature or pitch deck – needs to occur simultaneously. If these two brand activation processes don't occur at the same time, a company will have different brand languages and visuals in circulation, meaning updated brand efforts are weakened, clients and audiences are left confused, and brand investment is compromised.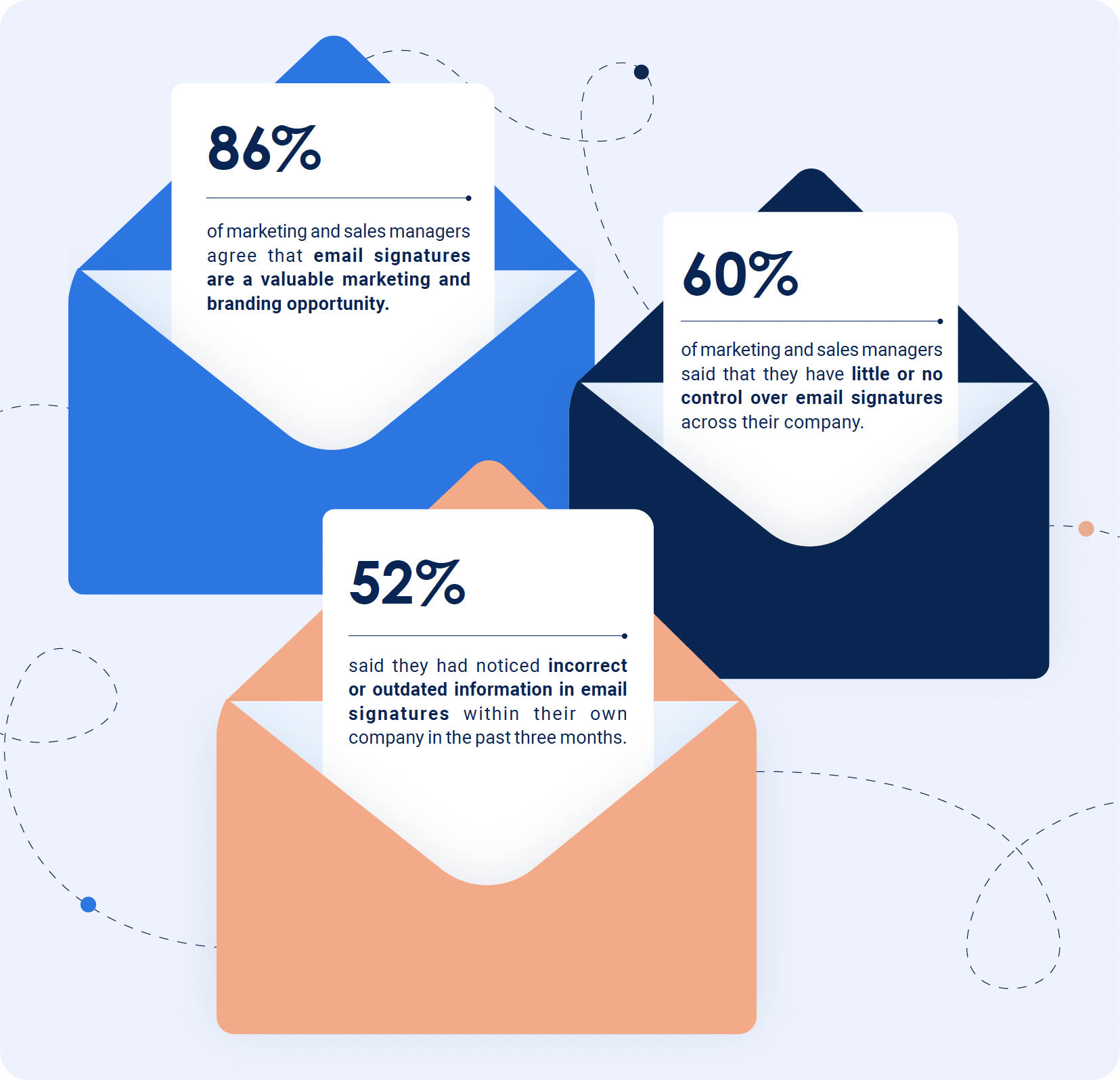 Yet, according to our new global study, the task of rolling out new internal brand work is one of the main pain points, especially for those considering a rebrand, with 69% of respondents agreeing that updating all company content would be one of the most challenging aspects.
Particularly for big organizations where content distribution is complex and often requires IT resources, many are already struggling to keep up with existing demand to refresh business content. In fact, 56% of those we surveyed reported that their company struggles with backward compatibility of content or ensuring that materials in use are routinely updated with the most up-to-date information.
This finding is particularly concerning when you consider that 9 in 10 respondents agree that content is essential to their company's financial solvency, and around a third report that more than half their annual business revenue is directly connected to content. Clearly, brand is crucial to any business's bottom line.
Then, there's another major and common challenge to effective rebrand activation plans - the increased risk of employees taking brand asset management into their own hands.
For instance, 69% of our panelists admit to using Google to search for a company image or logo to insert into content, and nearly half (48%) reported that their teams "often" pull outdated information into company sales pitches and content.
Not only do these content creation practices reduce employee productivity, but brand consistency and quality are put at risk. In turn, brand teams are forced to spend a lot of time acting as "brand police", manually identifying and correcting employee mistakes – which is simply not scalable.
If companies are finding their current content activity difficult, such as refreshing existing business assets or controlling employee compliance, it's easy to see how a content-intensive brand activation exercise such as a rebrand may seem daunting or even impossible.
The cost of brand mistakes
When an employee uses the wrong logo, edits an old template, or updates a presentation with outdated information, the cost to a business is usually more than a frustrated Brand Manager.
Our study found that 89% of respondents agree that even small errors in finalized content can damage client trust, and 84% felt that outdated information in content can harm their team's sales.

One of the most desired effects of an update to brand activation strategy is to create a strong brand that cultivates feelings of trust and loyalty in its audience. But, when brand trust is at risk, the stakes are high.
Sending outdated, confusing, or inconsistent content won't fill a client with confidence, and if a client doesn't trust you, it's unlikely they're going to invest in your services or unlock more revenue for your product.

Our report supports this need for quality and consistency of enterprise content, with 75% of respondents stating that good content is the number one most important driver for business success. In other words, you simply can't afford to discount protecting brand quality if you want your business to succeed – and those protections start with safeguarding all content.
How Templafy powers a successful brand
Content Enablement software such as Templafy can resolve all these major brand activation pain points.
By automating the roll-out of any brand update and centralizing assets in one cloud-based solution, these technologies help to streamline the implementation of a new brand world, keeping employees productive and compliant, reducing risks associated with human error, updating enterprise-wide content instantly, and maximizing the value of your latest brand investment.
Defining and leading the way in the Content Enablement space is Templafy, with our next-generation document generation platform.
Working with businesses to activate their brands, we make staying on-brand easier than going off-brand by delivering pre-approved content and dynamic templates directly to employees when they need it within the solutions they are already using.
For example, if an employee wants to create a document in line with their company's new brand world, they can complete the process from start to finish directly within applications they're already using – whether that be Microsoft Office, Google Workspace or Salesforce to name a few. There's no need to log in and out of applications or Google brand assets, and time is no longer spent checking the latest brand guidelines or waiting for Brand Manager feedback.
Instead, as the content creation process is embedded in their workflows, the right brand assets are served at the moment they are needed. Employees and managers can rest assured that the company's rebrand strategy is being rolled out as planned. Meaning that each piece of content produced is aligned with the new brand guidelines allowing the rebrand to accomplish the business goal it was set out to do: connecting your organization with your customers.

Problems of risk are avoided, global brand compliance is achieved, mistakes are much less likely to find themselves in front of clients, and ultimately, employees can focus on what they are paid to do - generate revenue-driving business results.
For more information about how Content Enablement technologies can benefit your business and its content strategy, download your free copy of our Content is Everything report here.