We all know that emails are sent on a daily basis – we all receive emails on a daily basis, both personally and professionally. But how often do any of stop and consider the huge potential lying within an email, and realize the important impact that Outlook's productivity tools can have?
Why is email so important?
Email is the basis of communication for workers globally, with impressive statistics surrounding the number of emails sent every day: 269 billion emails are sent globally every single day, with the average worker sending 40 on an average work day.
The vast majority of workers communicate through email, and this huge number is rising, but how many people are being productive with the way in which they use emails?
At Templafy, we know how much of an employee's work life is spent in Outlook, and so we care about Outlook productivity, and making sure people are using email in the best way they can. That's why we are continuously developing our product, with awareness of how employees are using emails, and how we can help this process. Email productivity can easily be harnessed, saving employees time, aiding their efficiency, and benefitting the organization.
How does Templafy aid email productivity?
Through our email signature manager, we ensure that all email signatures are correct, compliant, and on brand, regardless of the location or device which they are being sent from. That's because we realize the power of an email – if an email signature is guaranteed to be on-brand, legally compliant, and correct for whichever office an employee is working from, then that's going to save time inputting this information, and the potential for legal incompliance is removed. It's easy for employees to use, and safe for organizations to trust.
That's not all though – through banners in the email signature, text can be added that is relevant to campaigns that an organization is running, and this can mean that not only are email signatures effective and compliant, but they are also an effective marketing tool. Considering the number of emails sent on a daily basis, this tool can be a huge aid to campaigns.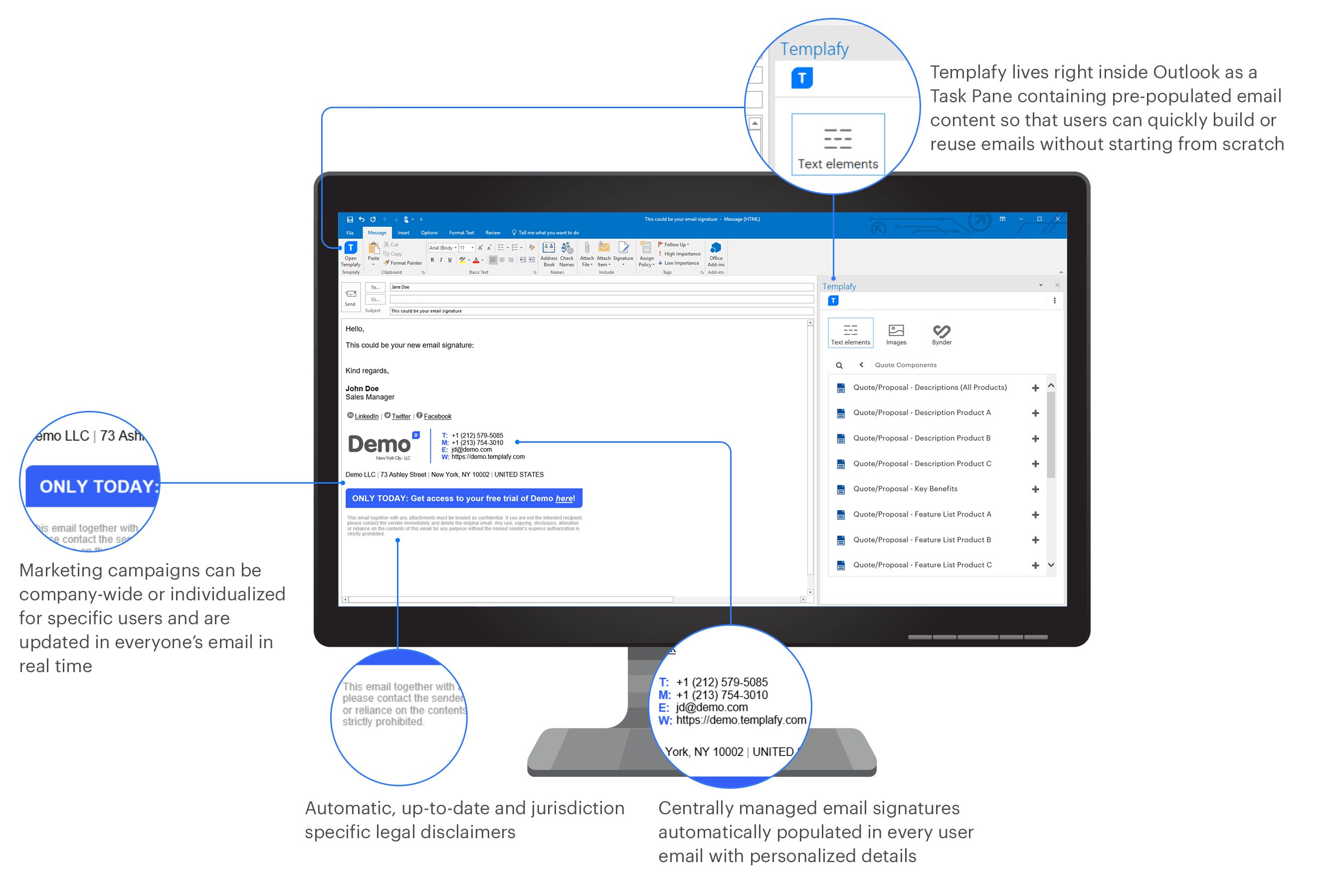 While email signatures are one important way in which Outlook productivity can be enhanced, we know they are just the beginning of harnessing all the power that can be contained within an email.
Another way in which the efficiency of email can be harnessed is by ensuring that the content being sent in emails is easy to find. This is why Templafy's Library opens in Outlook: as a productivity tool that ensures all the useful content for emails is available right within Microsoft Outlook.
What content can users access from within Outlook?
Users get access to all company-approved document assets directly within Microsoft Outlook, through the Templafy task pane, which opens on the side of the program. This helps users to easily find what they need for an email – whether it's a text element that saves inputting commonly used text, or a company image, users can find these easily through the task pane. External systems can also be integrated with Templafy in Outlook, so every asset for your email is easily accessible.
We've now taken this one step further, and added a new functionality, which allows PDFs to be accessed within Outlook, through the Templafy task pane. The PDF Library has always been a function of the Templafy WebApp, but we have recently enabled this in emails too. Employees no longer need to spend time searching their desktop, or intranet, to find the PDF that they would like to attach to an email. This saves time, empowering employees to send emails in the knowledge that they will be able to easily find the content that they wish to attach.
But how do we know which PDFs to store in the Library, and how can we control what content is being sent?
Templafy is governed by central administration, which means that admins can decide what content is uploaded to Templafy, and which user groups have access to it. This means admins and users both can be assured they are only accessing the correct and relevant content. Another feature of this centralized governance is real time access, so updates can be administered instantly across the entire company, no matter the size. Employees working in different parts of the globe will be able to access the same updated pdf from the Templafy task pane within Outlook, and attach it to their emails, within seconds of it being uploaded by an admin. Through this, users will never again have to worry about where they're going to find the content that they need to attach, or whether they can find the latest version.
Your organization's emails are important, and we know just how powerful they can be. Through enhancing productivity in Outlook by using Templafy, emails can become one of the most intuitive, secure, compliant and profitable parts of your workflow.