Last year PowerPoint celebrated its big 3 0. At thirty years old, the software superpower had a lot to celebrate. PowerPoint still stands as the most valuable Microsoft acquisition to date, is currently installed on over a billion computers worldwide and is responsible for the creation of up to 30 million presentations each day.
Aptly described as "the world's most ubiquitous presentation tool," the impact and the history of PowerPoint however goes relatively under the radar - surprising for such an incredibly influential and controversial software program. Righting this wrong, we take a look at a brief history of PowerPoint - its groundbreaking beginnings, present status and what the future holds for the world's favorite presentation software.
At the beginning: Robert Gaskins' PowerPoint
The history of PowerPoint begins in Silicon Valley in the 1980s, when the business of visual presentations - reliant on slides, overhead projectors and acetate, was costly, time-consuming and inevitably exclusively reserved for senior management.
Robert 'Bob' Gaskins saw this gap in the market and alongside software firm Forethought Inc, developed the later renamed 'Presenter' for Apple Macintosh in 1987. Gaskins' revolutionary creation allowed individuals to easily add (then pixelated) graphics and text to an ordered slide-deck. Although Windows' users would have to wait another three years to get their hands on Microsoft PowerPoint, the new program promised any tech-literate team member the same presentation tools as their superiors, democratizing workplace communication practices.
Read more about how to organize your corporate templates
Despite the clear potential to creatively overhaul the workplace, the history of PowerPoint ppt almost ended before it had begun, as it faced serious challenges from its very beginning. Gaskins revealed that Bill Gates himself wasn't sold on the idea and almost blocked the acquisition, drafting a letter to the developers to ditch its graphics-led nature and work on a text version more like an advanced Microsoft Word. On top of Gates' initial concerns, PowerPoint only worked on brand new computers, and couldn't be installed on existing machines, adding another big barrier to its success.
Luckily, the people surrounding Gates were both persuasive and tuned in to Gaskins' vision, and by 1992 the Windows version had gone live as PowerPoint 3.0. Part of the all-new "Office" productivity suite, PowerPoint 3.0 showcased new PowerPoint features that formed the fundamentals of today's version - TrueType font support, transition effects, new graph types and symbols, drawing tools and the Office toolbar with shortcut buttons.
PowerPoint's installation issue was overcome by the fact that businesses found it cheaper to invest in new computers than to continue producing presentations using their old methods - and PowerPoint is largely credited for accelerating the history of personal computers by driving an increase in computer sales throughout this period.
A PowerPoint timeline: PowerPoint over the years
The launch of PowerPoint 3.0 and the not so coincidental age of personal computers, led to over two decades of constant product innovation that would keep PowerPoint at the top of its game. Some key dates to note in the history of PowerPoint:
PowerPoint for Windows 95: thanks to 32-bit coding, multimedia elements such as sound and animation now made an appearance alongside a more user-friendly interface

PowerPoint 97: known as the software's "innovative phase", PowerPoint applications included voice recording, advanced saving functions, slide finder and new navigation controls and frames

PowerPoint 2000: the software's characteristic tri-pane view is born, plus in-program table creation and automatic resizing of slides and text is introduced

PowerPoint for Windows Vista 2007: deemed a "noticeably different animal" this version introduced many of today's existing features like the ribbon menu, Live Preview, Presenter View and was far speedier than ever before

PowerPoint 2010: real-time co-author tools primes PowerPoint for the phenomenon of collaborative and remote working; a feature developed for Office 365's cloud-based sell in 2011

PowerPoint in Office Apps 2014: PowerPoint is optimized for tablets and mobile devices so users could access, create and distribute quality content on the go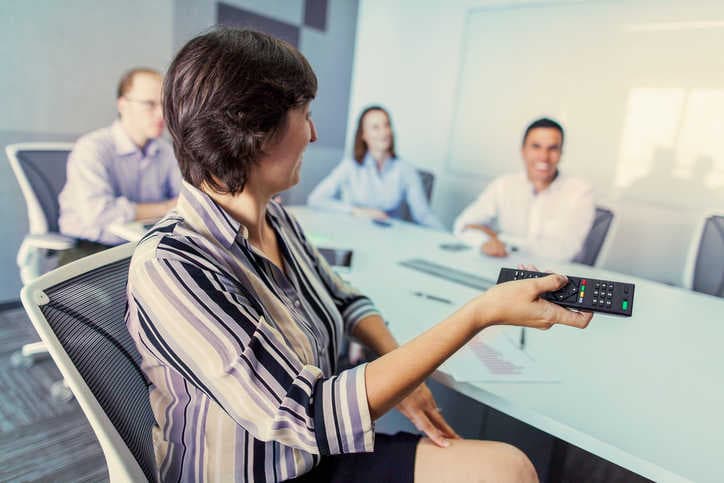 PowerPoint 2016 and beyond: taking on the competition
PowerPoint is by no means the only presentation tool on the scene today. The history of PowerPoint, particularly in recent years, has seen increasing competition from the likes of Prezi, Google Slides and Keynote. Yet PowerPoint's reigning market position remains largely unchallenged - notably due to its ability to keep up with new competitor offerings.
For example, when Prezi first launched, it made waves by bringing non-linear storytelling to the presentation scene. Prezi's zoom canvas and motion effects allowed presenters to jump to and from and in and out of slides, exposing the comparatively clunky way PowerPoint users had to exit Presenter mode and hunt through PowerPoint ppt slides to find previous information. Prezi gave individuals the advantage of maintaining a consistent flow throughout their presentation - with some seriously impressive effects to boot.
Cue PowerPoint's 2016 line-up of rival updates. PowerPoint's Morph allowed users to create multiple (and smooth) transitions between slides, Zoom eliminated the need to exit presenter mode so in true Prezi style you could jump around presentation content and Designer empowered visually optimized slides with guided design assistance. These features are extremely user-friendly in comparison to other presentation tools on the market, leaving PowerPoint sitting comfortably once again. This edge was further secured with innovative features such as built-in screen recording, new and improved co-authoring add-ons and hotly anticipated 3D capabilities - with interactive models giving an audience an even more engaging experience.
The anti-PowerPoint club
Despite being the world's go-to presentation tool - with all its updates, boardroom feats and competitive edge, the history of PowerPoint does include a fair share of fierce criticism.
In 2004, Amazon CEO Jeff Bezos issued a "No PowerPoint presentations" policy - asking employees to swap their PowerPoint slides for four page written memos that would be read by the team and followed by a Q&A session. He argued that "Powerpoint-style presentations somehow give permission to gloss over ideas, flatten out any sense of relative importance, and ignore the interconnectedness of ideas." A devotee to the whiteboard and marker pen, Steve Jobs echoed Bezos' disdain for slide-based talks with his infamous statement: "People who know what they're talking about don't need PowerPoint."
These highly reputed CEOs touch on a very vocal criticism of presentation software - that ideas can be reduced and oversimplified when translated into ppt format. The argument also goes that PowerPoint's bullet point structure can give instant and sometimes undeserved authority to its content and content creator. This idea that an audience often takes PowerPoint slides as gospel rather than subject matter to be discussed and debated, was picked up by leaders in the UK's university system; as discussed in The Independent's rather damningly titled 'Let's ban PowerPoint in lectures - it makes students more stupid and professors more boring.'
On the flipside to this reductive effect, there is of course, "Death by PowerPoint." This phrase needs very little introduction as chances are you have endured and suffered through it yourself at some point in your academic or working career. Characterized by information overload, busy and crammed slides and an unenthused audience, "Death by PowerPoint" is another reference to poorly produced and presented PowerPoint presentations. The saying is so widespread there are countless guides to overcoming these annoying PowerPoint ppt habits; including the popular BBC read "How to Avoid Death by PowerPoint."
Read next: What is Office 2019? Everything you need to know for now
Creating PowerPoint presentations with tens of millions of views
There's no denying the history of PowerPoint has seen many bad, painful and uninspiring presentations. But when it comes down to it are PowerPoint users, rather than the platform itself, the culprits of ineffective slideshows?
Take TED Talks - home to some of the most powerful speakers on the planet. If you search the site's most viewed talks, you'll notice that the majority of these videos feature a starring role for PowerPoint and its visual cues. These inspirational talks, some of which have received tens of millions of views, are so far removed from the concept of "Death by PowerPoint" and are proof that presentation tools can elevate rather than harm the process of sharing ideas.
Unlike TED Talks gurus, businesses often overlook the mastering of PowerPoint ppt in the workplace and it's not unusual to find employees with little or no software training. This shortcoming sparked a major milestone in the history of PowerPoint, when Microsoft Inc launched their Microsoft Partner Network in 2000. Following heavy investment, the program now works with 640,000 partners worldwide - including Templafy, to offer companies the resources, training and technology they need to ensure their workforce have an advanced understanding of Microsoft products. This support acts to encourage businesses to build their offering around Microsoft products like PowerPoint, with smart integrations that help them stand out in their industry.
At Templafy for instance, our PowerPoint solutions help enterprises around the world transform generic company templates into thousands of personalized, on-brand presentations with the right look and feel, as well as up-to-date company data and legal disclaimers.
Particularly helpful for employees that aren't design or tech savvy, users directly access pre-approved PowerPoint ppt templates from within the program and as our platform is fully-integrated within PowerPoint, employees can conveniently reuse or easily customize company slides and add images, text snips, videos, etc. to their PowerPoint presentations on-the-go, without needing to worry about document or brand compliance.
Rather than wasting time checking that their content aligns with a company's latest brand guidelines, all templates can be dynamically personalized via Templafy's centralized library of brand-compliant slides, graphics and images. Using Templafy's BrandChecker, if any off-brand material sneaks into the presentation the employee is alerted and offered alternative options that keep them in line with corporate identity guidelines. Mirroring Microsoft's cloud-based services, all of this can be done remotely and on any device. Brand Managers can rollout any changes, however big or small, via the Admin Dashboard so they can rest assured that users in all departments always have the relevant and most up-to-date assets to hand.
What does the future hold for PowerPoint?
Will PowerPoint still be the most ubiquitous presentation tool on the planet 30 years from now? Especially when forecasters are predicting the presentation scene to be full of new tech arrivals. Wearable tech such as Myo armbands will bring more personalized flow to presentations, allowing presenters to move around and use muscle movement to transition between and zoom into slides. Whereas, the development of VR and AR markets estimated to reach $150 billion by 2020, is likely to bring headsets into the mix. Rather than 2D slides, space surrounding an audience could be used as the 'canvas' of a presentation, producing truly immersive and interactive experiences of shared ideas.
Despite all the fast-moving tech advancements on the horizon, the history of PowerPoint so far has proven the true adaptability and evolving nature of the software and its ability to change with users' shifting needs. It's hard to imagine the teams at PowerPoint HQ ignoring new technologies and we'll surely see key behaviors and trends further integrated into PowerPoint's distinctly user-friendly solutions. With continued investment in its partner network and subsequent smart integrations with new, upcoming companies, PowerPoint is cleverly placed to remain as relevant and powerful as ever.
Bring on the next thirty years!