Quickly correct those sneaky, irritating, or company-specific errors that a simple spell-check will never find.
Spell check is one of those tools that works so well 98% of the time. But for many organizations, corporate language requirements go beyond simple spelling and grammar.
Whether due to branding or legal requirements, most companies today have preferred terminology, styles, branded names, and phrasing. These rules and guidelines are often stored in an internal document which each employee must review individually, often with inconsistent results.
The effect is that branding, communications, and legal teams are required to review all employee content to ensure adherence to brand standards and avoid legal risks.
Templafy's Corporate Terminology tool removes the manual effort from both the content creators and the content reviewers by integrating approved company language into Microsoft PowerPoint, Word, Excel, Outlook and OneNote.
What is Corporate Terminology? 
Corporate Terminology is a tool that integrates approved company language into Microsoft Office via a centrally-governed list of preferred, suggested, and undesired words. 
As part of the Templafy platform, Corporate Terminology hooks into the existing features of Microsoft applications to leverage common workflows for writing and spell checking.  
When working with Corporate Terminology, Templafy differentiates between preferred terms and avoided terms.
Preferred terms vs. avoided terms
Preferred terms are added to your Microsoft Office dictionary and integrated into Microsoft AutoCorrect. This means that any incorrect terms are automatically corrected (i.e. "Tempalfy" becomes "Templafy") when using Microsoft Word, Excel, Outlook and OneNote.
Avoided (or undesired) terms are picked up within PowerPoint. It's an additional feature we've added to Templafy's Check for PowerPoint tool, flagging any potentially unwanted terms for review before your slide deck is finalized.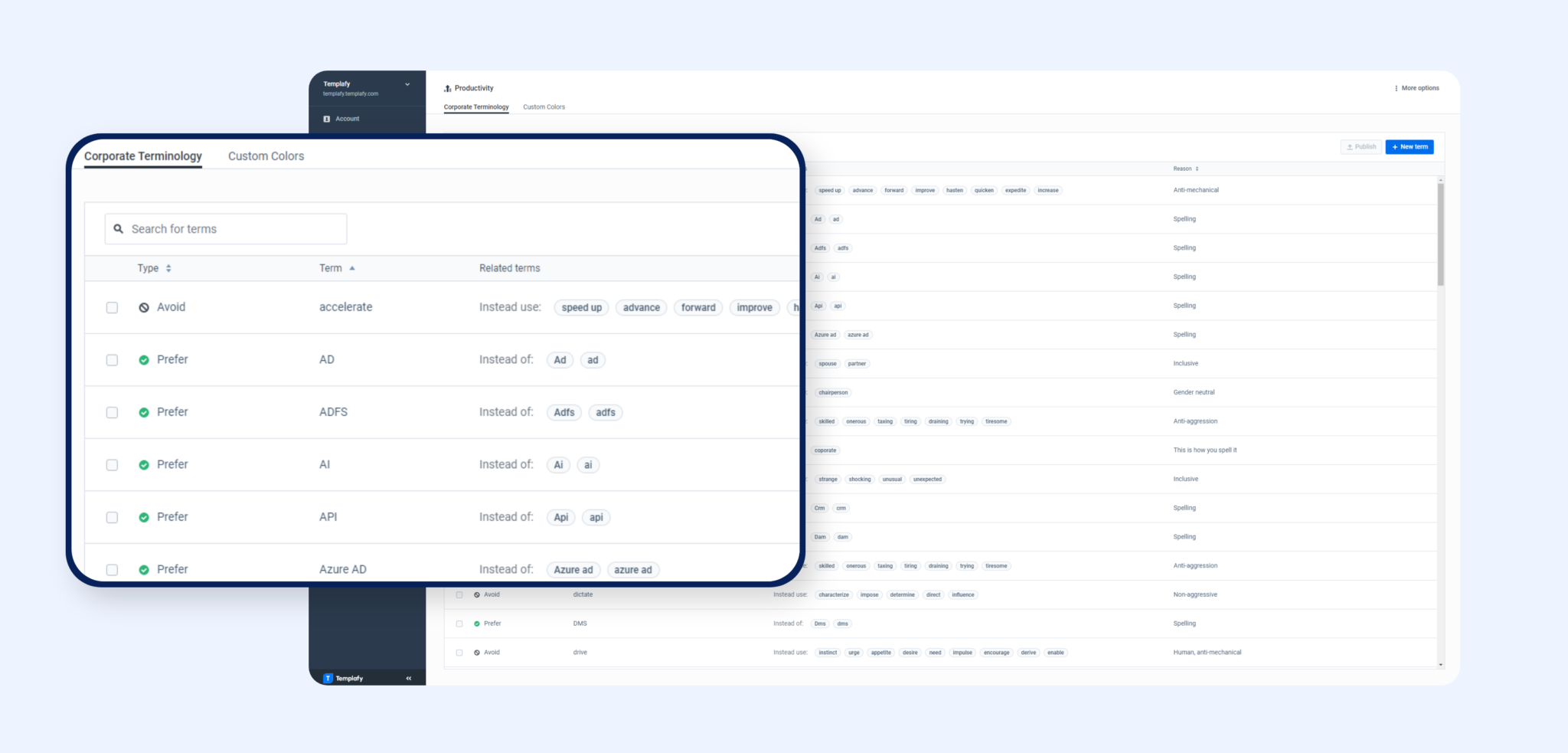 Five ways companies can use Corporate Terminology 
Name and title consistency
Make sure your own company name (or that of a regular client) is spelled correctly and with correct capitalization, punctuation, etc. 
Maintain consistent tone of voice
Set and enforce standards around style and tone of voice, e.g. gender-neutral language, etc.
Avoid legal risks
Keep dangerous or ambiguous language out of sales material and contracts, e.g. "guaranteed" or "100%".
Keep content up to date
Find and automatically update outdated product names and other terms.
Standardize common abbreviations
Convert business jargon or company-specific abbreviations to commonly-used forms.
Get started with Corporate Terminology  
Corporate Terminology is automatically included when you use Templafy's Check for PowerPoint tool, so getting started doesn't require any additional setup. Admins can simply log in and begin adding terms.
Define your terms
Enter your preferred corporate terms as well as which terms or phrases to avoid
Set your suggested alternatives
Centrally managed terms will be automatically detected in Microsoft applications
Reduce the risk of misused corporate language
With centralized management and automatic language detection and correction
Additional resources from our Knowledge Base: 
If you're a Templafy customer and want to learn more about Corporate Terminology, please contact your Templafy representative. Otherwise, discover how Templafy can help you connect and manage entire document ecosystems with a product demo.