In today's globalized, digitally-driven world, the need for corporations to have a consistent and powerful brand is more important than ever. 89% of B2B marketers say brand awareness is their most important goal, and 77% of marketing leaders cite creating strong brands as critical to their growth plans. But how exactly is a strong brand built?
Whether operating in B2B or B2C sectors, all leading brands industry-wide prioritize these key elements:
Brand Image identity: a defining color can increase brand recognition by up to 80%, and whilst visual identity includes more than just a color, this statistic shows the potential of its power.
Brand positioning: 64% of consumers say they trust a brand more if they share values  (i.e., it creates an emotional connection) with it so it's vital that the brand positioning, values and mission are clear and communicated coherently.
Consistency: consistent brand implementation across all channels increases revenue by 23%, meaning that every single communication and marketing channel matters.
These key elements should be considered across all sectors, from taglines to color palettes, digital marketing teams to production teams, and everything in between.
It's all well and good to know that these elements create a strong brand and enhance the customer experience, but how do you create those elements in the first place? They're complex to create and need to be deep-rooted in the brand guidelines at every touchpoint to have a lasting impact.
The foundations that these winning elements are based on narrow down to just three key building blocks - people, processes and technology.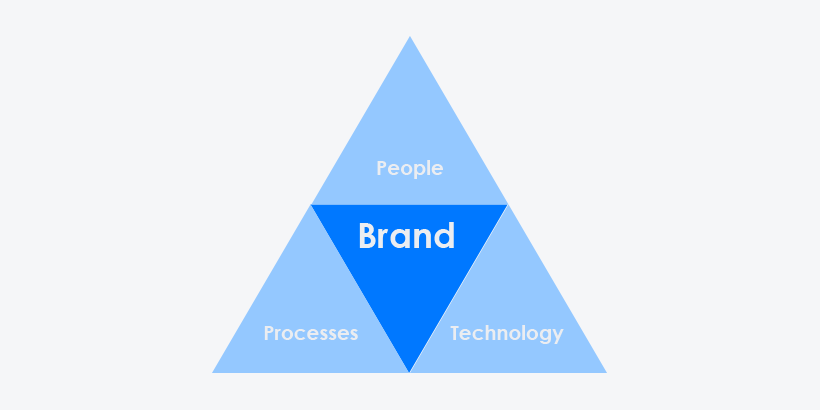 1. The role of people in strong brands
Companies must commit to building strong brand stories from the inside-out - employee buy-in to a company brand is crucial. Nielsen's 2012 research found 92% of consumers are more likely to trust brand information if it comes from employees or peers rather than endorsements or company adverts. That means that regardless if you're a start-up, small business, or multinational conglomerate, your marketing strategy starts and ends with your employees.
The world's most recognizable brands know that building strong brands starts internally. Take e-retail giant Zappos and its infamous hiring policy: the HR process is a mix of interview and cultural fit screening which measures candidates against a ten point brand manifesto to determine if they would also be a strong brand ambassador. No matter which position they've applied for, successful interviewees then progress to a month long customer service training program. The program exposes them to the brand's 'delivering outstanding customer service' brand value. When finally presented with their contract, interviewees are offered $2k not to take the job. As a result, Zappos is 100% sure they have a team that is as dedicated to growing their brand as they are.
Writing employees into your brand story is another effective way of cultivating a sense of brand loyalty and providing a strong brand cornerstone. American energy conglomerate General Electric (GE) did exactly this with its brand ambassador program - after realizing negative brand perceptions were affecting talent recruitment, GE launched a LinkedIn campaign that combined its 350,000 employees and a $0 budget. It took the form of weekly blog posts, newsletters, an education hub and incentives. 75% of GE workers started writing about the benefits of working at GE, creating a counter-narrative to unfavorable brand stories. Within its first month, GE saw an 800% increase in applications. This directly raised the company's brand value and shows the power of using employees to co-write your brand story.
2. Strong brands are all about processes
Organizing processes that support and facilitate brand growth makes it easier to build a brand that connects with a target audience. - particularly in global and multinational brands. Rather than the head office serving as a top-down transmitter of company branding, providing one direction instructions to local divisions and utilizing network models gives organizations the key framework they need to reflect the brand identity and vision, while accommodating local cultures, languages and preferences.
When it comes to successful brand examples, McDonalds is often referenced. But the fast-food franchise serves up the perfect analogy for a network process. Its glowing golden arches are instantly recognizable around the world - whether you're in France, the U.S or Australia. However, each country has a menu distinct to its national tastes, for example, Thailand has a "Samurai Pork Burger," which is not offered in other locations. Offering these alongside a menu that is the same globally, they keep their brand name, brand identity, and brand experience simultaneously global and relevant to target customers around the world.
In this network-style process, a head office should only provide headlines, facilitate collective resources and supply sources of inspiration. This unifies brand identity and brand positioning in individual countries while allowing international divisions to define a specific market variation that works within their local contexts. Markets receive the support they need to contribute to an evolving global brand without diluting or harming the core identity. In many ways, brand optimization is a crucial aspect of building a solid brand image across all marketing channels that upholds your mission statement but also connects with the varying needs, cultures, and locations of potential customers. 
3. Supporting strong brands with technology
A powerful brand is more than a logo design, new products, typography, or marketing efforts. It's made up of hundreds of interlinked elements – from the brand images on billboards to the font used in email sign-offs. For any business owner or stakeholder, particularly those operating on a global or enterprise-level (i.e., Starbucks, Nike, Apple, Amazon, etc.), different software and systems are needed to support the access, monitoring and consistency of brand assets across all company channels.
Technology such as brand asset management (BAM) tools such as give employees a solid starting point for producing on-brand content in alignment with brand values, messaging, and visuals. They allow all employees in all locations to access brand elements, ensuring brand compliance and consistency across all channels.
BAM platforms remove the manual aspect of brand management, allowing brand managers to control access for different departments (i.e., social media, digital marketing, SEO, customer service, public relations, etc.), touchpoints, locations and individuals in its network. This helps secure maximum compliance and empowers employees to create on-brand content, as they know they will always be accessing the correct branded assets and can easily use these in the work they create.
Read next: How to build and organize a global brand strategy
Technology at the heart of a strong brand
Here is an example of technology being at the heart of a strong brand: Templafy's template management solutions improved brand compliance for global jewelry designer PANDORA. Operating in more than one hundred countries, PANDORA needed tighter governance over how employees were using its brand assets in everyday communications.
Templafy helped PANDORA introduce custom dynamic templates that automatically pulled all pre-approved branding elements such as the latest logo design, font and formatting into their documents. Employees can now easily access compliant brand assets, or add branding assets directly within the Office application they're working in. As a result of this, they can work faster, and be sure that their work always helps strengthen the PANDORA brand.
Kristian Lysgaard, Director of Corporate Communications at PANDORA refers to this greater accessibility for brand assets: "Templafy has solved [our] branding problem… Employees now know that they are always using the latest version of the templates and everything is completely integrated into the Office package. This has been a huge advantage. And our administrators now have a user-friendly admin interface where we can instantly add and edit content globally."
PANDORA maintained its global brand message, value proposition, consistency and integrity and also empowered its employees to become strong brand ambassadors through Templafy's software. Technology like Templafy gives businesses across many different industries the power to improve centralized governance and access which enhances their strong brand identity.