Late last year, the American Institute of CPAs released research showing that cloud technology adoption is on the rise in the accounting world. This should come as no surprise – if you use Gmail, Spotify or Netflix, you probably use cloud tools in your personal life. The same will soon be true for your professional life, as the benefits of cloud tools you enjoy in consumer applications are just as relevant in productivity tools for business.
This is the message that the accounting industry is really starting to embrace. Productivity software gives you efficiency, security and opportunities for growth that weren't available in the old desktop world. If you aren't already using cloud productivity software - here's a good place to start.
These tools each streamline your everyday core accounting activities: time tracking, project management and document management.
3 Best Productivity tools for accounting firms
Harvest for time tracking
Employee productivity software is a great place to start, because you're not going to be very productive if you don't know where your resources are going . That's where Harvest comes in. Harvest is cloud time tracking software that lets your staff easily track their time against projects and clients. It has a Mac app and a Chrome extension, so your employees don't have to try and cast their minds back to remember how much time they spent on a project. Rather, they just start the timer and get to work.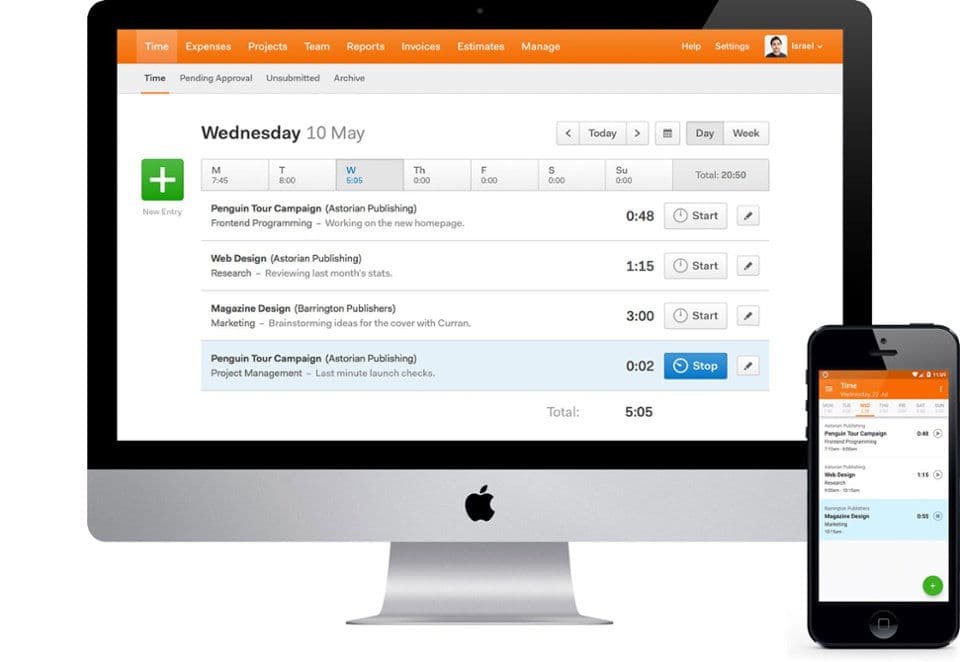 Harvest is all in the cloud, so all the information flows through instantly -- sparing you the weekly task of reminding employees to confirm their time sheets, or fill them out in the first place. This approach also gives you a constantly up-to-date view of how things are going, day-by-day rather than week-by-week or month-by-month. It's real-time business software, rather than retrospective business software.
It even has a mobile app, so it's easy to keep track of your time when you are meeting clients offsite or at their offices.
Sign up for a free trial of Harvest here.
Trello for project management
Trello is deceptively simple office software: it's an online equivalent of a bunch of Post-it notes on a whiteboard. It's much more effective than that manual approach, though, because it's all in the cloud.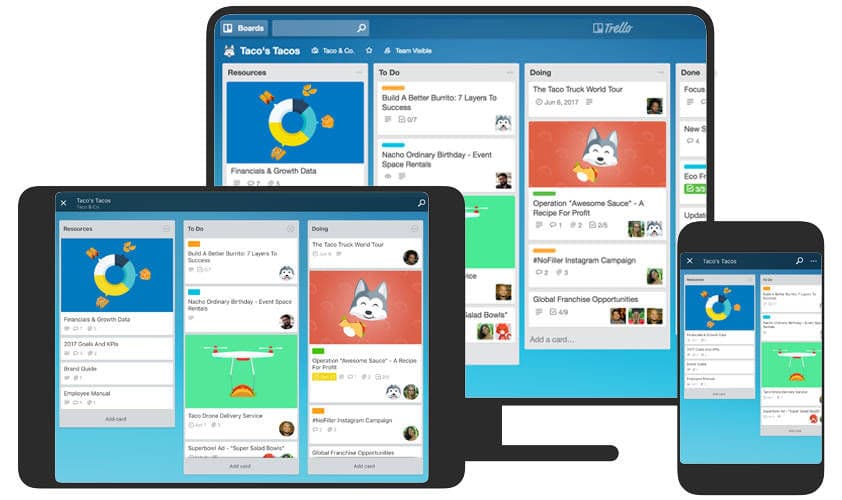 Here's how it works: you choose some column titles, and then people can create and shift the cards underneath those titles. So, when you have projects that have multiple stages (such as, "received information," "reviewed by partner," "signed off and ready for client"), your staff can move the cards as projects move from one stage to the next.
Since it's online, you can login from anywhere and get an instant view of how every project is going. This gives you crystal-clear visibility of how things are tracking, and where you may expect to see bottlenecks. Then you can deal with these bottlenecks before they get out of control.
Templafy document management tool
Your brand and reputation is one of your best productivity tools. Since you're dealing with client finances, you really want to give those clients confidence in your professionalism and not waste time trying to convince them of this. Consistent document branding -- from presentations right down to email signatures -- is a great way to maintain that confidence. Conversely, inconsistent branding is a great way to lose that confidence.
On top of this, manually managing branded documents can almost become a full-time job. Templafy aims to improve your productivity by automating templated document management. With Templafy, you just upload a template, and all your staff have access to it. If you need to make changes, you just make them once, and those changes flow through to all of the documents your staff use. Not only do you save time you would have spent manually updating these documents, you also get the peace of mind from knowing that every document you send clients is professional, slick and up-to-date.
Business in general, and accounting in particular, is moving to the cloud. Get on board with some of these products and take advantage of this shift by ramping up your firm's productivity.
To learn more about Templafy and how it can boost your office productivity, get in touch with us.