In March 2019, international charity Samaritans unveiled a bold, modern new look. Driven by a need for greater reach and relevance among a younger audience, the colorful rebrand notably catered for a huge range of print and digital formats.
Speaking of the company's new branding, Claire Biscard, creative director of the project, commented:
"The system is designed to move and animate across all environments — whether it's a platform to tell your story on film, a framework to help re-connect with life-affirming moments on social media or physically building 3D environments to help us connect face to face."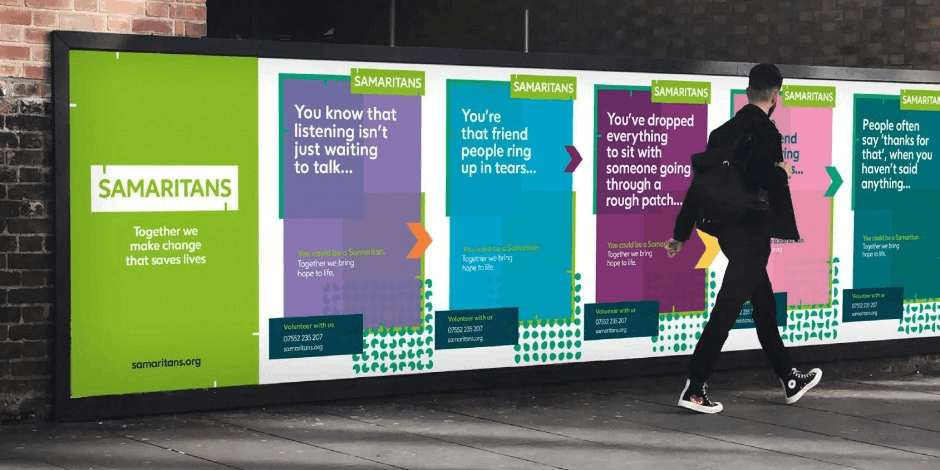 As Biscard points out, today brands need to deliver assets for more channels and platforms than ever before. Long gone are the days where Brand Managers simply had to worry about brand logo placement and taglines on their letterheads and email signatures. Needless to say, the current workflow, messaging and marketing materials are much more complex than they were in the past. 
With this greater number of brand and marketing assets comes greater responsibility for how these branding elements are used and distributed by businesses. Why? Because branding matters. Branding is key for standing out from your competition, gaining and retaining customer loyalty, attracting top talent and securing investment. For instance, 82% of investors believe brand strength and name recognition is becoming more influential in their investment decisions.
With asset numbers multiplying by the day and brand material lifecycles becoming more important, ensuring visual and stylistic consistency on every channel, every piece of material and every internal memo is becoming increasingly crucial and challenging for business brand development. So, how can you guarantee your brand strategy will always be represented correctly? The answer lies in an effective brand asset management strategy.
What is brand asset management?
Brand Asset Management (BAM) is the process of organizing, storing and accessing a company's brand assets. This can include the management of any file, document or image relating to a company's branding such as varying logo formats, style guides, artwork for digital or print products, templates for presentations, internal stationery design and social media visuals.
With this focus on digital assets, BAM is often conflated with Digital Asset Management (DAM) when in fact brand asset management is one specific part of DAM. Whereas digital asset management is concerned with all files enterprise-wide, brand asset management covers assets used specifically by brand and marketing teams for internal and external marketing purposes. Whereas DAM software provides access to the latest version of assets, BAM builds on this to provide context and usage guidance too. Some BAM services even offer collaborative capabilities, allowing multiple users to work together on a chosen file.
As a form of digital asset management, brand asset management essentially helps employees easily and effectively manage their company's brand assets. This enables businesses to maintain vital brand guidelines by making it easy for employees to use the most up-to-date assets and achieve correct implementation.
The problem with traditional brand asset management
Traditional brand asset management solutions are typically manual, which requires Brand Managers to upload assets to a repository (whether cloud-hosted, on-premise, or a hybrid of the two) and then alert their team about updates and intended usage — usually via brand guidelines. Employees then distribute these assets according to the latest company instructions.
In theory, this process seems simplistic, however, in reality, it can become extremely problematic. With the rise of new platforms and subsequent explosion in the number of brand assets, even for small organizations, it's become near impossible for Brand Managers to effectively monitor if employees are adhering to the latest brand guidelines.
If asset repositories aren't easy to access in a central location, busy employees may fall back on Googling off-brand imagery, reusing old templates from their desktop or choosing their own fonts- and color palettes. Aside from resource-draining sample audits that can only monitor a tiny segment of outgoing communications, this means Brand Managers have no guarantees on brand compliance.
Control and compliance with modern brand asset management
Modern BAM software incorporates smart technologies to centralize their assets and maximize enterprise-wide control, functionality, productivity and compliance. Usually cloud-hosted to ensure 24/7 access, brand asset management software enables employees to have direct access to everything they need to create on-brand material.
For instance, operating on a centralized model, brand asset management system/software providers, like Templafy, have out-of-the-box integrations with cloud-based digital asset management systems. That means everything from images to logos and icons to infographics are directly accessible within each employee's Office applications. As a solution that works both online and offline, employees can easily create on-brand work in the office or on-the-go.
These integrations allow employees and stakeholders to search, download and share brand content without switching between programs or venturing outside their brand world for additional assets — creating a single source of truth for team members across the organization. Productivity is enhanced by speeding up document creation tasks, significantly cutting down the time spent searching for brand appropriate assets.
Compared to manual BAM processes, the right brand asset management platform allows Brand Managers to restrict access to these assets and templates, assigning varying authorization roles for different departments, locations and individuals. Securing maximum compliance, BAM platforms also work to limit compliance risks with automated and version control, leaving less room for human error.
Case study: constructing an effective global brand asset management strategy
Templafy's recent work with MT Højgaard is a good example of brand asset management in action. With 4,200 employees across seven locations, the 100 year-old construction and engineering company manages around 100 global projects at any given time, including the likes of the iconic Copenhagen Royal Library.
However, working with an on-premise brand asset management platform, the firm began noticing difficulties in monitoring documents and presentations and the risk this posed to maintaining their consistent brand identity as an innovative leader in their field. This challenge was tested further as MT Højgaard operates under a parent company, MTH GROUP, so essentially there were two brands at stake and two sets of asset types in circulation.
Migrating to Templafy's cloud-based software allowed the company to streamline the creation of on-brand documents and presentations by giving employees easy access to the most up-to-date digital assets, from wherever they worked. Templafy integrated seamlessly with MT Højgaard's digital asset management system, Skyfish so all on-brand images became available to MT Højgaard employees inside office applications, such as Word and PowerPoint.
With the use of authorization and brand checker tools, the Branding department saved time reviewing and monitoring outgoing content for both MT Højgaard's brand and the MTH GROUP parent brand. IT resources for library, template and content updates were minimized as Templafy's easy-to-use interface empowered Brand Managers to make these changes themselves instantly.
Speaking of the importance of brand asset management tools to his firm, Henrik Hommelgaard, MT Højgaard's Branding and Digital Manager, said: "No employee wants to break the brand rules on purpose, but if it's too difficult to stay on-brand that's exactly what happens… Using Templafy has greatly increased the possibilities for our company content and led to much less off-brand material being created by employees."