Content is central to a brand's identity. The visual and written representation of any organization is the bedrock a business is built on, and in the digital HQ where everything is content, brand can make or break success.
Whether you're dealing with legal documents, social media marketing materials or a customer facing deck, if your company is inefficient and inconsistent in its content creation process, what does that say about your brand? And what does it mean for your business moving forward?
At Templafy, we recently conducted a global survey across the United States, the United Kingdom, Australia and Germany to determine the role content plays in brand integrity, trust and activation. All 2,296 survey respondents are employed full-time in one of the countries mentioned above at companies with at least 1,000 employees.
Read on to see the data findings and what they mean for your brand.
Lack of content infrastructure leads to "brand patrol" and endless checkpoints
Globally, 60% of respondents said their company's process for reviewing and approving content delays other work, and those at the managerial level were 26% more likely to say this than those at the associate level. Let's take a look at how lengthy review processes break down by region.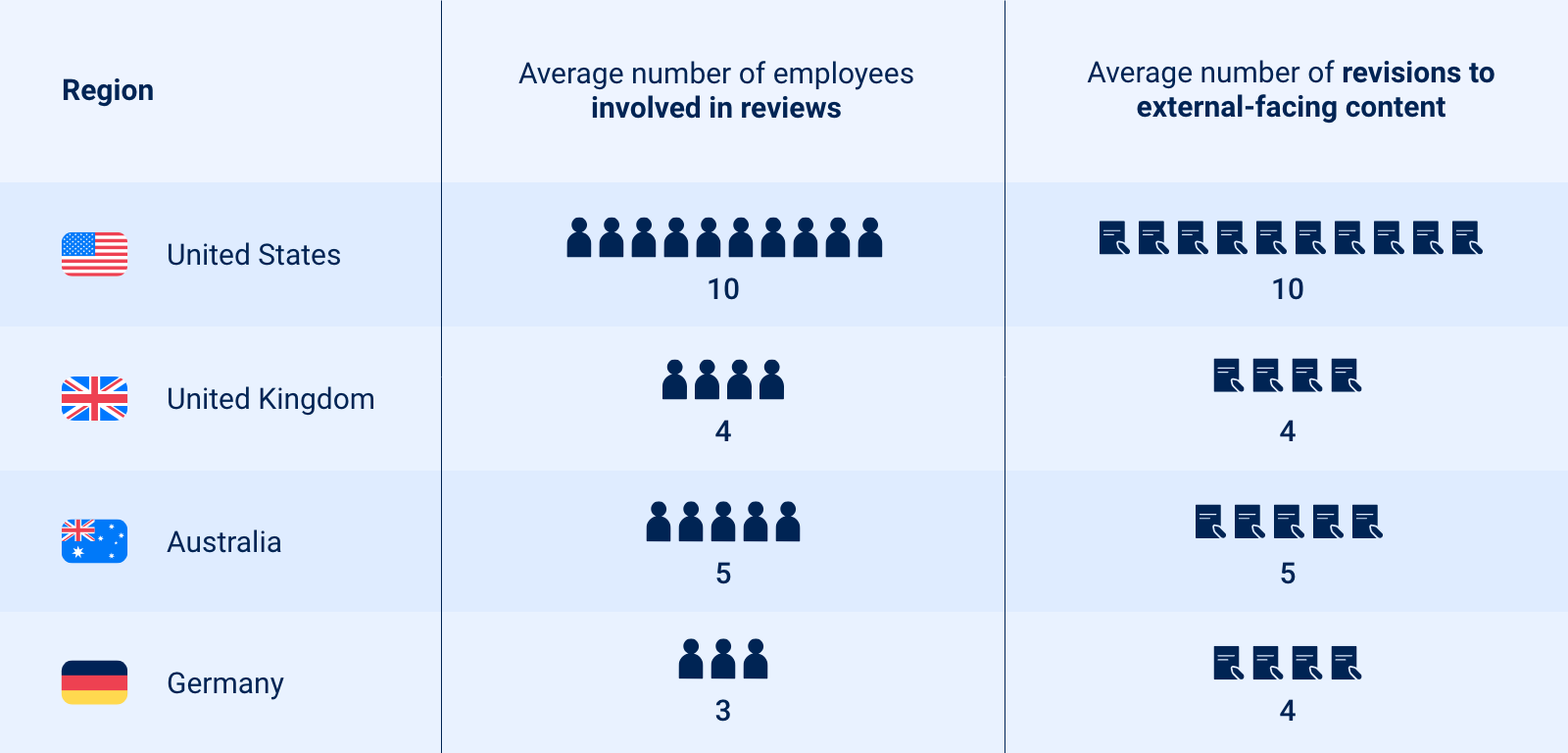 Drafting content is one thing, but reviewing it is a whole other ball game. We asked our respondents how important reviewing content is to their day-to-day work. Here's what we found: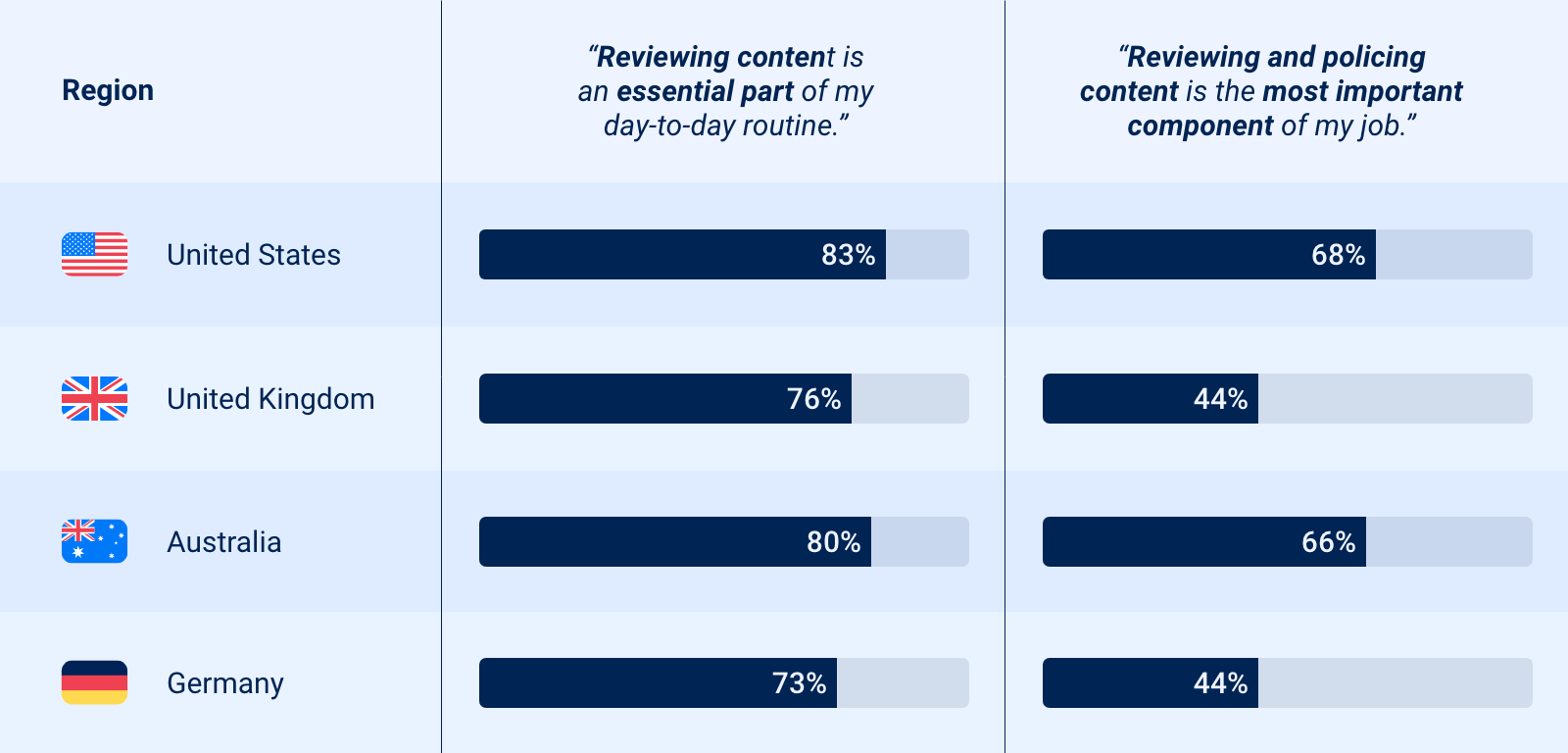 We should mention that employees aren't going it alone when drafting content, either. Without a strong content infrastructure in place, employees are asking their colleagues and/or searching for information to add to content pretty frequently. In fact, almost two-thirds (65%) of global respondents ask colleagues or search for information at least 2-3 times a week. Let's see how this breaks down regionally: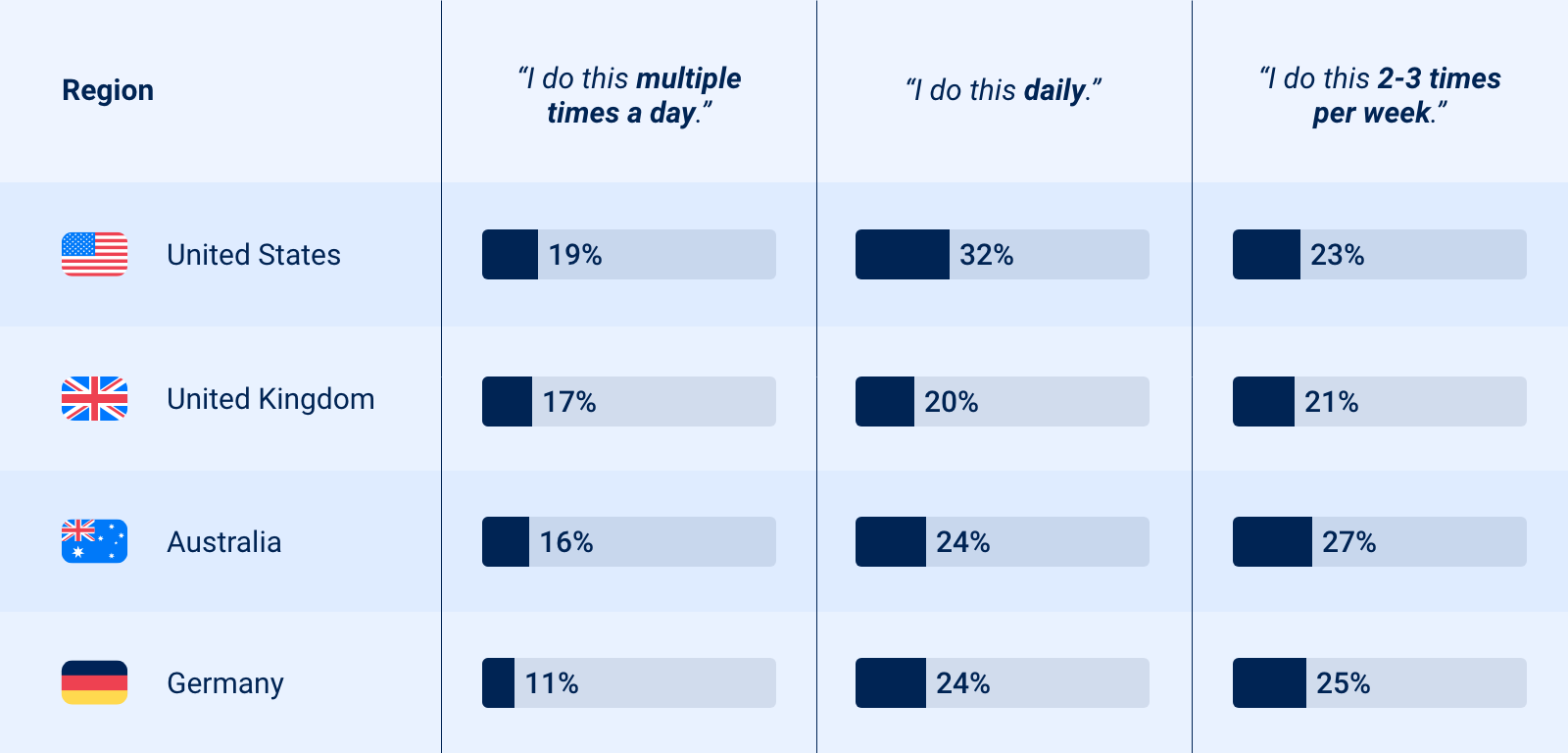 All of these reviews combined with regularly tracking down other materials can lead to burnout. In fact, a third (33%) of respondents in the UK say they feel overloaded and consistently have more work than they can complete.
Poor content infrastructure damages brand integrity
A healthy brand is one that is consistently evolving, which includes changing and updating guidelines for external-facing content. Maybe you've updated your logo to freshen it up or changed some of the wording in your key messaging. But without a strong content infrastructure in place, tracking down up-to-date materials can be a drag.
In fact, 62% of respondents said they frequently waste time creating content that already exists somewhere in their organization.
73% of respondents said they don't use the latest company-approved version of relevant content when creating new pieces. Instead, almost half (47%) said they choose to save over previous versions of their own content instead of seeking out the latest company-approved version, and over a quarter (26%) say they start from scratch every time but pull information from wherever is easiest.
What's more concerning, 69% of respondents across all regions admitted to regularly using Google to find company images or logos to include in content or presentations for their own company. Let's see who the most avid Googlers are by region: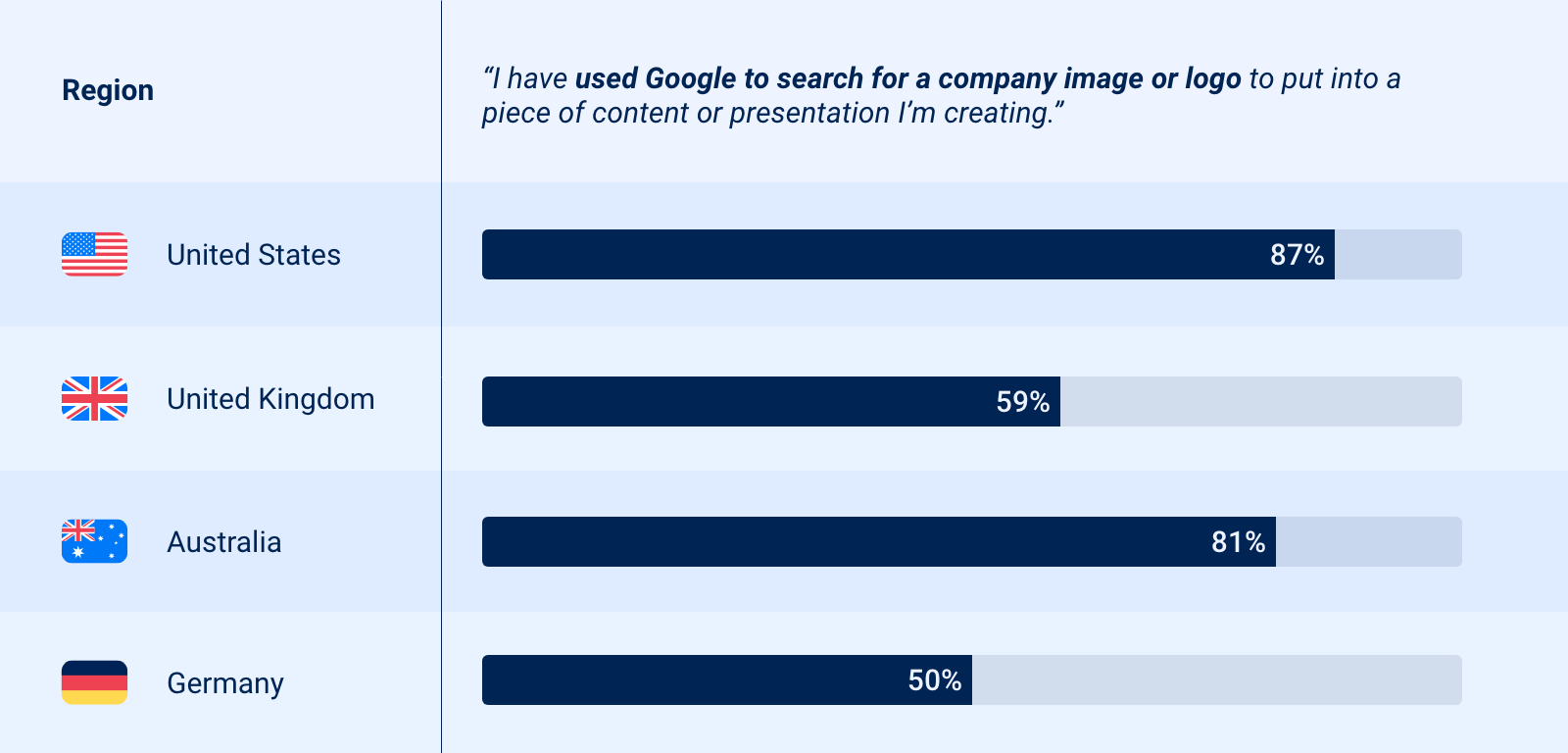 Using the wrong versions of company content can lead to errors slipping through the cracks - even though most external-facing materials go through that endless review process mentioned earlier. Which doesn't seem to help much, considering a whopping 94% of respondents said they find mistakes and errors in content after it's already been approved. Breaking down the frequency of those statements is even more astounding: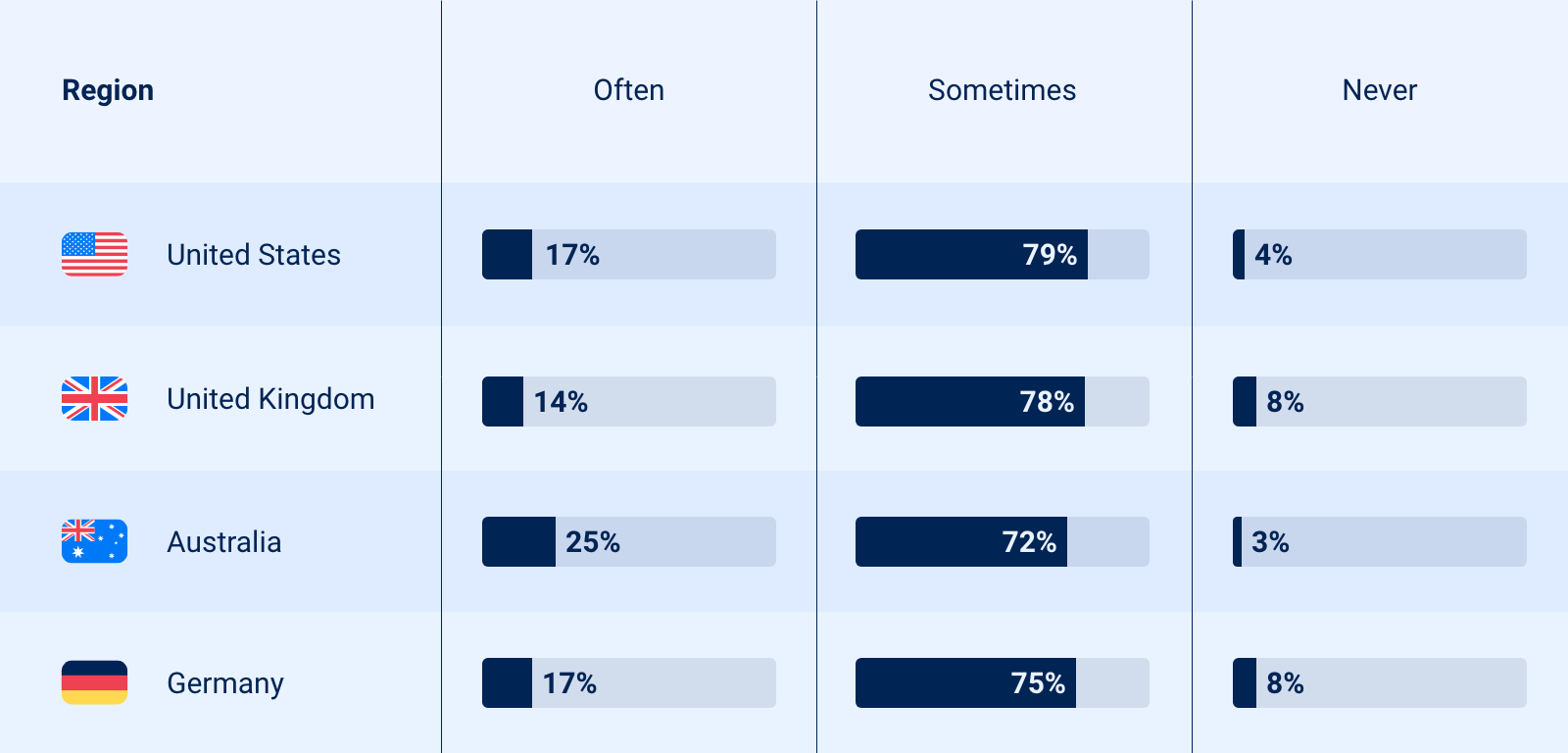 That's a lot of mistakes. So why aren't employees using company-approved templates/content if so many errors are making it to their final drafts?
Employees don't know where to find content - or they're overly confident in their own versions
You'll notice above that survey respondents in Australia and the United States are the biggest offenders when it comes to pulling company logos from Google.
We asked employees why they typically work from their own version of content and found that employees in Australia and the US were the least likely to have common databases of company-approved content: 40% of Aussies and 51% of Americans said their company doesn't offer such databases. Another 40% of Australian respondents cited they simply don't know where to find company-approved content or templates, so they just use what's saved on their desktops.
The #1 reason other regions aren't using the latest content approved by their company? An overwhelming amount of confidence in their own version of materials. Let's see how this shakes out by region.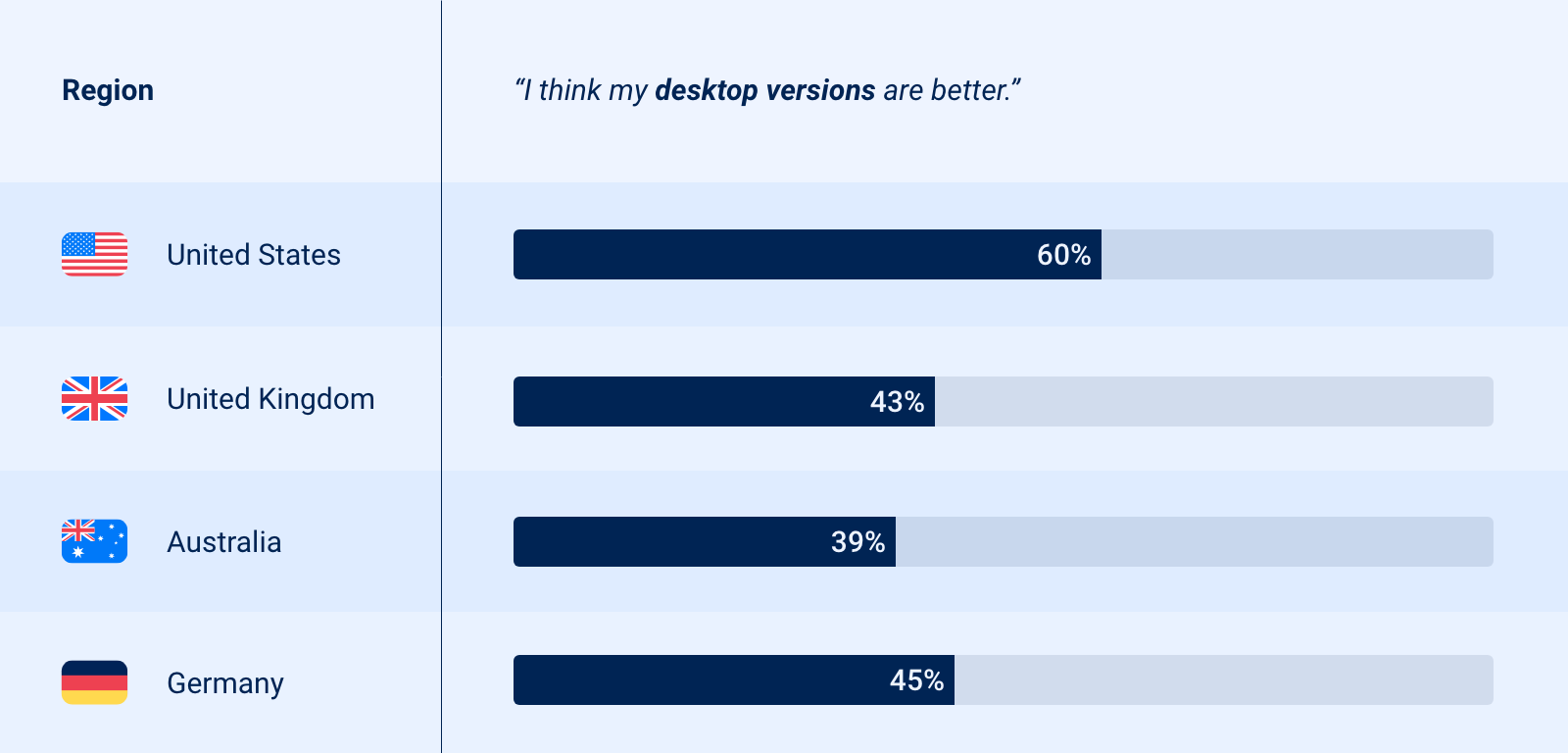 This is especially concerning considering that more than half (54%) of respondents say they're often not confident they're using the latest company-approved content. Likely contributing to the 70% of respondents who believe that content makes it to a prospect with out-of-date information over 20% of the time.
Content errors cause long-term damage to brand trust
Now that we've set the scene, what does all this mean for you and your brand? Our survey found that even small errors like typos or out-of-date messaging can be a detriment to brand trust both internally and externally. Here's what we found:
89% say even small errors in final content can damage client trust
73% say the same for employee trust
Breaking it down by market even further, we found: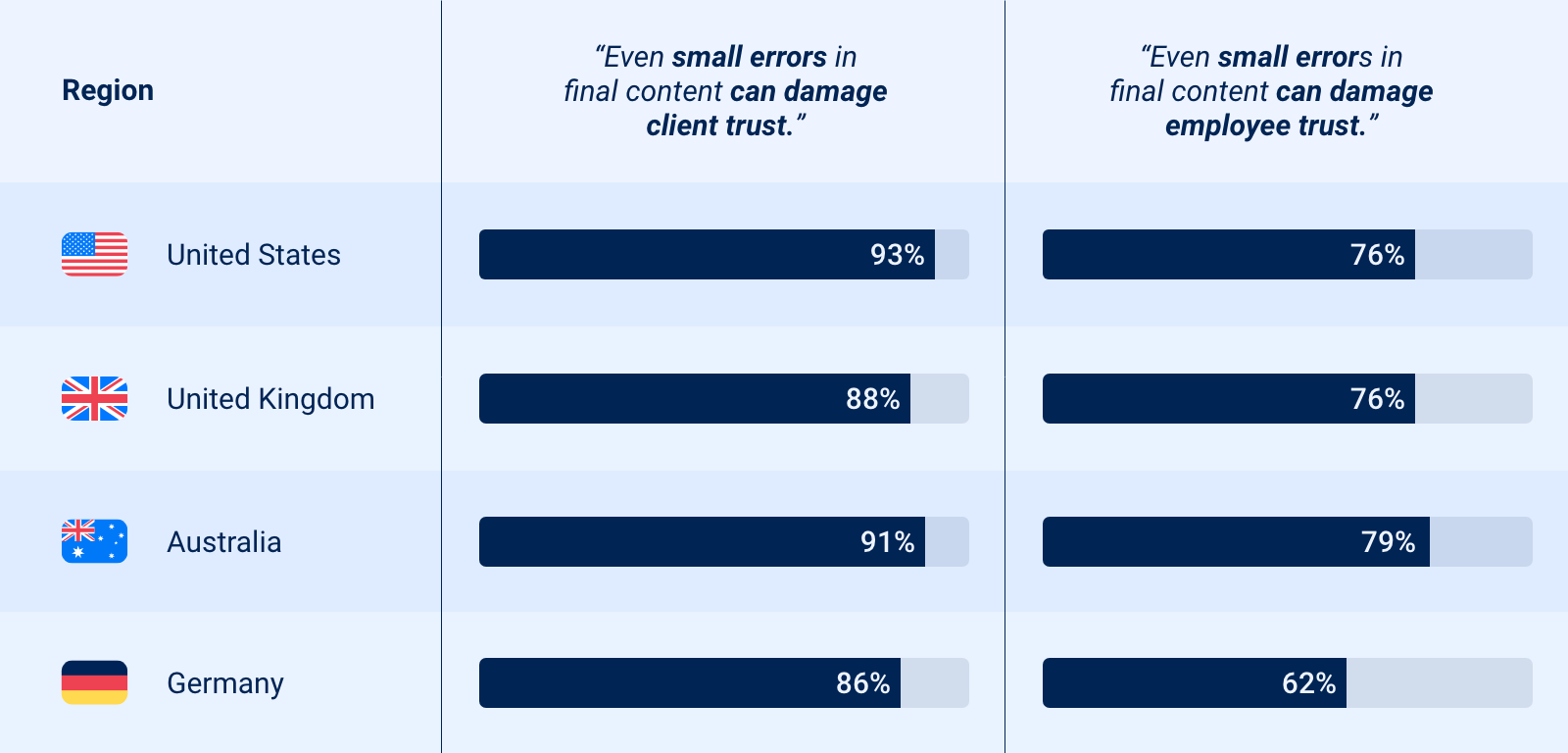 The content you put out directly informs how the world thinks about and interacts with your brand. If you've put out incorrect or outdated information, you'll be on rocky footing when it comes to brand sentiment, no matter how great the product or service you're offering may be.
Companies want to rebrand, but rebranded content is a mountain they can't climb
For businesses looking to revitalize or completely rebrand, content is both your greatest asset and your greatest detractor. We're moving into the era of rebranding, and respondents in the US and Australia agreed: 64% of Australian panelists and 75% of American panelists said their company is likely to go through a rebrand within the next five years.
And the majority of respondents across all regions recognize how daunting a complete overhaul of company content would be: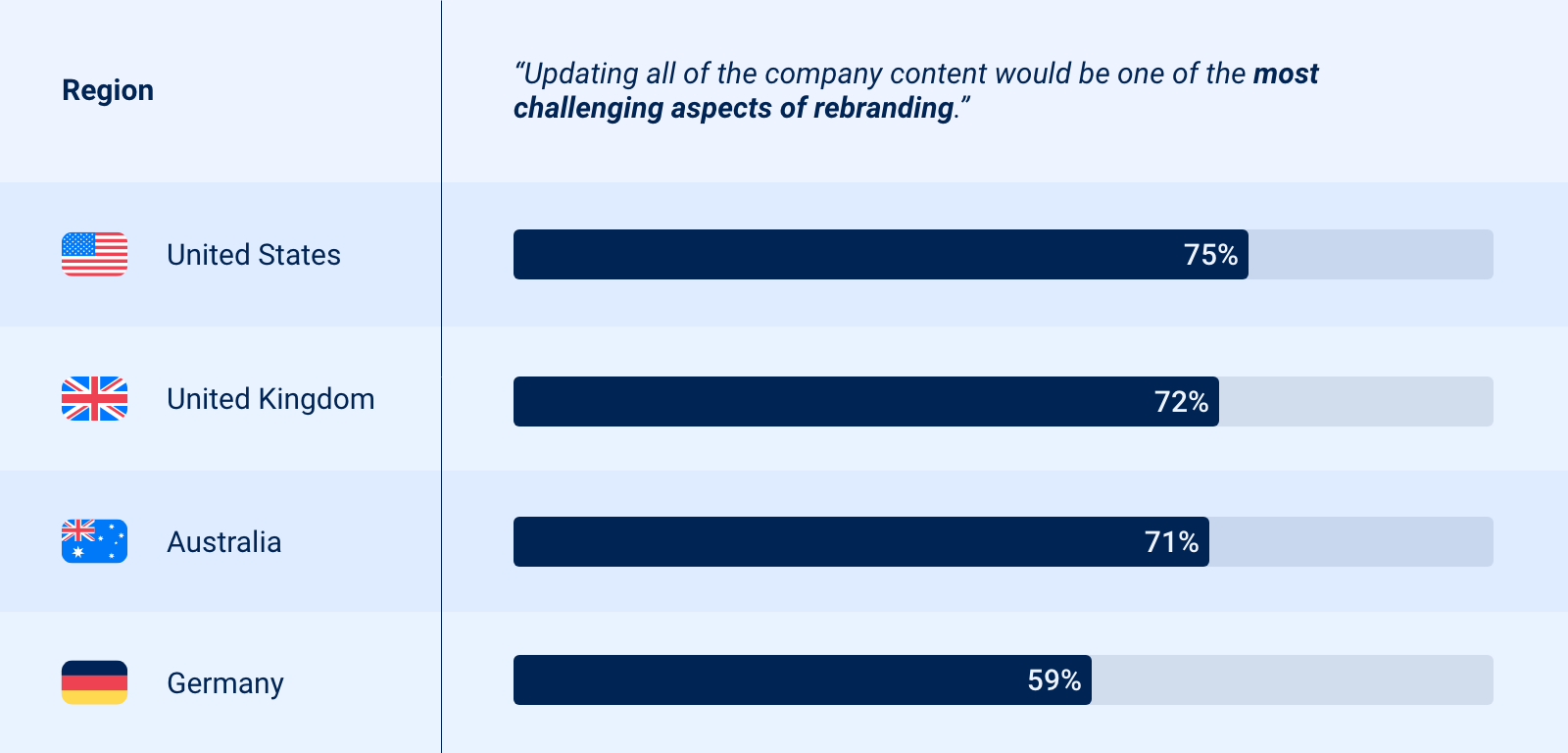 The stress of this component can have dire consequences: 61% of American respondents and 50% of Australian respondents said their company has put off rebranding due to a lack of tools and/or resources.
While poor content infrastructure certainly isn't the only factor preventing companies from rebranding, it is undeniably an obstacle hindering business growth and success. In fact, 68% of American panelists said specific concerns about content rollout and/or compatibility have held their organization back from making brand updates.
Where do we go from here?
Whether you're thinking about rebranding or just trying to meet your yearly goals, content is an integral part of business success. In fact, 88% of respondents feel that content bottlenecks impact company revenue.
So if you're bogged down in reviews or seeing consistent errors arising in your already-approved content, consider centralizing, standardizing, and even automating your messaging materials and templates.
This will take the grunt work and the guesswork out of content creation, and your employees - and bottom line - will thank you for it.
***
To learn more about Templafy's solution for brand departments, visit our dedicated page and find out how to make staying on-brand easier than going off-brand.