Our new professional branding series looks at how businesses are using their brand to gain market-share, competitive edge, enhanced online presence, credibility and profit in their sector. So far, we've focused on how companies in the legal and financial sectors, have served up best in class lessons for businesses looking to benefit from cultivating a strong brand. Next up, we take on branding for professional services.
Read how Templafy helps companies with their corporate branding and brand management
The US professional services industry alone includes around 900,000 entities and combined annual revenue of about $1.7 trillion. Professional services is clearly a huge market category. But what are "professional services"? According to Bright Network, Professional Services involves 'a range of different occupations that provide support to businesses in the form of advice or performing tertiary roles'. This covers a vast range of industries - from consulting to IT, accountancy to architecture.
In such a busy category, branding for professional services is paramount due to the need to stand out and demonstrate brand integrity. From global professional services firms to international communications specialists, here are the companies leading the way for brand-led strategies.
Branding for professional services: when less is more

More than 70 years ago, David Ogilvy launched his now-infamous agency Ogilvy & Mather, the global advertising leader announced a re-brand to accompany a cleverly marketed organizational "re-founding."
Over the decades Ogilvy's copywriting and product branding roots have evolved to become increasingly digital and data-driven. With this shift, it became apparent that the international superpower needed a new way to communicate its now diverse creative services under one brand.
Ogilvy Chief Executive John Seifert emphasized this to The Wall Street Journal: "We needed to greatly simplify the organization around what I call an integrated enterprise agenda, not a holding company of all these different piece-parts."
Ogilvy decided to unveil a fresh new look to match the structural re-organization of its diverse services. Sub-brands like OgilvyOne, Ogilvy Advertising, Social@Ogilvy and Ogilvy PR were split into 12 'crafts' such as brand strategy, customer engagement, digital transformation and partnerships.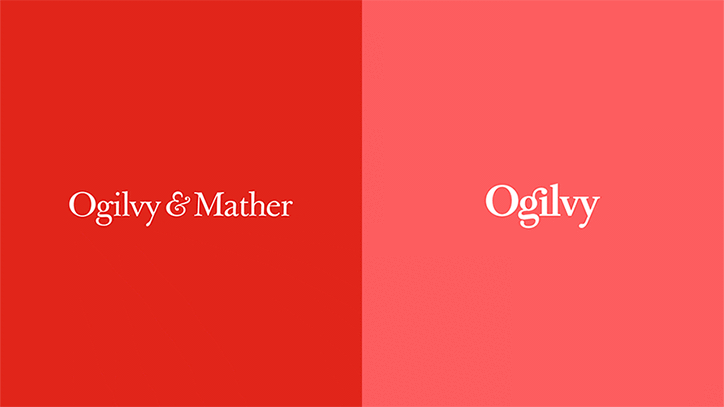 Working with design agency Collins, Ogilvy's new visual brand identity consisted of:
A simplified logo (adjusting the typeface weight and dropping the & Mather part of its original name)
Revised bespoke fonts Ogilvy Serif and Ogilvy Sans
A new minimalist website
The tagline "making brands matter."
Ogilvy clearly emerged with a slicker, more modern aesthetic that reflected the re-founding of the company as well as its current range of services. However, this case of branding for professional service firms wasn't a million miles away from Ogilvy's established look. As a much respected and reputed brand, the team behind the re-brand cleverly optimized rather than replaced brand elements, to move them into the digital age. This was given emotive appeal through the team's use of the heritage of the brand into the re-brand launch campaign.
A launch video demonstrated the journey of the brand through a series of the company's 'first chapter' to 'next chapter' mottos. The shifts ranged from logistical 'departments' to 'crafts' to more future-gazing ambitions such as increasing their female workforce from 'the consumer isn't a moron, she is your wife' to 'she is your boss.'
Branding for professional services key takeaways:
Modernizing your brand to reflect new service offerings doesn't mean a complete rehaul of your existing corporate identity or brand name. You can stay true to your heritage while updating your look and feel (i.e., brand positioning, brand style, etc.) to remain relevant and interesting to your sector.
Storytelling is powerful. Clearly communicating the next chapter in your company's future helps bring your clients and team on the journey with you so they buy in to it and develop authentic connections to your enterprise.
Read next: Industry Branding Series: Branding Financial Services
Branding for professional services: having a point of view
The Adecco Group is the second biggest recruitment business in the world, with this parent brand encompassing dozens of global and local sub-brands. For a group of this size, there is a need to find a unifying brand identity and a vision that can consolidate its portfolio with a purpose clients can relate to.
The Adecco Group has the scale and influence to shape real change to the way business owners and organizations plan and deploy their workforce. The company has capitalized on its offering to take on a higher purpose beyond the fulfillment of specific job roles and deliverables. Using their insights from a varied range of professional specialisms - from agriculture to procurement, the Adecco Group has positioned themselves as thought-leaders in the wider category of the world of work.
The Adecco Group publishes regular and varied research such as their report on the effect of e-mobility on the workforce by Modis - its engineering and technology business. The company has a unifying point of view that acts to validate and re-affirm the value of its brand to clients while enhancing their customer experience.
Branding for professional services key takeaways:
Find a unifying cause that gives the brand a purpose and brings together sub-brands under one unifying lens
Be active in communicating the brand cause through content publication and thought leadership
Ensure consistency in perspective and cause across brands and geographies

Branding for professional services: keeping active
In our recent article about branding big accounting firms, we explored how staying true to brand values and keeping brand culture consistent at every touchpoint has benefited global professional services firms to secure worldwide market recognition and their place in Fortune Top 100 Companies To Work For. As a poster boy for branding consulting firms and one of the world's largest professional services firms, Deloitte is a brand well worth revisiting.
Deloitte is an enterprise that pushes itself to find new ways of letting clients know the firm is future-ready and ahead of the competition. As explained by Deloitte LLP's chief marketing officer Diana O'Brien: "We're in an environment of constant change, and executives have to be in a position to capitalize on that change before someone else does." That's true whether you're an entrepreneur, startup, small business owner, or multinational corporation like Deloitte.
Deloitte Australia
A few examples - 2016's 'Look again' campaign was created in-house by Heat, the award-winning creative agency that Deloitte recently acquired. Speaking of the integrated ad campaign and digital marketing strategy O'Brien said: "Our goal was to create a campaign that was different from anything else in the professional services category and would allow us to reintroduce our brand to the business community." Following this there were campaigns such as Deloitte Do in 2017, which highlighted the firm's proactive nature and March 2018's creative 'Many Voices, One Song' promoting the company's diversity and inclusion values - not to mention Deloitte's enterprise-wide re-brand that primed the global entity for its new creative and digital services offering.
Branding for professional services key takeaways:
Keep making noise in your industry to remind existing and potential clients to choose your brand over the competition
When managing professional services firms, always find new ways to remind internal and external audiences about your world-class brand values and brand identity. This helps overcome the professional services firms challenges of consolidating brand identity and positioning
Branding for professional services: consistency is key to building a strong brand identity
No corporate branding or rebranding campaign will be successful if the new brand identity is launched, but not maintained. As Deluxe Corp's Chief Brand and Communications Offers - Amanda Brinkman eloquently pointed out in a recent Forbes article: "If a brand's elements are inconsistent across platforms, it can cause confusion and may foster distrust."
Deloitte - for instance, ensured that behind their 2016 rebrand was the 'Brand Space', a centralized host site for guidelines to the brand identity relaunch. The 'Brand Space' contains dynamic templates, daily best practice showcases and video tutorials. All content was designed to get Deloitte's 200,000 plus associates and business consultants, delivering the Deloitte brand on a daily basis – becoming individual brand ambassadors and consolidating the consultancy group's identity.
Unlike Deloitte however, a lot of companies make the mistake of thinking the job's done as soon as a new logo design is created when in fact the work continues into the day-to-day implementation of the brand. If a business hasn't secured employee buy-in to their new brand image and old brand elements are in circulation (i.e., old taglines, logo designs, business cards, websites, templates, letterheads, etc.), brand identity and integrity are compromised - as is the time and money invested in brand building.
This is why document management is incredibly important for international professional services firms, particularly in regards to brand consistency where emails, bids, proposals, reports, letters and presentations are distributed on a daily basis.
Read next: Industry Branding Series: Branding Law Firms
How Templafy can assist branding in your professional services firm
Templafy works with international firm BDO Norway, a professional services firm within the areas of audit, accounting, consultancy, and taxation and duties. With over 74,000 employees in 70 offices located worldwide, BDO became aware of several compliance issues that had the potential to affect clients' brand experience.
Although Microsoft Office and presentation templates were available on the company intranet, employees were reusing old documents (i.e., previous brand identity) saved on their desktop or on other storage devices. This meant a number of different versions of branded documents were in circulation, leading to a high risk of inconsistency in how the company was presented externally.
To resolve these problems, Templafy fully integrated with BDO's digital asset management system, giving employees direct access to templates and brand images without ever having to leave Microsoft Office. On-brand presentations were easily created using Templafy's dynamic templates and BDO Norway's marketing team were given peace of mind when it came to brand consistency and document productivity.
Templafy's built-in BrandChecker also allowed employees to easily validate their documents by identifying any off-brand content such as visuals, fonts, company colors, and logos. At the click of a button the BrandChecker offered users alternative on-brand options, ensuring all documents and emails are compliant with the latest company standards.
Caroline Wilander, Marketing Manager at BDO Norway says, "After implementing Templafy, all our employees have the same set of templates at hand when creating documents and presentations. This leads to a more consistent and professional profile, and ensures that our brand is easily recognized."
Branding for professional services key takeaways:
When branding a professional service firm, give employees the tools they need to keep your branding consistent. Hosted via the cloud, dynamic templates such as those offered by Templafy, can integrate with Digital Asset Management software, CRMs and central databases to allow employees to access and edit on-brand, pre-populated documents from any device.
Automation tools, such as Templafy for example, provide end-to-end solutions to employees so your new brand identity can be rolled out as intended across all communications. With Templafy acting as a central hub for all best practice templates, brand elements and digital assets, brand managers can update company visuals and templates centrally to ensure the newest version is used across all documents.
Over 200 businesses world-wide are using Templafy to ensure that their brand identity is maintained and their employees are creating on-brand documents on a daily basis. For more information about how Templafy can help with professional branding for professional services firms click here.