This time last year, no one could have predicted the plot twists that 2020 had in store for us. Yet, despite a time of unprecedented challenges and uncertainty, we are proud to say that thanks to our team, we were able to achieve Templafy's most successful year to date.
From a 60% growth in Templafyers and receiving $25 million in investment to opening a new global office and launching our game-changing Hive platform, here are some of our favorite moments and milestones of 2020.
The 2020 Templafy team in numbers
Templafy's success has always been rooted in the talent and commitment of our colleagues.
2020 was no exception, and while we had to navigate the world of remote hires and onboarding, we were able to support our global growth with a new wave of incredible talent.
Some of the numbers behind our new team include: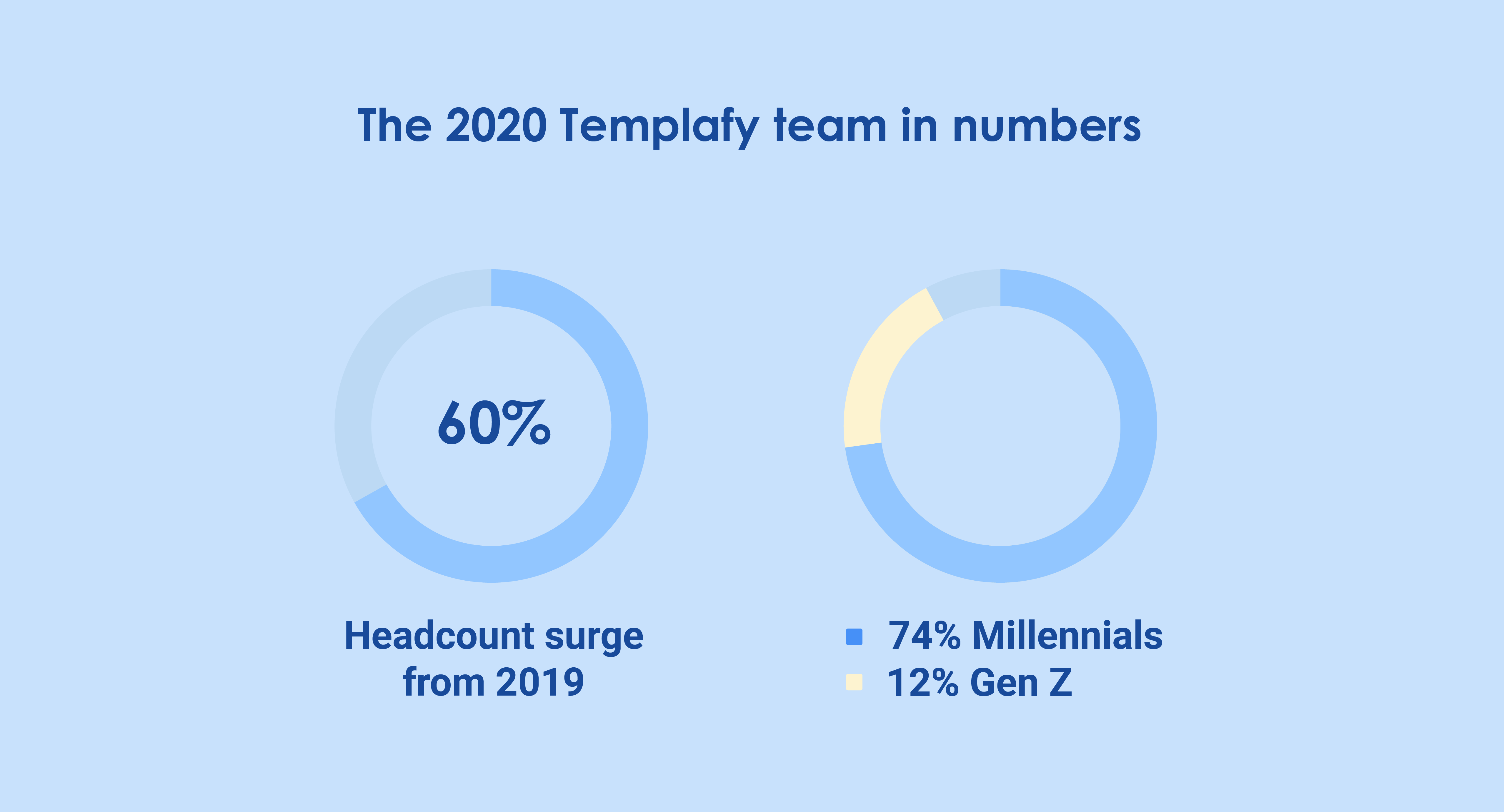 60% headcount surge from 2019. 2020 was a year of remarkable growth for Templafy, which saw our global team rise to 292 employees by the end of the year.
53 nationalities. We may be a Danish company by origin, but we have an international outlook reflected by our increasingly diverse workforce.team members from all corners of the globe, with top represented nationalities including Danish, American, Dutch, German, English, Romanian, French, Australian, Brazilian and Lithuanian.
74% of our 2020 workforce are Millennials, and 12% are Gen Z, who are bringing fresh ideas, values, and tech insights to our multi-generational workforce.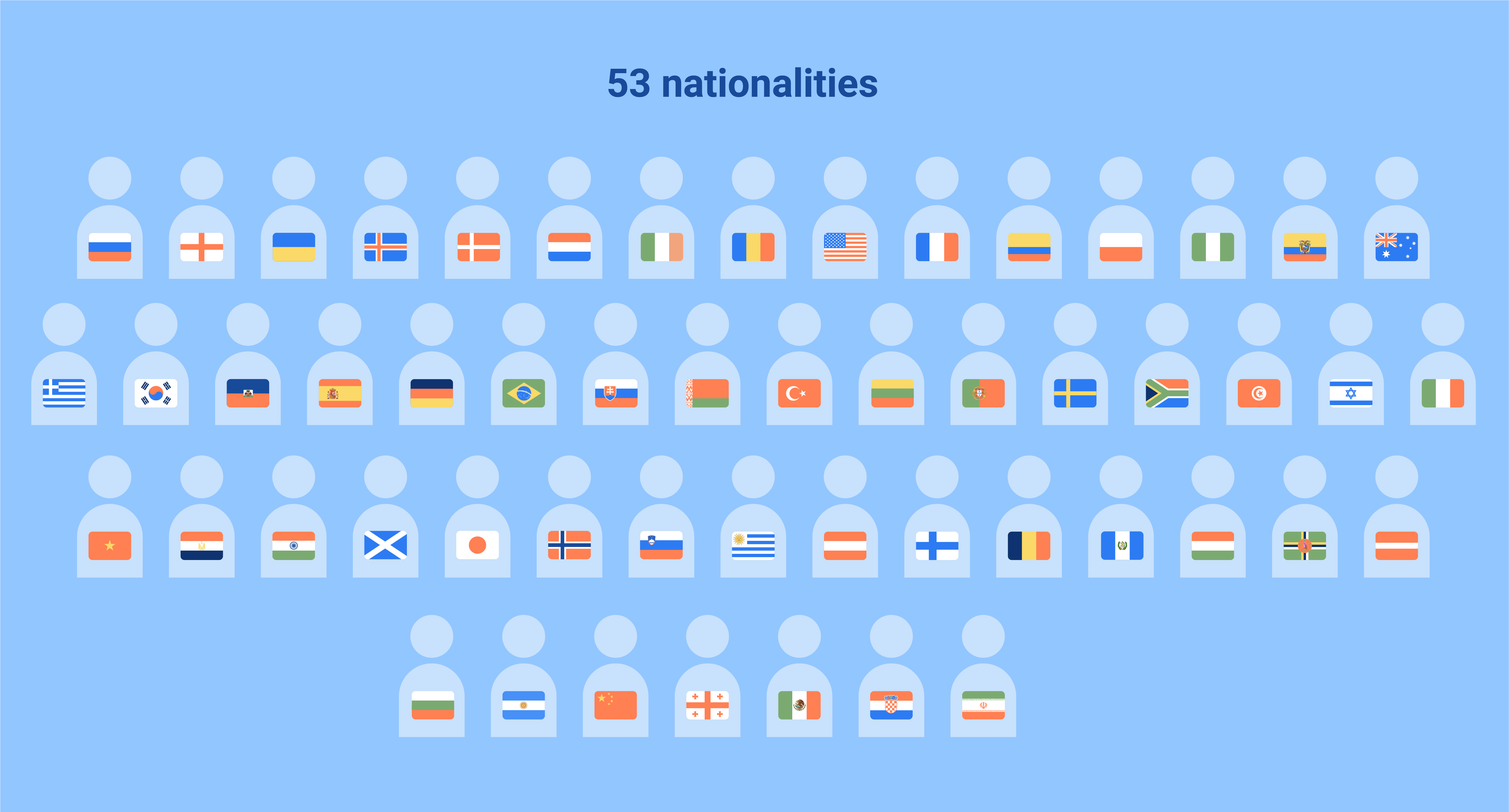 The year of Zoom
From social distancing to the new norm of WFH culture, COVID-19 was a catalyst for rapid change for companies of all sizes and sectors.
Templafy CEO Jesper Theill Eriksen was quick to lead us through this crisis, and we overcame any remote challenge together with confidence. Our Remote Working Plan was immediately put in place, offering greater support to our team and clients through regular video check-ins and schedules.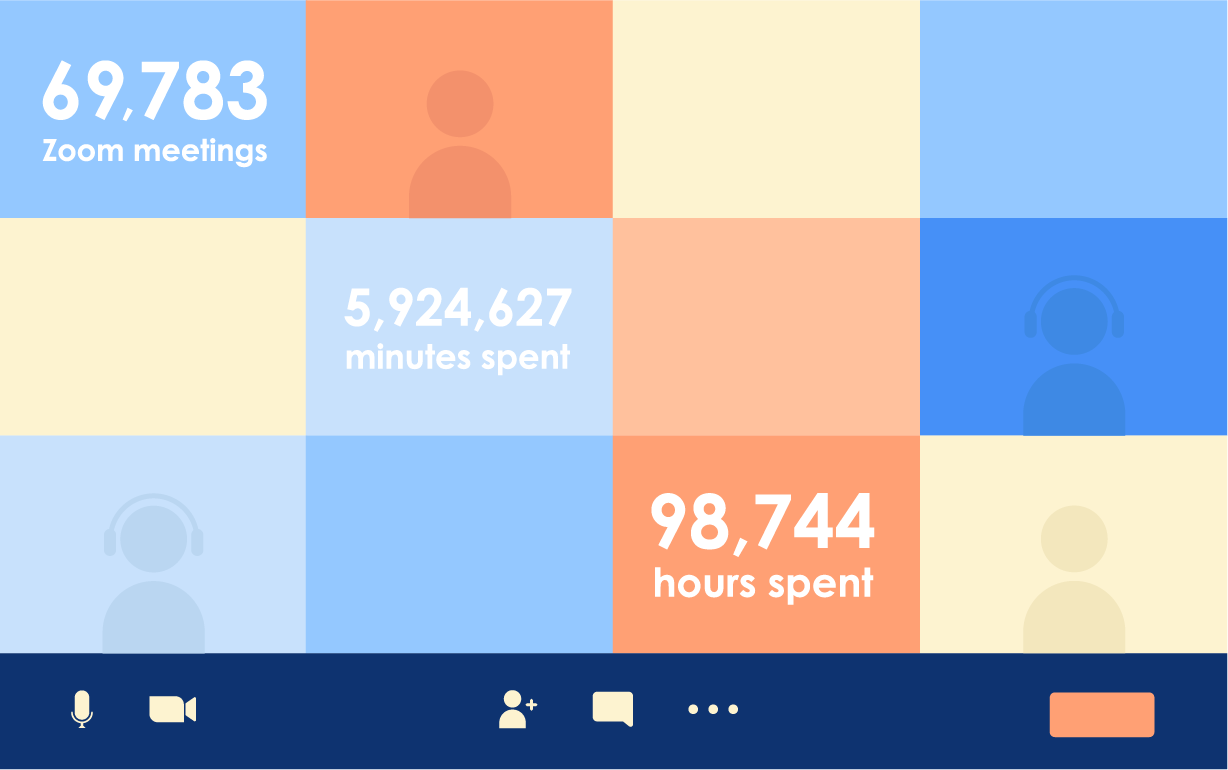 Our shift to virtual communications racked up some impressive figures, such as:
69,783 Zoom meetings
5,924,627 minutes' worth of meetings, which equates to… 98,744 hours 4,114 days or, 11,27 years
The pandemic also couldn't stop our teams from connecting outside of their work schedules. Online sommelier-led wine tastings, trivia nights, Friday socials and cook-alongs, were just a few of the fun virtual ways that kept our unique internal culture evolving during the lockdown.
Ellen Benaim became Templafy's first female CISO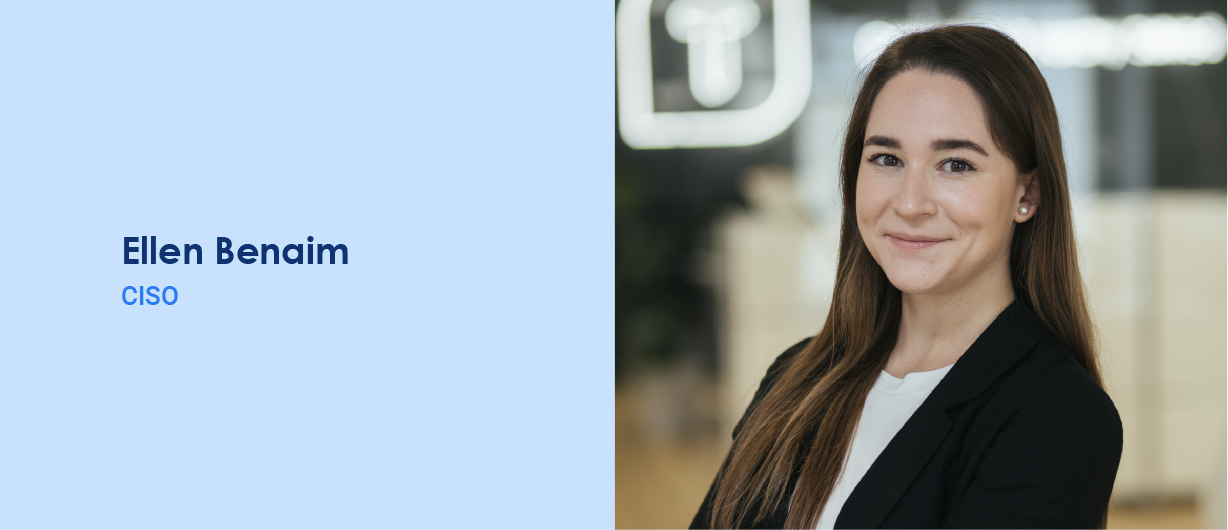 Cybersecurity remains a male-dominated sector, with an estimated 24% of women in the field. So, we were delighted to announce the appointment of Ellen Benaim as our Chief Information Security Officer in March 2020.
Joining Templafy in 2018 to help develop our security-first approach, Ellen is now responsible for the design, implementation, and monitoring of our information security program and overall security strategy.
She's the person we've all come to associate with weekly security tips and industry-leading knowledge of the best compliance and security practices.
It's a testament to Ellen's drive and passion that she's shattering the notion that cybersecurity is a gendered industry, and she is already an inspiration to many. We are proud of her achievements so far and look forward to her bright future with Templafy.
Templafy raises $25 million to continue scaling globally
A key 2020 milestone in our international growth was securing an additional USD $25 million in Series C funding.
Led by global venture capital and private equity firm Insight Partners, this exciting investment allows us to expand our global footprint. Commenting on the news, CEO Jesper Theill Eriksen says:
"With our recent investment, we can accelerate our international expansion and continue our M&A activities to further strengthen our position at the center of the document ecosystem."
So far, our next round of investment has enabled us to:
Invest heavily in end-user productivity to support the 500 billion business documents created annually around the world.
Increase the speed of our current international growth plans by moving to a larger New York office and opening a headquarters in Sydney to bring us closer to customers across all time-zones.
Look into further M&A activities that can help us deliver even more value to our customers through cutting-edge integrations and features for the Templafy platform.
The acquisition of Napp
One of our big M&A headlines of 2020 was the acquisition of fellow Danish software company Napp. A B2B sales enablement platform, Napp adds collaboration and end-to-end engagement tracking to our evolving document creation infrastructure.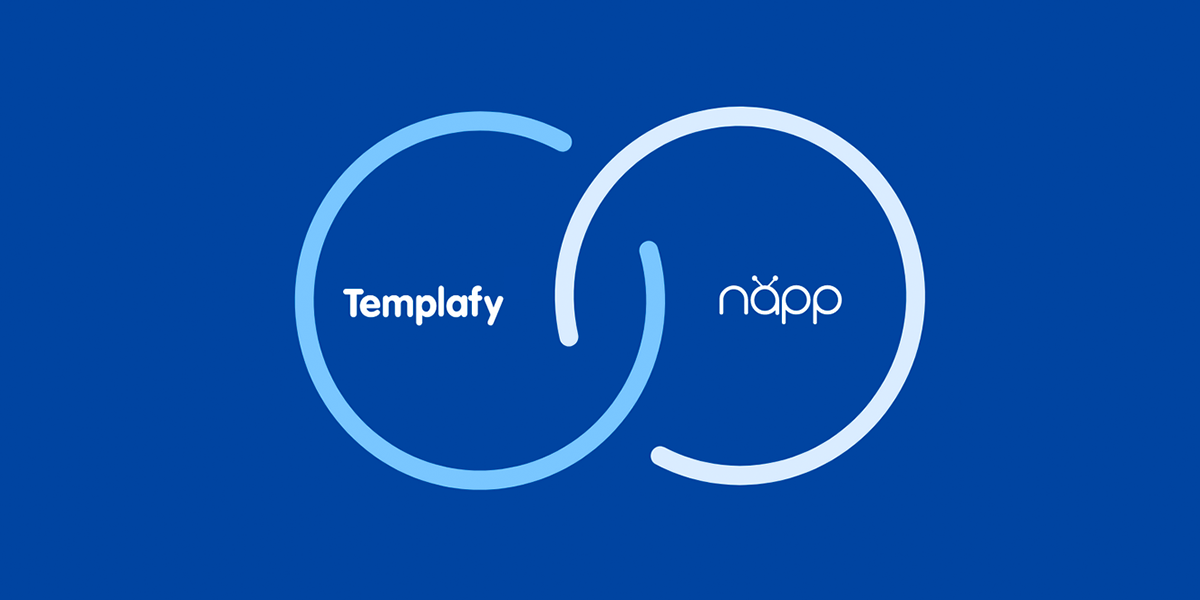 This new partnership allows us to enable millions of users to securely share business documents and track recipient engagement, including after files leave their inbox. In turn, recipients can read, annotate and provide feedback on shared documents via Templafy's web interface.
This advanced workflow empowers our customers by giving them a greater overview of a document's entire lifecycle, providing invaluable insights and new means to improve document performance.
Templafy down under: opening our fifth office in Sydney
As part of our exponential growth, we opened our first APAC office in Sydney, Australia. Covering the Pacific region and Asia at large, our Sydney office strategically positions us to effectively serve and collaborate with customers and partners in these areas.
With a full commercial team in place, including post-sales and customer success, our dynamic APAC office has been led under Managing Director Mads Ejstrup Frederiksen and Director of Sales, Kavita Herbert.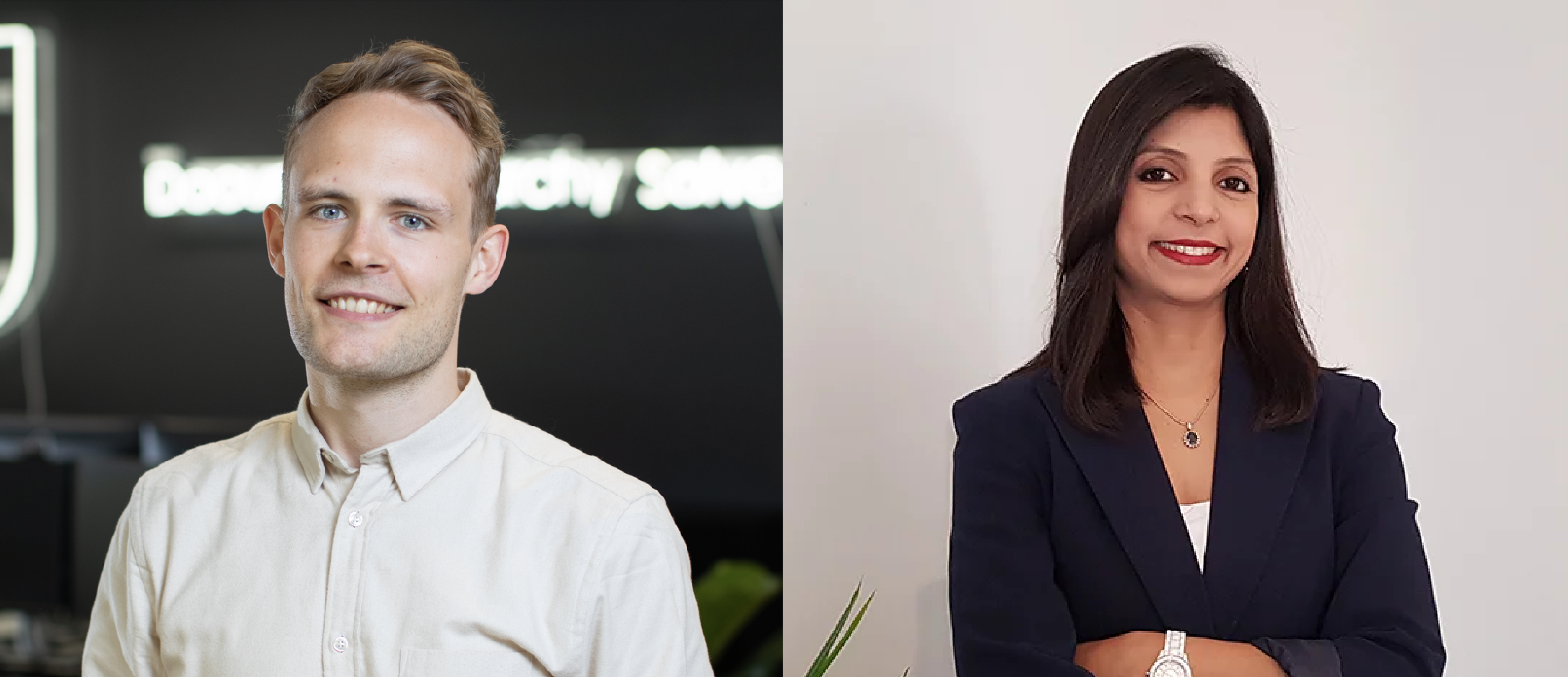 Mads is a seasoned Templafyer, having spent three years as our Head of Strategy, working on optimizing and scaling Templafy's commercial engine. He also played a leading role in organizing Templafy's expansion into the North American market, positioning our New York team for a successful launch.
Working alongside Mads, Kavita comes to Templafy with over a decade of professional experience in enterprise sales, business development, strategic partnerships, and client services. Before joining our team, Kavita specialized in enterprise and mid-market growth through new restaurant partnerships for Uber Eats ANZ, and before that, she was part of the early growth teams in ANZ at Dropbox and LinkedIn.
With the Sydney team combining the skills of experienced Templafyers and new local hires, we can't wait to see what they'll achieve together in the upcoming year.
Introducing Hive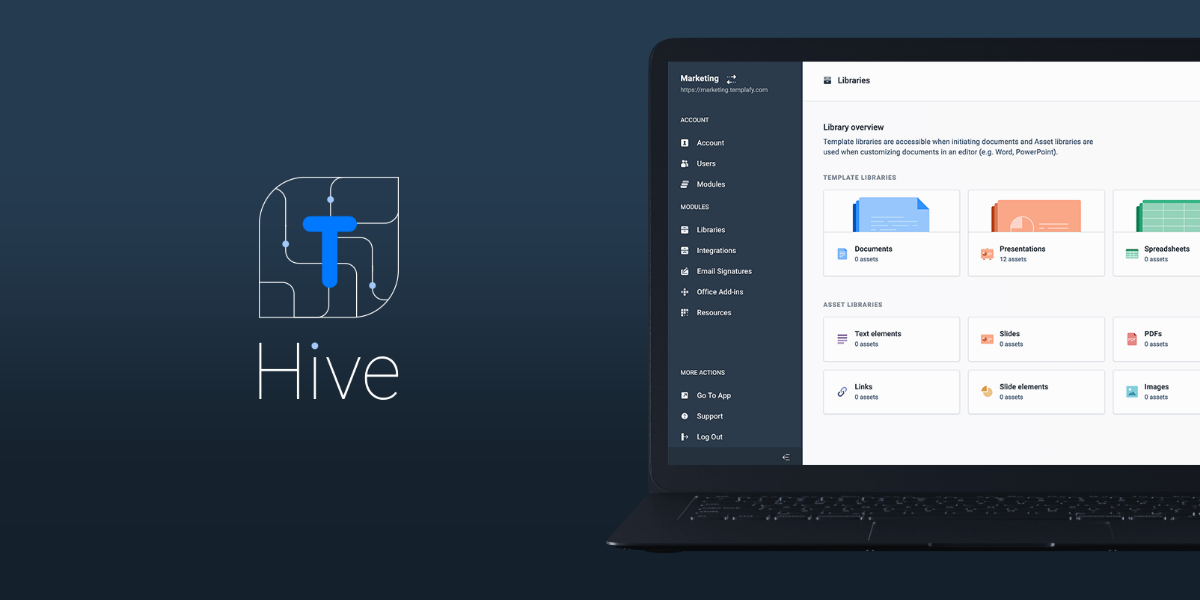 2020 also marked the much-anticipated launch of Templafy's new software architecture platform, Hive.
Our engineers worked tirelessly to develop this game-changing platform, which reimagines traditional document workflows and has the potential to disrupt the way billions of business files are created.
Hive is the foundation for our vision of the future of document creation. Its advanced technology and improved UX offer increased enterprise scalability, performance, and security for all our clients.
On Hive, everything works faster, including our ability to deliver new feature upgrades, and admin users will have optimized user experience and efficiency gains – benefits end-users will also enjoy through a much-improved discovery experience.
Templafy became a Soonicorn
Each year Tracxn announces their 'Sales Force Automation startups' list, a curated selection of the most promising startups leading the Sales Force Automation industry from across the globe.
One step away from Tracxn's top ranking of Unicorn, a title awarded to companies whose valuations exceed the billion-dollar mark, Templafy was named a 'Soonicorn' (soon to be Unicorn).
This award recognizes rapidly emerging startups that are attracting valuations of over a few hundred million. We're in good company, with fellow Soonicorns including SFA startups Copper, Chorus.ai, Observe.AI, Crossbeam, and RFPIO.
What the Templafy team has achieved during such a turbulent year has made us extremely proud. We look forward to what 2021 has in store for our growing workforce and have full confidence that together we'll be able to take on any challenge, no matter what that may be.
If you'd like to be part of our 2021 chapter, take a look at our current career opportunities here.