Each year at Templafy we introduce new features, modules and integrations that help our growing customer base align workforces and empower employees to create better-performing business content faster. As experts in both our product and the wider tech landscape, our Tech Ops team is fundamental in communicating the evolving benefits of Templafy to our clients.
Here, we speak to Anders Mangaard and Jacob Jagger, to go behind the scenes at Templafy Tech Ops and learn more about the crucial role their department plays for Templafy.
Firstly, can you both please introduce yourselves?
Jacob: Hello, I'm Jacob. I'm Templafy's Lead Pre-Sales Engineer based in the Copenhagen office. I started out at Templafy as an SDR for about 12 months before moving over to a technical operations role and I've been managing the team here ever since. I'm originally from the UK but I've been living in Denmark for about five years.
Anders: Hey, I'm Anders. I've been at Templafy for two years now. I manage our global post-sales and technical account management team.
A big part of my role has been building the post-sales organization. We didn't really have a Post-Sales department a year ago, but now we have teams in New York, Berlin, Copenhagen, and Sydney.
We're at a stage of rapid expansion in terms of increasing our global footprint, and we're only continuing to grow. With a global customer base we need Post-Sales to operate globally to support the customers and the business side.
Can you sum up what the Tech Ops team do?
Anders: At Templafy, Tech Ops is the division responsible for managing the technical operations of prospective and current clients. Our global team is divided into three departments – support, pre-sales, and post-sales.
Support is more or less classical tech support. However, at Templafy, the team often deals with complex issues. As a comparison, in most tech companies, the average support rep would solve between 10 to 15 tickets a week. Our support team on the other hand, is winning if they've solved one to two tickets a week, as they are dealing with very complex elements.
Jacob: Then you have pre-sales. We support our sales division with any technical insights and product vetting needed to help close a prospect deal.
Often, we are working directly with clients to understand their problems and identify use cases so we can align what Templafy does with their needs. We help them understand how Templafy can solve their issues and how our solution fits within their wider infrastructure.
Anders: Finally, there's post-sales. The post-sales team wears many hats, but our main role is to implement the Templafy solution for new clients and offer continued support as technical account managers across a client's organization.
It's up to you to work out how to translate expectations into reality, which always results in some really interesting problem-solving tasks
What are some of the challenges you face in your role?
Anders: Currently, we have more than 600 customers, ranging from smaller management consultancies to the global enterprises such as leading financial firms, engineering firms and anything in between. Each customer has a different infrastructure with its unique needs, setup, and requirements. So there are always fresh and new challenges that arise from supporting so many diverse tech ecosystems.
We also work with clients across all stages of digital transformation. One company could be in the very early stages of its digital transformation in terms of server setups and on-premise hardware. In contrast, another business could be much further along in their digital journey and already be operating entirely cloud-based.
This is another exciting but potentially challenging aspect of the role. You get to follow the evolution of a client's digital transformation journey while keeping up with internal changes and cutting-edge industry developments.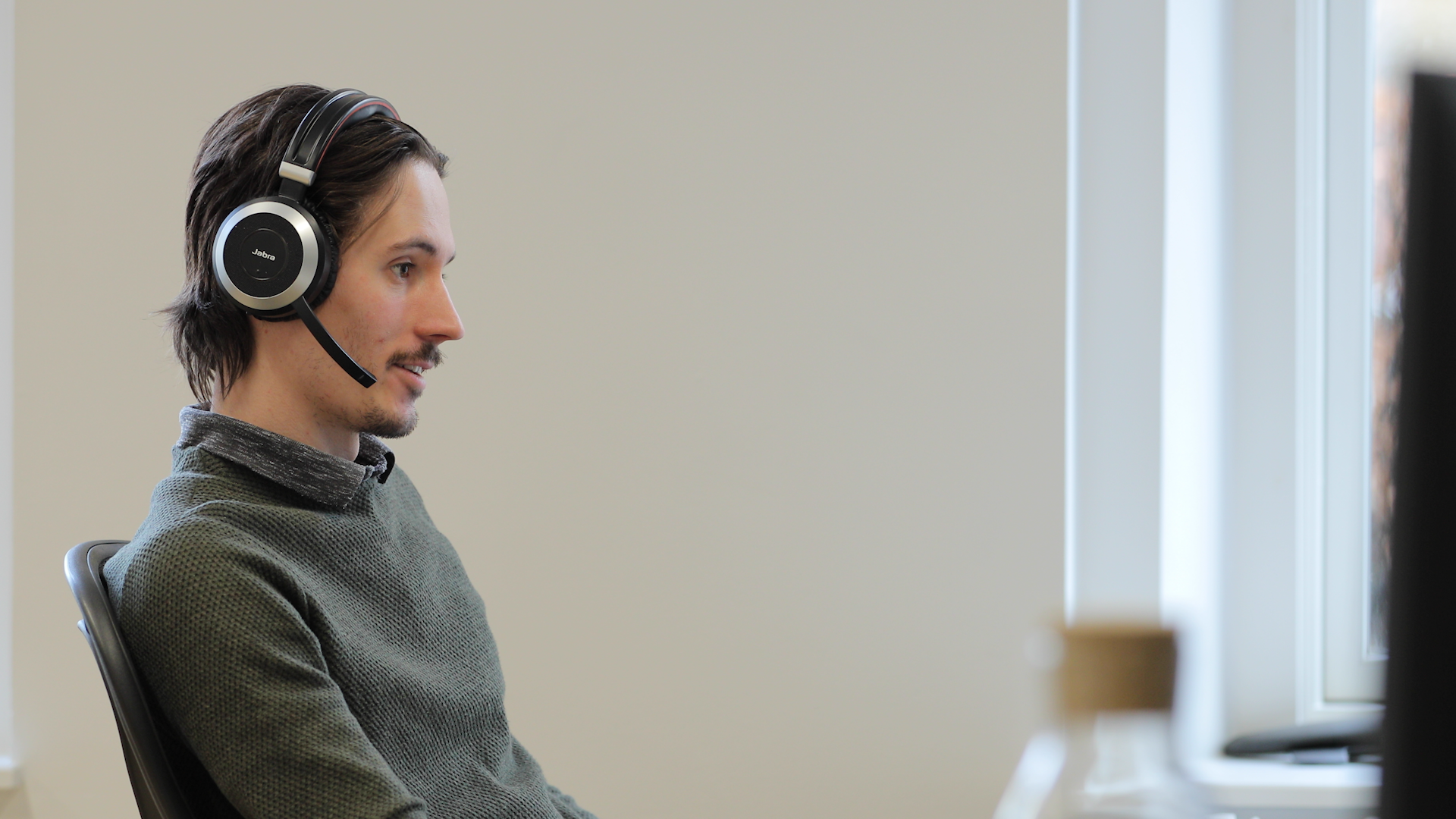 Jacob: To pick up on what Anders just said, the huge focus on the cloud over the past couple of years means companies have accelerated digital transformation. For the pre-sales team, this means we are increasingly involved in helping people understand what Templafy does and how it fits into their evolving plans.
Templafy is built to be a one size fits all solution so it can be installed and deployed into any type of architecture. But we need to make the platform work for a myriad of different environments and help clients understand how we integrate seamlessly within that architecture.
This rapid industry change also means you have to lean on your creative problem-solving skills a lot. You have to understand what prospective clients need compared to what they think they want, which can be challenging. It's up to you to work out how to translate expectations into reality, which always results in some really interesting problem-solving tasks.
Can you talk us through a typical day at Templafy?
Jacob: So an average day will be very different for someone in pre-sales compared to someone in post-sales because we're handling different parts of the customer lifecycle.
From a pre-sales side, I'd say a typical day involves about two to three hours of working directly with potential clients and hosting a number of different calls with them. Together we explore architectural deployments, integrations and, alongside our security team, handle security concerns and protocols.
In addition to that, we spend a large part of our day running proof of concepts. This part of the day covers building environments, creating custom demo decks, and helping prospects understand and define their use cases by testing out Templafy.
I'd say the other key area to mention is the knowledge building side of the role. We focus heavily on personal growth and continuous learning to keep us at the forefront of the tech space.
Anders: For post-sales, it's very hard to break down what we do into a day because our work changes depending on the quarter. In the first quarter, for example, we spend much of our time supporting clients with the implementation of Templafy. Then later quarters will be more focused on providing technical account management.
In regards to technical account management, as well as speaking to clients, we also spend a lot of time collaborating with the customer success team and account managers to figure out the best ways to meet client needs. Combining our knowledge, we strategize an approach to offer new use cases or upsell modules that will benefit an organization.
We also spend around 20% of our time deep-diving into the product because product knowledge is crucial to our role. This knowledge means you can fully understand and communicate Templafy's modules, explain how an API works, and relay the varying elements of integrations such as a Salesforce or Google integration.
At the end of the day, your job is to be a trusted advisor to anyone within a client's entire organization.
In your opinion, what does it take to be a good pre or post-sales engineer?
Anders: You need drive and the ability to communicate with all sorts of people. Where Templafy might differ from most post-sales divisions is that we speak to our clients a lot. We can easily spend three to four hours a day dealing with client queries.
Sometimes that means helping out someone in IT who is responsible for deploying one of our features, other times you're dealing with security consultants. You'll also be expected to liaise confidently with people at the C-suite level. At the end of the day, your job is to be a trusted advisor to anyone within a client's entire organization.
Jacob: Yes, as Anders mentioned, our roles are very, very client and prospect facing. So you need to be sociable and have excellent people skills.
Although we have engineering in our title, we often sit more as consultants. When we're sitting at the negotiating table, it often feels like we're acting as a consultant on behalf of the client rather than the salesperson of a solution. Through helping a client truly understand what they're purchasing, we've become a trusted advisor rather than someone who's just there to sell them something. There is a lot of relationship-building involved in what we do.
But additionally, I would also say curiosity and a willingness to learn are very important. Those are two really big drivers that help navigate the cloud's changing landscape and how Templafy continues to develop and grow.
Having a curious mindset is sometimes more important than having specific experience within the sector because you can always expand into those areas.
What do you like most about your job?
Anders: I think the diversity the role brings is key for me. In our team, there is so much variety in what we do. There's just so much going on all the time, but you're never super stressed.
We also get to directly impact and influence the current and future technologies Templafy offers. As the most client-facing role in tech, we translate a lot of information back to the production organization team to help them reevaluate the roadmap.
Alongside clients and the product team, we work closely with the sales, engineering, security, support, and customer success teams. We're also a very international team. We have people from Colombia, The US, Canada, Bulgaria, Germany, France, and so we're constantly communicating with a lot of different people, which I think is really cool.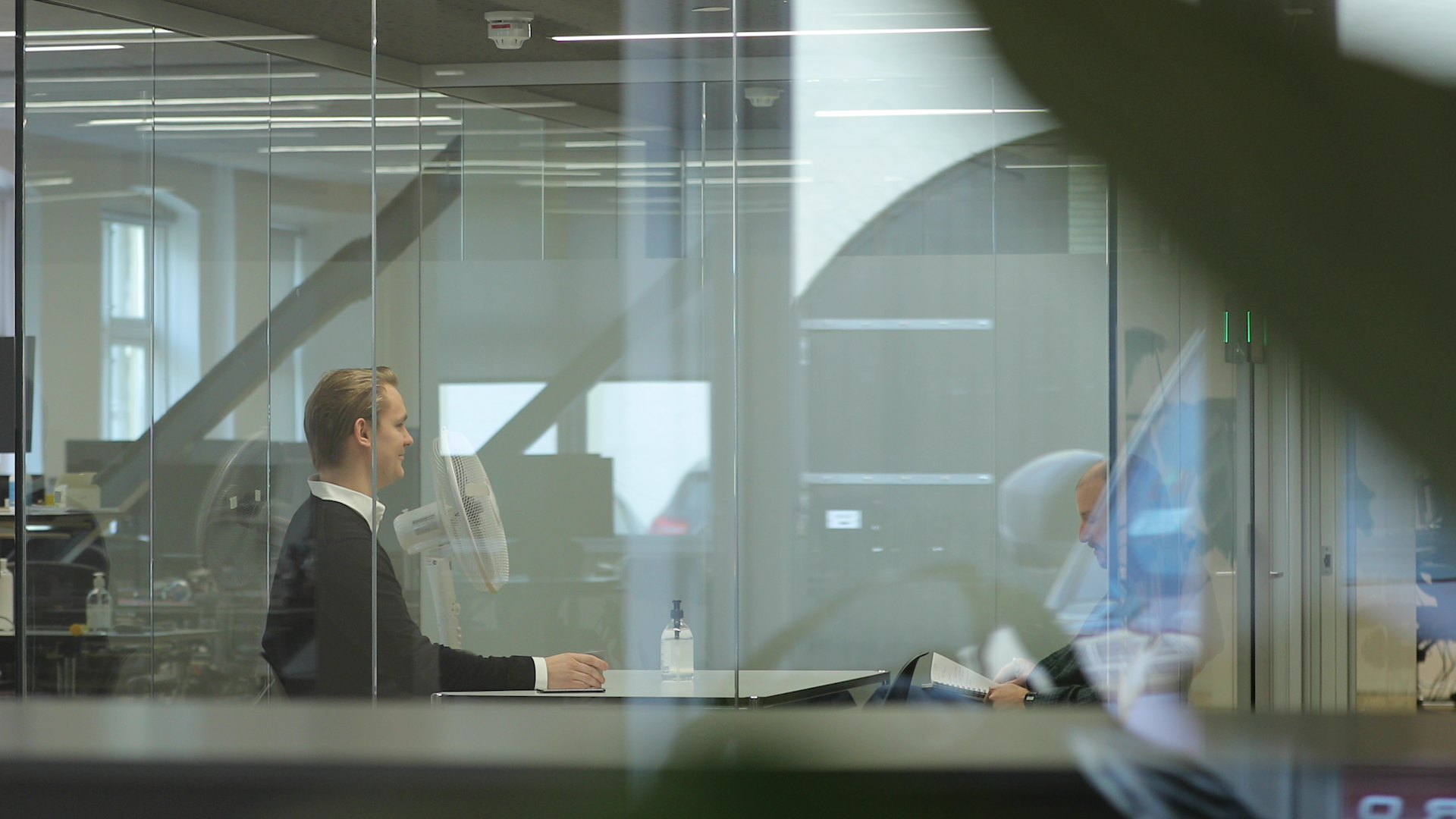 Jacob: The other word that comes to mind for me is camaraderie. What we see in a lot of sales-centric engineering roles is sometimes you can get siloed. Typically you'll have a sales engineer and an account executive who are paired together and work on their account in isolation.
We're not strict like that here. Although we may be working on individual deals and working with specific clients, there's a real focus on team effort. There's a lot of collaboration and a lot of moving parts where we share much of our workload across the wider team.
Anders: I'd add that even though pre and post tech ops have different roles, we all work together as one unit. So if pre-sales is very busy, of course, we help them out on their deals, and vice versa. We all share a common goal to help each other succeed.
We also do a lot of internal events across the whole tech ops division to keep team spirits up, like Whisky Wednesdays, team dinners, escape rooms, football matches, Christmas parties, online Danish lessons, and monthly board game nights. Pre-Covid, we even took everyone out of their comfort zone and went curling, which was a lot of fun.
Is there anything else about working for Templafy specifically that you enjoy?
Anders: I think what drove me to Templafy is my previous experience working at big companies. In those large enterprises, you're limited in terms of your responsibilities and influence. If you had a good idea, you could forget about it being implemented.
That's not the case at Templafy. We hire so many smart people from a great diverse range of backgrounds, and if they have a good idea, there's no hesitation to test it out.
You really get a chance to shape the product you're working with. You get a lot of responsibility quickly, and if you're the sort of person who thrives off a lot of responsibility, limits won't be placed on what you can do.
Jacob: I agree. You really can define your own success within Templafy as a consequence of both the company's growth and the organization's flat hierarchy and culture.
We like to pride ourselves on the fact that every voice is heard at Templafy. It doesn't matter at what level opinions, suggestions, or ideas come from; they're all considered.
It's really rewarding that you play such a hands-on role in fitting and defining a whole new market segment within this tech space.