Keeping organizations secure is a top priority for any modern organization. In this blog post, we explore the role content enablement can play in safeguarding enterprise security and the different ways companies can use document governance strategies to reduce risk.
More than two years have passed since the pandemic first disrupted businesses around the globe and while some of us may be back at our office desks, the accelerated shift towards digital-first workplaces - also known as the Digital HQ, is showing no sign of slowing down.

Remote workforces are continuing to grow, the average company tech stack stands at 175 different apps and employees are generating more online content than ever before, with 80% of those surveyed in our recent report stating that their company's content production is growing exponentially.
With larger volumes and types of content flowing through expanding tech infrastructures, businesses are now more vulnerable than ever to security risks from both external and internal sources.

As such, the business content we produce - from emails to templates, to proposals and contracts needs to be effectively governed and protected if companies want to safeguard themselves from risk, meet growing compliance regulations and reap the benefits of a workforce that can work securely anytime, anywhere.
The reality of document governance
According to our new global study, despite a pressing need for secure content infrastructures, many of today's businesses are struggling to achieve the necessary balance between meeting modern content demands and effective document governance.
For instance, although 88% of our panelists agree that security requirements are increasing, a staggering 41% say their company currently lacks secure, system-wide alignment when it comes to content.
And while 92% of surveyed respondents work for companies that deal in sensitive client information, 40% admit that their business has mistakenly shared a sensitive document with a party that was not authorized to view it. This number increases by 30% for those working in the financial services sector.
Why are so many businesses experiencing a gap between known security needs and the reality of their document governance practices? Below, and in our new Content is Everything report, we explore some of the main reasons that document compliance falls short of company standards and discuss how to overcome these risks through effective document governance.
Classification: getting labeling right from the start
Document classification is the vital process of labeling or grouping documents based on metrics such as the level of security in the file's content. For instance, a company could classify all of its internal financial documents or client emails as "confidential", which in turn would trigger necessary user access rights and restrictions.

Relying on individuals to manually classify documents, expecting them to tag and categorize each file they work on, is risky. Important security features can be overridden, busy employees may forget to apply classification settings or the wrong categorization could be applied.

Despite this risk, when asked how they currently handle document classification data, 40% of our surveyed respondents say their company relies on manual processes and 41% said their company urgently needs a better system to support mandatory document sensitivity classification.

Automating classification gives businesses greater enterprise-wide control of their documents, by taking responsibility away from the individual and ensuring that labels are assigned at the point of document creation.

Moving away from manual processes also means less financial investment needs to be committed to training teams around the importance of classification - particularly in relation to privacy and regulatory compliance, and far fewer resources are spent monitoring and reviewing the classification of employee-created documents.
Metadata: protecting content with content
Often described as 'the content behind the content', metadata can tell you everything from a document's author, creation date, and format to its classification, sensitivity level, or permission settings.
This information is key in today's Digital HQ as it allows organizations to quickly collate, find, and control enterprise content, as well as demonstrate that they're complying with current data and compliance regulations outlined by the likes of GDPR (General Data Protection Regulation) and CCPA (California Consumer Privacy Act).
The benefits of more traceable and controllable content are undeniable - as confirmed by those of our panelists who were familiar with metadata's application and purpose: 59% say richer metadata would allow their organization to increase efficiency and 45% state it would reduce financial and brand risk.

However, when metadata implementation practices aren't prioritized businesses are leaving themselves up to massive risk. In fact, 6 in 10 respondents who are familiar with metadata say that a lack of control when it comes to metadata and classification poses significant business risks such as legal ramifications (67%), damage to reputation (66%), and loss of customer trust (62%).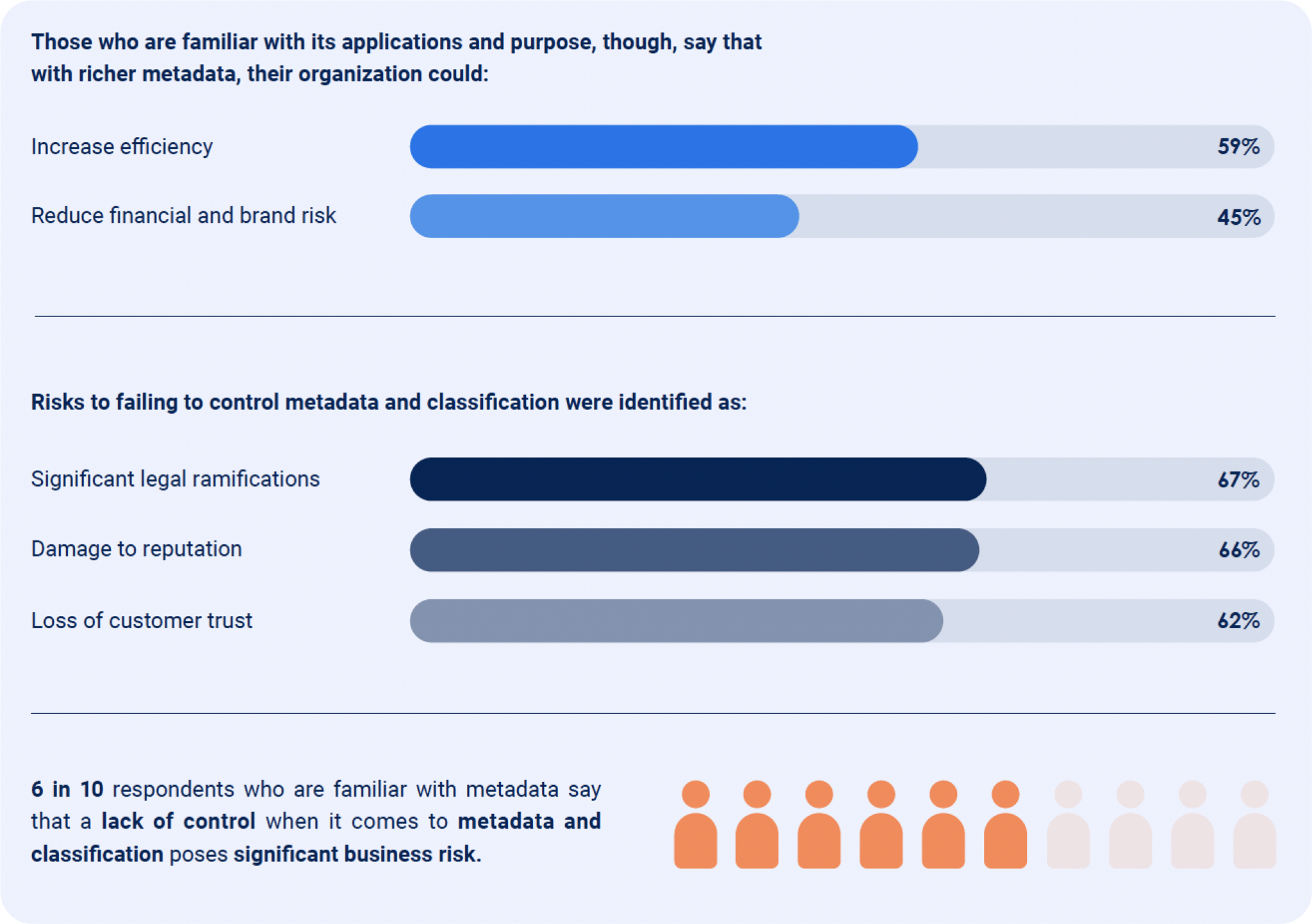 Streamlining tech stacks: reducing risk with integrated content solutions
Mirroring the growth of modern enterprise tech stacks, we now have more solutions to create and manage business content. 77% of our panelists say they have more tools than ever to create content and 74% of respondents report using four or more different tech applications to create and compile business content.
But, greater diversity in tech choices doesn't equal greater levels of security. In fact, an inflated tech stack can be a company's Achilles heel. These platforms need to be seamlessly connected to ensure the security of information throughout the entirety of employees' content workflows.

Then there's the issue of maintenance. The more solutions a company has, the more time and money they need to invest in testing these solutions, keeping them safe and preventing risk. This upkeep costs and can be an unnecessary drain on budgets. For example, one-third of the IT professionals we surveyed estimate that on average, one-third of their company's tech stack costs are unnecessary, including tools that aren't used or aren't used to their full potential.
How Templafy optimizes enterprise security through document governance
Templafy's next-gen document generation platform reduces risks by delivering on-brand and compliant content to employees when they need it from within the applications they're already using.
Our connected Content Enablement solution facilitates smooth and easy content distribution in a user-friendly workflow that teams can control without IT's help. Automating document creation and centralizing assets in one cloud-based solution, Templafy enables pre-approved, secure content to find people and workflows. Not the other way round.
Templafy also offers a number of additional security-first features including the integration of enterprise identity management (SSO). Our integrations with Single Sign-On and existing content applications gather content and employee information and deliver it directly to employee workflows inside content creation applications such as Microsoft Office and Google Workspace.
When it comes to metadata, Templafy allows different types of classification and metadata to be set up automatically at the very start of the document creation lifecycle. Documents can be populated with pre-set company policies, so Managers and employees can rest assured that all documents and company templates contain the right information for corresponding areas such as sensitivity level and user access. Additionally, Templafy actively enables Azure Information Protection (AIP) to further identify and safeguard organization's sensitive information.
Because Templafy gets data from many sources, including user profiles, integrated systems, or documents, metadata setup and control possibilities are also almost limitless, allowing businesses to develop their document governance strategies as their company grows and security plans evolve.
If you'd like to find out how Templafy's Content Enablement Software can optimize security in your tech stack and document governance in your workforce, get in touch. You can also download your copy of our Content is Everything report here to learn more about keeping content creation processes efficient and secure.