Ever wondered what it's like to start your career at Templafy? A lot of Templafyers begin their journey in the Sales team, as Sales Development Representatives.
To provide an insight into what it's like joining the SDR team, we caught up with two of our latest New York hires - Travis Alverio (left on the picture) and Mohak Sharma (right on the picture). Sharing their experience of Templafy so far, our recruits discuss everything from starting a new role remotely to a typical day as an SDR.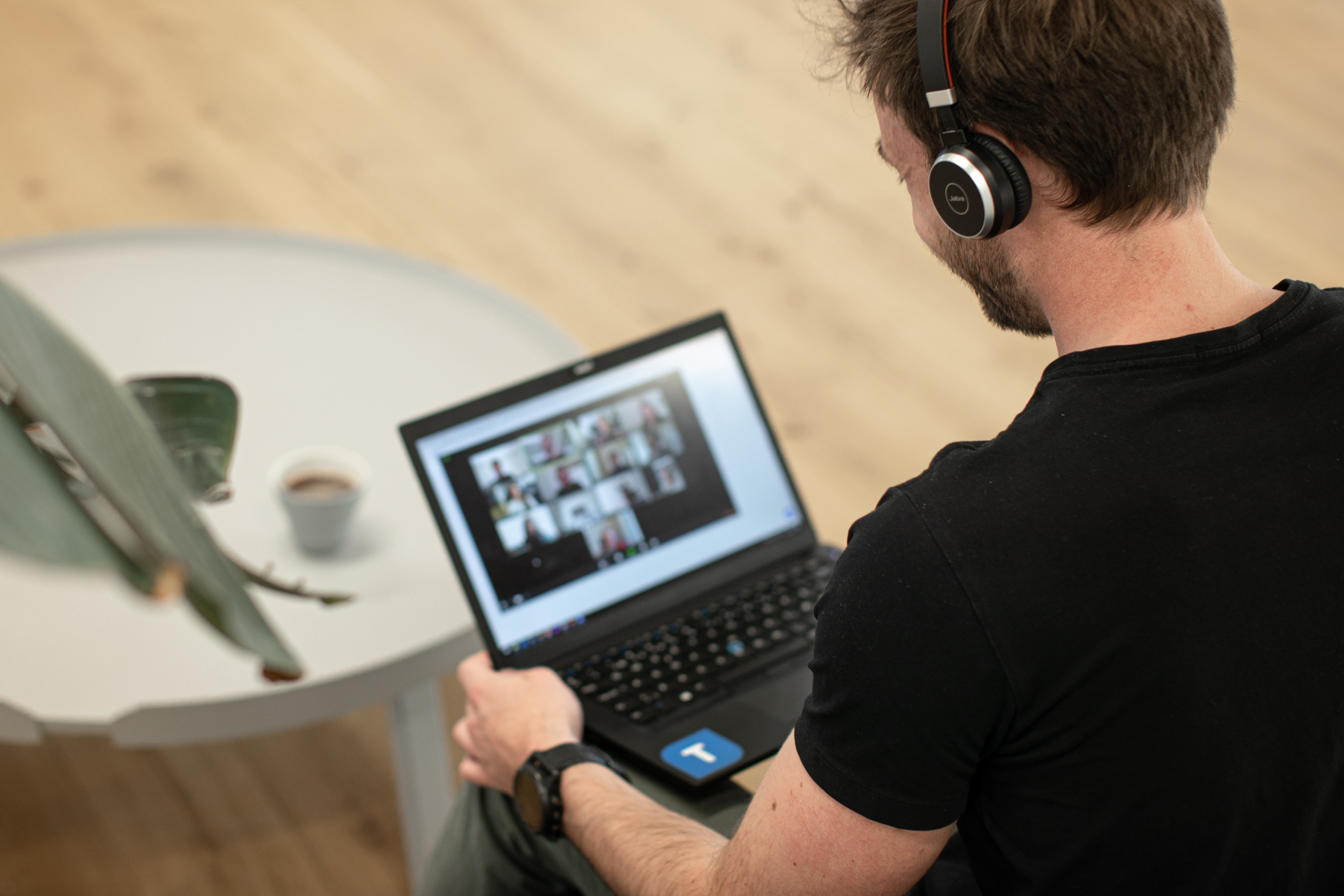 Can you tell us a bit about yourself?
Mohak: Absolutely! I'm originally from India. I grew up in a city called Jaipur, for the most part, and ended up moving to the US for college.
While studying computer science at Drexel University in Philadelphia, I transferred to Columbia University to study operations research. That move eventually took me to New York, and led me to my career at Templafy.
Outside of life at Templafy, you can find me playing tennis, hiking with friends, or watching Formula 1 over the weekends.
Travis: So I'm from New Jersey, born and raised. I went to school up in New Haven and then on to Yale University, where I was an economics major. Yale doesn't have an undergraduate business school, but I've always been drawn to the business side of the world, so I ended up taking that route.
Outside of work, I'd say my two main hobbies are sports (anything from playing pick-up basketball to football) and history. I've definitely been big on history podcasts lately - they're a great way to wind down after a busy day of talking to people or staring at a screen.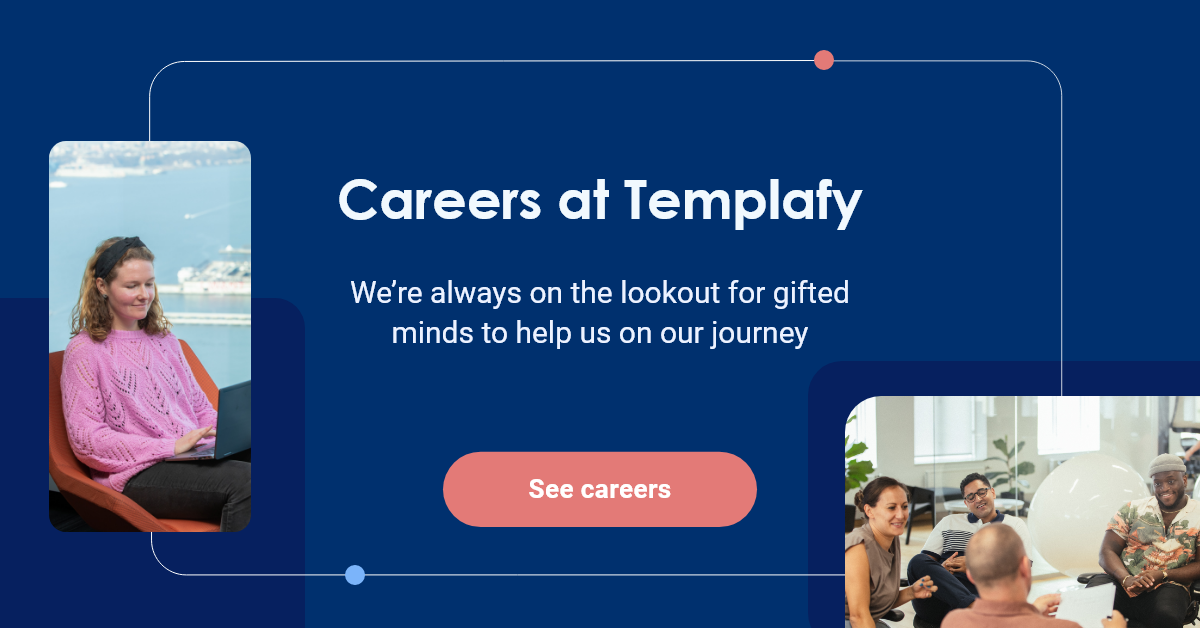 What work or professional experience did you have before joining Templafy?
Mohak: During my sophomore summer, I joined the Communications, Media, and Technology team at Accenture in India, which was a great experience. The next summer, though, I wanted to try out something different and ended up with an internship in the Global Markets team at Citigroup in their New York office. Though the position was a great learning experience, I didn't exactly enjoy the field as much as I thought I would, so by the end of my summer, I was exploring tech B2B startups instead.
Travis: I worked in a boutique investment banking firm after my junior year of college, and didn't necessarily love it. So, in my senior year, I started looking at tech jobs instead. I'd heard a lot about how tech startups and scale-ups can have a great company culture and knew it was an industry for rapid improvement and promotion.
I decided to focus on tech sales, specifically as a personal challenge. I never used to be a well-spoken person, especially when there was added pressure, like in interviews or speaking to random people on the phone. So I looked at tech sales as a way of succeeding in both my career and life; it would force me to work on my ability to talk to people and have good, in-depth conversations.
That decision led me to my first job as an SDR at a software startup in September 2019. But then COVID happened, and they had to let go of most of their sales team. Luckily, a few months later, I came across the opportunity at Templafy.
Why did you decide Templafy was the place to develop your career?
Mohak: That's a very interesting story. As I was nearing graduation earlier this year, I was approached by a recruiter working with Templafy. That's a call I almost ignored at first, but I'm so glad I didn't!
The company and SDR role sounded interesting, so I met the New York team. As I went through the interview process and interacted with more people, I began to understand the value that Templafy brings to the table and realized the scope of its scalability. In my previous roles, I was dealing with the exact pains that Templafy solves, and that really helped me understand why exactly Templafy is so valuable from an end-user's perspective. It just all made sense.
Beyond the product, I absolutely loved the people and the beautiful amalgamation of Danish and American cultures. After working in traditional corporate settings, I was keen to work at a company with a flat and agile structure. Ultimately, I realized that Templafy was just the kind of company I had been looking to work for.
Beyond the product, I absolutely loved the people and the beautiful amalgamation of Danish and American cultures. After working in traditional corporate settings, I was keen to work at a company with a flat and agile structure.
Travis: When I first came across the job posting for Templafy, the first thing that stood out to me was the product. As Mohak mentioned, the business pains we're working to solve are things I've personally experienced in previous roles so I immediately saw a lot of potential at the company. Being able to work with people across the globe and the travel that comes with it (once everything opens back up) was a major plus as well.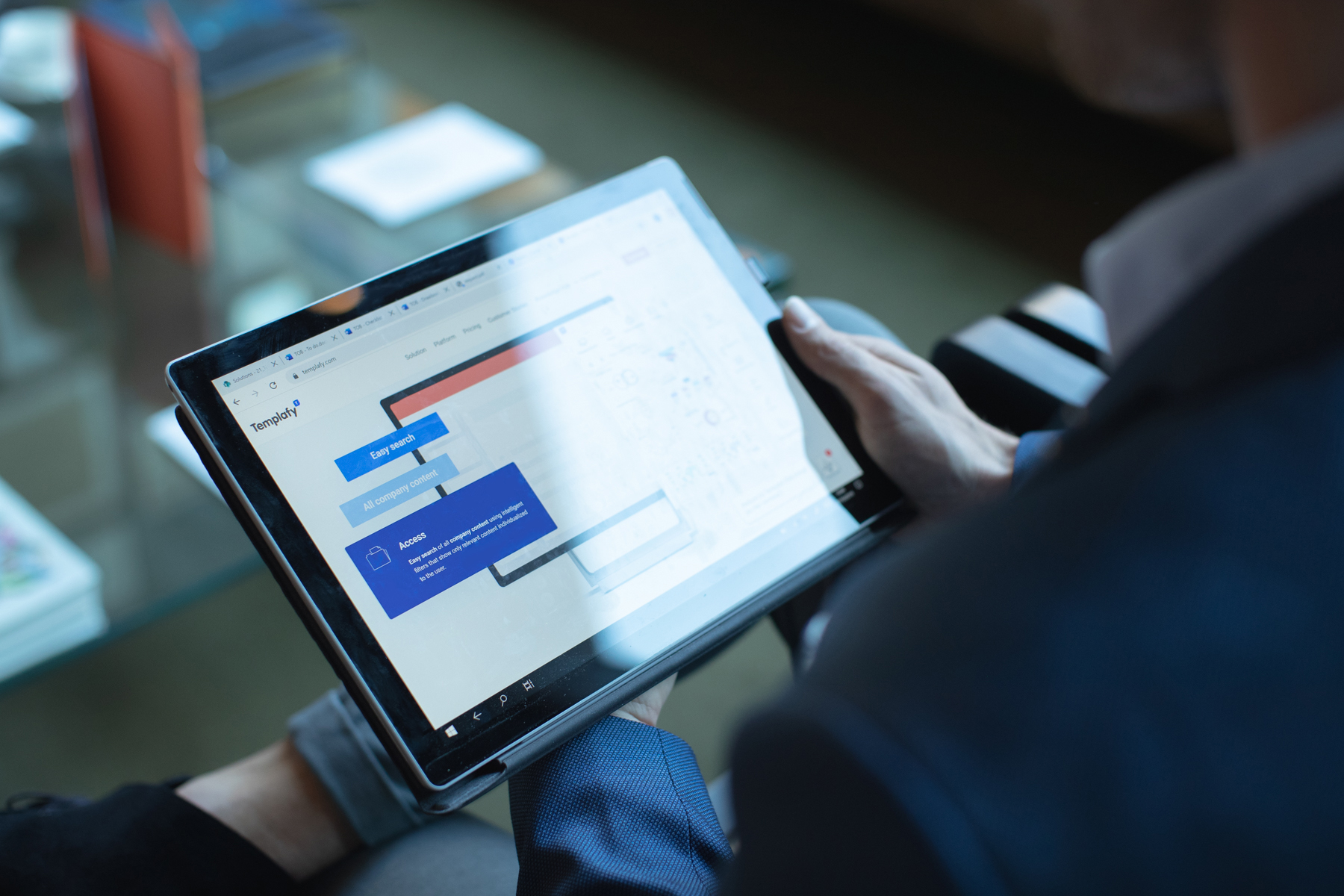 Another thing for me was that I was very much looking for more security, after being laid off from a company that was planning on having a Series B funding round. It was a big pull that Templafy had just closed a $25 million Series C funding round and raised almost $70 million in total capital.
Lastly, once I started interviewing and met everyone from the SDR team to the CEO, I was just blown away by the people. I immediately got a sense of the culture here and knew that I'd definitely go for it if they gave me an offer.
Describe your job in one sentence?
Mohak: I help develop new relationships with companies and help provide solutions to their problems, usually as their first point of contact.
Travis: Being an SDR is all about generating and capitalizing on interest out there about Templafy to set the larger team up for success.
Describe your average day at Templafy?
Mohak: I usually kick off my day with some coffee around 8:30 am. For the first couple of hours, I attend internal meetings, organize myself, respond to any emails from the previous day, and plan my day's outreach. I spend the next couple hours reaching out to prospects and top it off with a team huddle at noon. After lunch, I usually spend some time conducting due diligence on prospective clients and sometimes work on improving my outreach strategy using insights gathered from our outreach data. Between 3 pm and 4 pm, you can usually find me calling prospects and talking loudly over the phone! I end my day around 5 pm with an afternoon huddle with the team.
Travis: There's a ton of freedom in how I want to go about my day, but I've established a routine that works for me: I usually start my day with the team morning meeting, then for the next hour or two, I'll respond to any emails I've received from the day before, such as researching leads from the marketing team. From then on, I start calling people. That takes me up until our team meeting at 11.30 am. After lunch, I spend a couple of hours prospecting on LinkedIn, Google News, and Salesforce to find new accounts that might be a good fit. At around 3 pm, I'll call more people, and at about 4 pm, I'll get back on emails and set myself up for the next day. I'm usually done by around 5.15 pm, but sometimes I'll work a bit longer and spend time finding more accounts or calling people on the west coast.
What's your favorite part of the day at Templafy?
Mohak: We've been using a system called Donut, which randomly pairs you with another person at Templafy in a different location or department. Given how our employees are spread across the globe, I find those digital moments are a great way to meet others, get to know the team better, and learn more about the company.
Travis: For me, it's definitely our mid-day team huddle. In the morning, you're either going to have some successes or encounter some obstacles. So having that 11:30 am meeting is great because you can brainstorm ideas and solutions with your team. It's also a chance to speak to people and engage in "water cooler" talk. I really miss that about the office, so it's definitely a highlight of the day and makes me super excited to work with the team in person.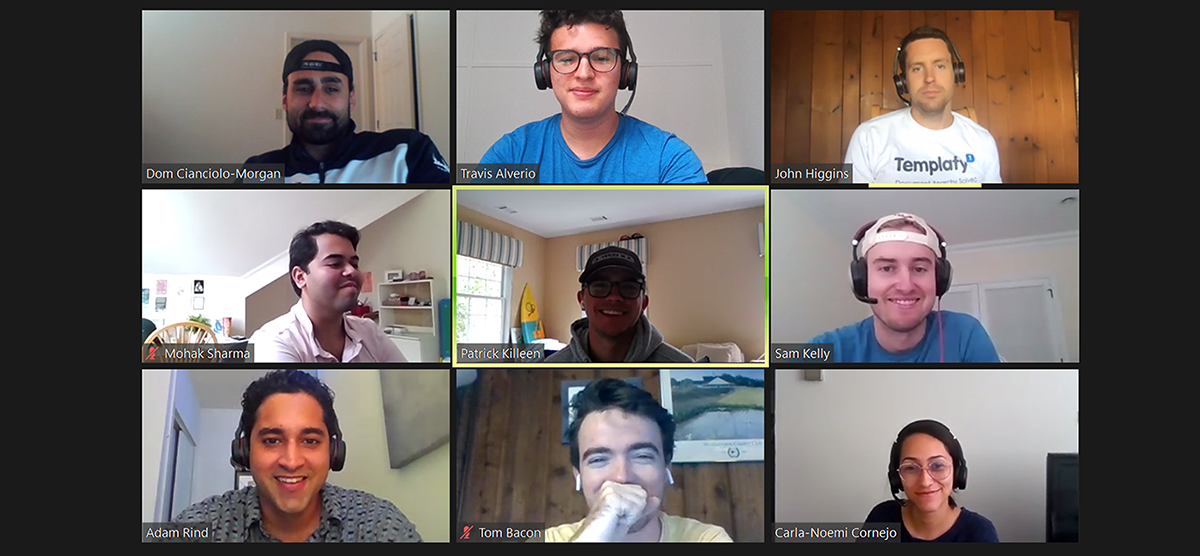 Now you're working from home, what do you do to stay connected with your team and have fun?
Mohak: It's honestly been amazing how well working from home has worked out. We usually meet at least twice a day as a team, where we discuss interesting stuff both inside and outside of work - all the way from sports to the stock market. We usually top off our week with a virtual happy-hour every Friday after work with the entire New York team. That's always a fun end to the week.
Travis: As Mohak mentioned, there's the day to day like team huddles, weekly happy hour, and also Donut, but our People team has also done an amazing job of setting up virtual activities. The other day we all got sent a bottle of wine for a virtual wine tasting hosted by a sommelier. That was super interesting. Next up, we've got our NYC office party, which will be virtual too. I'm excited to see what the team has planned.
What do you think about the work-life balance at Templafy?
Mohak: In a nutshell - it's amazing! I like the Templafy way of working hard over the week and managing time as efficiently as possible. It really allows you to enjoy life outside of work. You can see that the management team really cares about your personal and professional development and has a very holistic view of things.
Travis: There's a much better work-life balance here compared to places I've worked before. Templafy does an awesome job of giving you all the resources you need to hit your numbers and working hard throughout the day, but then balancing that with an emphasis on taking time off.
I like the Templafy way of working hard over the week and managing time as efficiently as possible. It really allows you to enjoy life outside of work.
What do you enjoy most about your job?
Mohak: I absolutely love the hustle! The team here is really energetic and encourages you to try new ideas and push yourself every day.
I also think Templafy is giving me a unique opportunity very early in my career to learn more about B2B sales, and to understand first-hand how a fast-growing SaaS company operates. With Templafy's flat structure, everyone talks to each other on the same level, and everyone within the company is accessible across geographic locations. It's great if, like me, you're interested in learning more about other departments within Templafy and how the company operates as a whole.
Given how fast we are currently scaling up, there is also no such thing as constant - our processes are always changing, and the team gives me the autonomy and trust to explore new ideas and take initiative.
Read next: What to expect from remote onboarding
Travis: It really has to be the people I work with - everyone from senior managers to the other SDRs. They're all phenomenal, both personally and professionally. From a personal standpoint, they've really helped me get to know everyone and make sure I'm situated and happy. Professionally, every bit of feedback has been super helpful at making me better at my job. I'm so excited to get back in the office and be around everyone throughout the day and do more in-person work socials.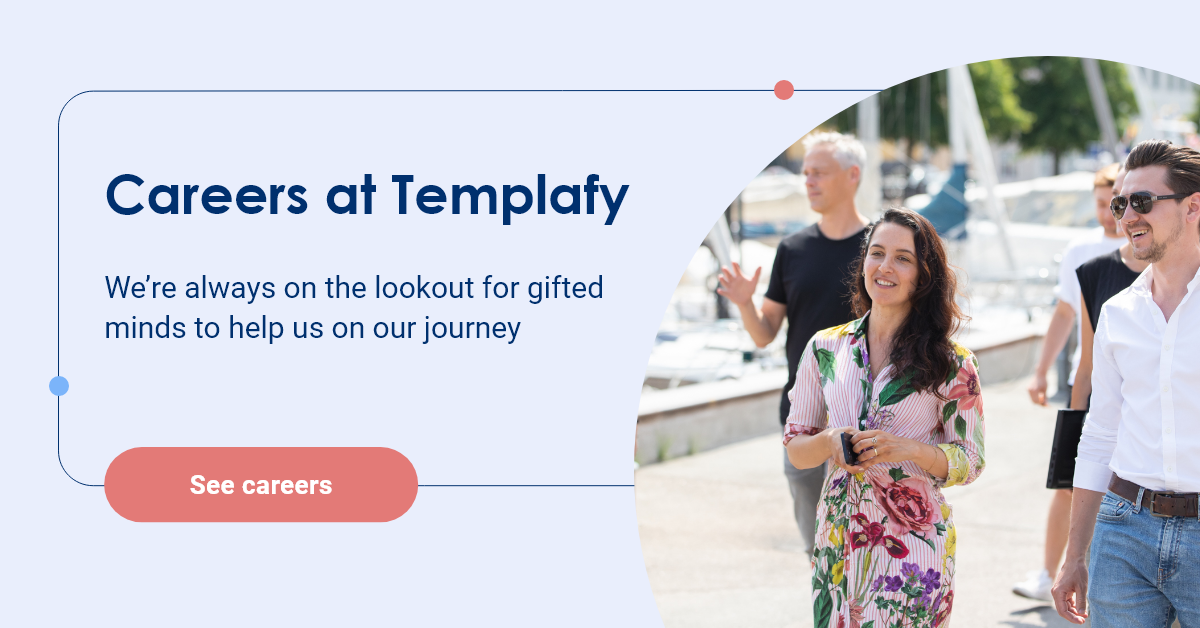 What would you say your goals are for 2020 and beyond?
Mohak: Personally, I'm looking to develop my sales skills further and understand more areas of the business. I want to keep engaging with new ideas to help create new processes and improve existing ones. Of course, there's also our collective focus on beating targets and growing revenue.
Travis: From my conversations with everyone, it's become really apparent that being an SDR at Templafy means you're set up for success. There are a ton of opportunities for both vertical and lateral promotions. I've heard so many stories of people who started as an SDR and moved into sales engineering or marketing roles. So I'd say my goals for 2020 and beyond are to crush my job, take in as much knowledge as possible, find what works for me and, if the right situation comes up, move to my next role at Templafy.
Being an SDR at Templafy means you're set up for success. There's a ton of opportunities for both vertical and lateral promotions.
If you're interested in starting your career at Templafy, head to our global careers page, or follow us on LinkedIn for our latest vacancies.