Microsoft recently announced the upcoming launch of its Outlook roaming signature feature. To clarify the difference and impact of Microsoft's new feature, we will explain here what the roaming signature feature is, and how it impacts Templafy's solution. Additionally, we have prepared a comparison chart to give a clear picture of the differences between Microsoft and Templafy's email signature solutions. 
About Outlook roaming email signature  
 The new Outlook roaming email signature enables users with a Microsoft 365 or Outlook.com account to sync their Outlook signature across different devices. Signature settings are stored in the cloud for a consistent experience when accessing Outlook on any computer. Source: Microsoft 365 Roadmap
The first release of the roaming feature explicitly addresses Outlook on Windows PCs. This means that Outlook online, on mobile devices, and Apple devices, will not initially be covered. Additionally, this feature synchronizes the default signatures for new and reply messages for each user account.   
Limitations of the Outlook roaming solution
 While Microsoft's Outlook roaming feature will help employees synchronize their signatures across devices, it cannot centrally manage and deploy on-brand email signatures to employees. Additionally, it cannot help with publishing instant updates to legal disclaimers or marketing campaigns. Templafy will remain crucial to achieving all of this.  
Templafy's Email Signature Manager solution 
 Templafy helps enterprises worldwide to centrally govern brand and legal compliance in their communications, including every email signature sent from any device.  Templafy's value resides in managing all email signatures, supporting initial deployments, and subsequent updates to all employees for all their devices, including Office Online, Apple, and mobile devices.  
Check out the table below to get an overview of the functionalities of the Microsoft Outlook roaming signature compared to Templafy's Email Signature Manager. 
View the full comparison table here.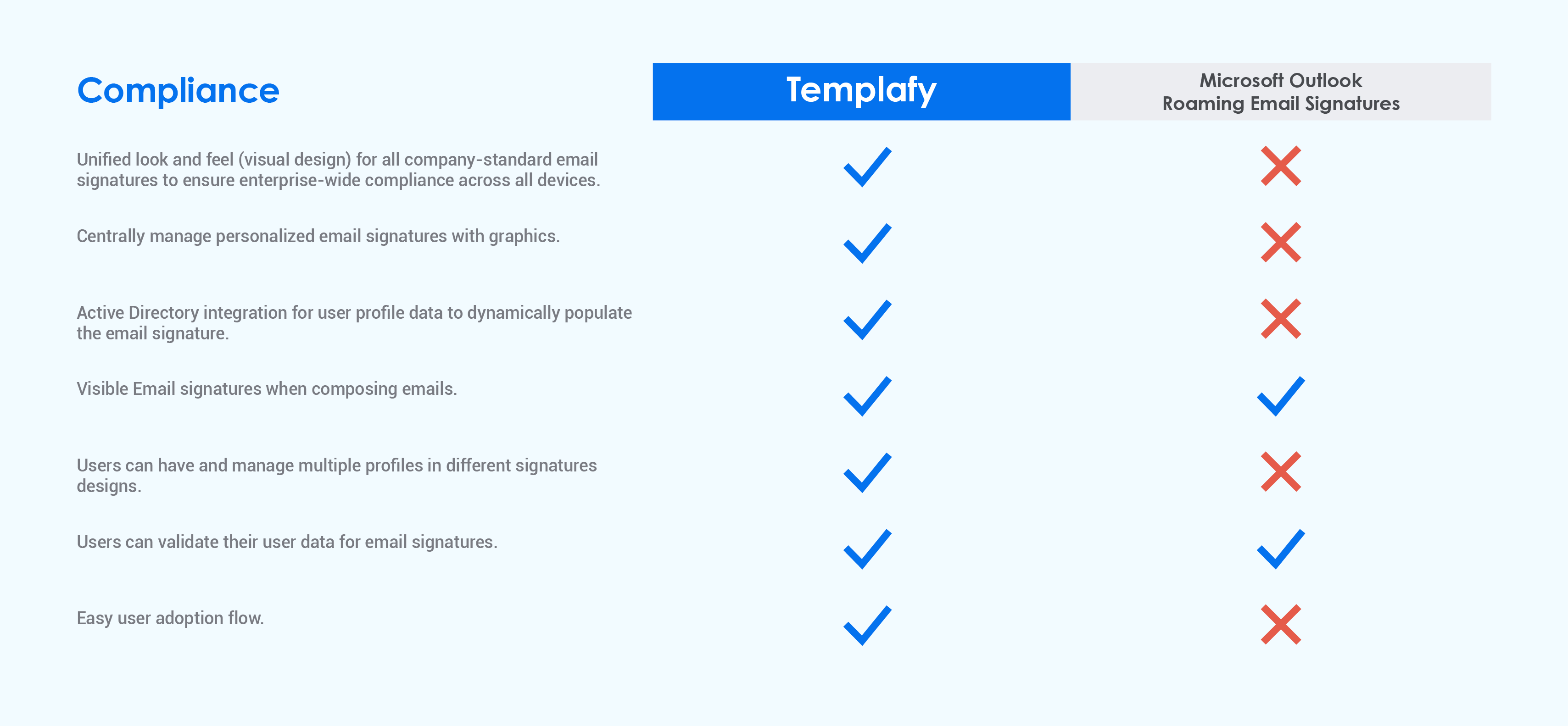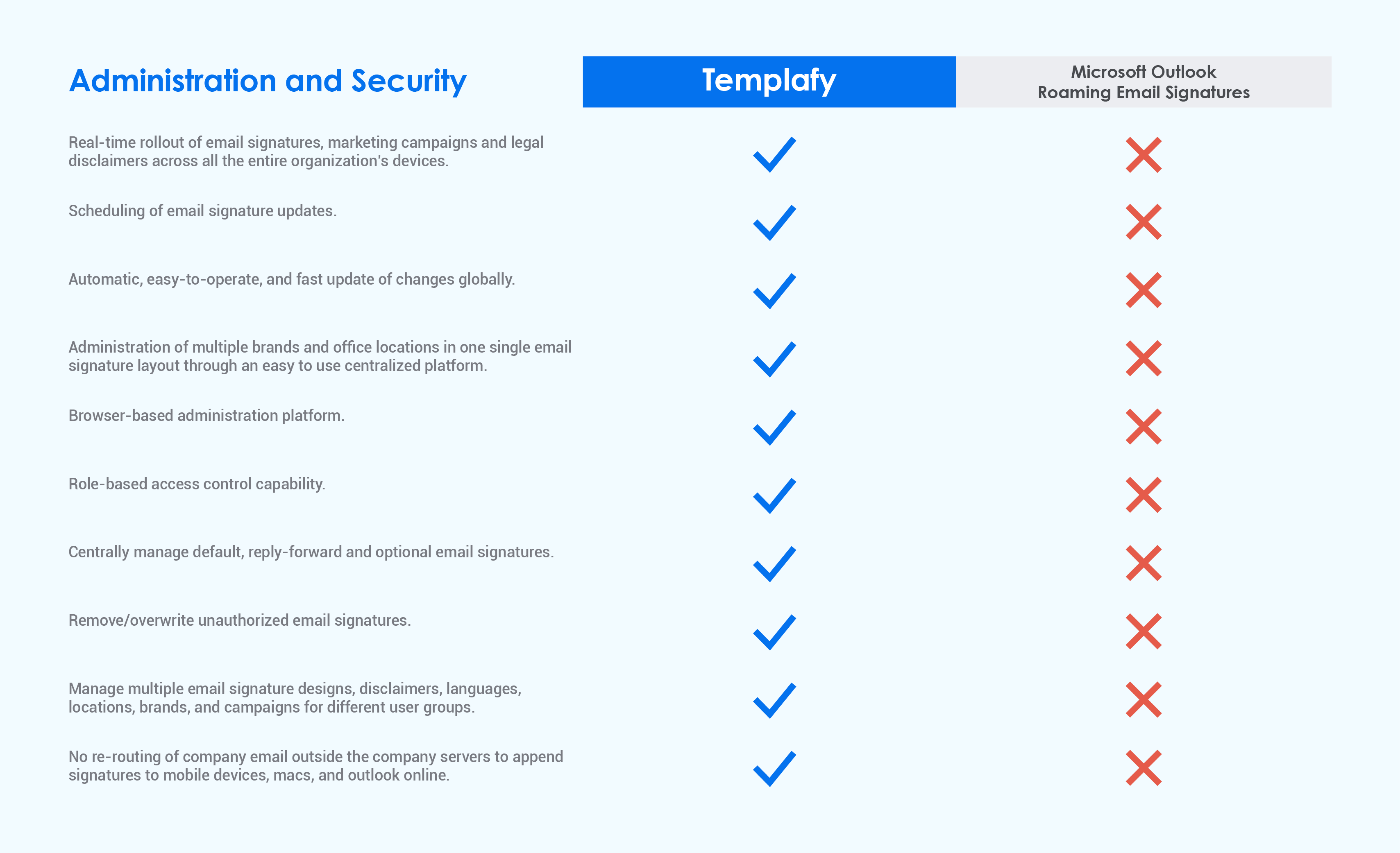 How will Outlook roaming signature affect Templafy? 
Templafy's offering for Email Signature for Office 365 is comprised of server-side and client-side solutions. Our server-side solution will not be affected by this new feature, as it will still be crucial to ensure email signatures are applied to all devices (mobile, Apple devices and online). 
For our  Email Signature add-ins for Outlook on Windows, it will be necessary to update the way to interact with signatures that are not stored in the users' local machine.   
Microsoft states that this new feature will require third-party add-ins that extend Outlook signature capabilities, such as Templafy's, to change how they handle signatures. Microsoft also suggests disabling the Outlook roaming feature as a first temporary measure to ensure that such third-party add-ins will continue to work as intended.   
Current Templafy customers and Outlook roaming signature
Microsoft explains how to disable the roaming feature in this blog post. Templafy customers are not required to make any changes. Templafy Desktop will automatically disable the feature with a planned update.   As a second step, we will update our Email Signature add-ins for Outlook on Windows and distribute the new version with an update through Templafy Desktop.  Learn more about this from our support site: Roaming Signatures for Outlook support article.
As the Outlook roaming signature feature is still in development, Microsoft has yet to provide detailed instructions on how to interact with the Outlook signatures. We are in close communication with Microsoft and will develop such a change as soon as possible to ensure that our customers can use the new roaming feature.   
If you would like to learn more about Templafy's Email Signature Manager, please feel free to get in touch.