When it comes to corporate design terminologies, how clued up are you on your definitions? Does it really matter if you can't differentiate between corporate identity and brand image, or if you struggle to clarify your brand's positioning from its values? The answer is yes.
Understanding and implementing these key marketing terms determines how effectively a brand is visually represented, how audiences interpret its messaging and a company's strength in fast-moving, competitive markets.
To understand why corporate identity is so important, below, we tackle the most frequently asked questions on the topic and then explore three corporate identity examples from a few global corporate id masters.
Read next: Elements of corporate identity
What do you mean by corporate identity?
Corporate identity is how your business presents itself to the outside world. Although internal culture and values are integral to shaping company identity, the corporate identity definition applies to a company's visual assets and brand design.
What is corporate identity and branding exactly?
Essentially, any communication or information you see when you interact with a brand is part of its corporate identity. Although logo design sits under corporate identity, the term reaches far beyond this visual icon to encompass graphic design elements such as fonts, illustrations, colors, photography, and animations.
You'll see examples of corporate identity on everything from social media posts to billboard ads, staff uniforms to letterhead, product packaging, to app profiles.
What is the main purpose of corporate identity?
When a company's visual elements are implemented correctly and consistently, they work together to create a corporate brand identity that is instantly recognizable and memorable.
Consistent and ownable brand consistency gives you more control over your all-important brand image, which, although made up of individual interactions with your company, can be swayed or at least impacted by a strong corporate identity.
How do you create corporate identity?
A corporate or company identity can only be built once your internal team has aligned on your brand's positioning, mission, values, messaging, and personality. With this strong foundation in place, you can then work with your design team or a corporate identity design company on creating a visual language that reflects your brand.
These visual identity markers should be as strategic as they are creative. Rather than rigid fixed brand components, your design elements should also be agile, keeping your business relevant throughout changing market and consumer landscapes. That can include corporate design changes to your typography, color schemes, web design, and much more.
If you're looking for some inspiration for corporate visual identity, here are three brands that have completely nailed this space in their unique way.
Editor's note: Corporate typeface: how bespoke type empowers your brand
What is corporate identity to Airbnb?
Like many tech startups (such as Google, Amazon, and Apple), over the years, Airbnb's business model has evolved to allow the brand to enter new markets. In this case, Airbnb transformed from a listings site to a major player in the competitive travel industry and, more recently, into an innovator in the experience economy.
This brand evolution has been matched with a continually shifting corporate visual identity - most notably with its 2014 rebrand. To communicate a new brand image to its growing target group of travel-loving hosts and bookers, Airbnb teamed up with DesignStudio to completely transform the company's previous visual identity.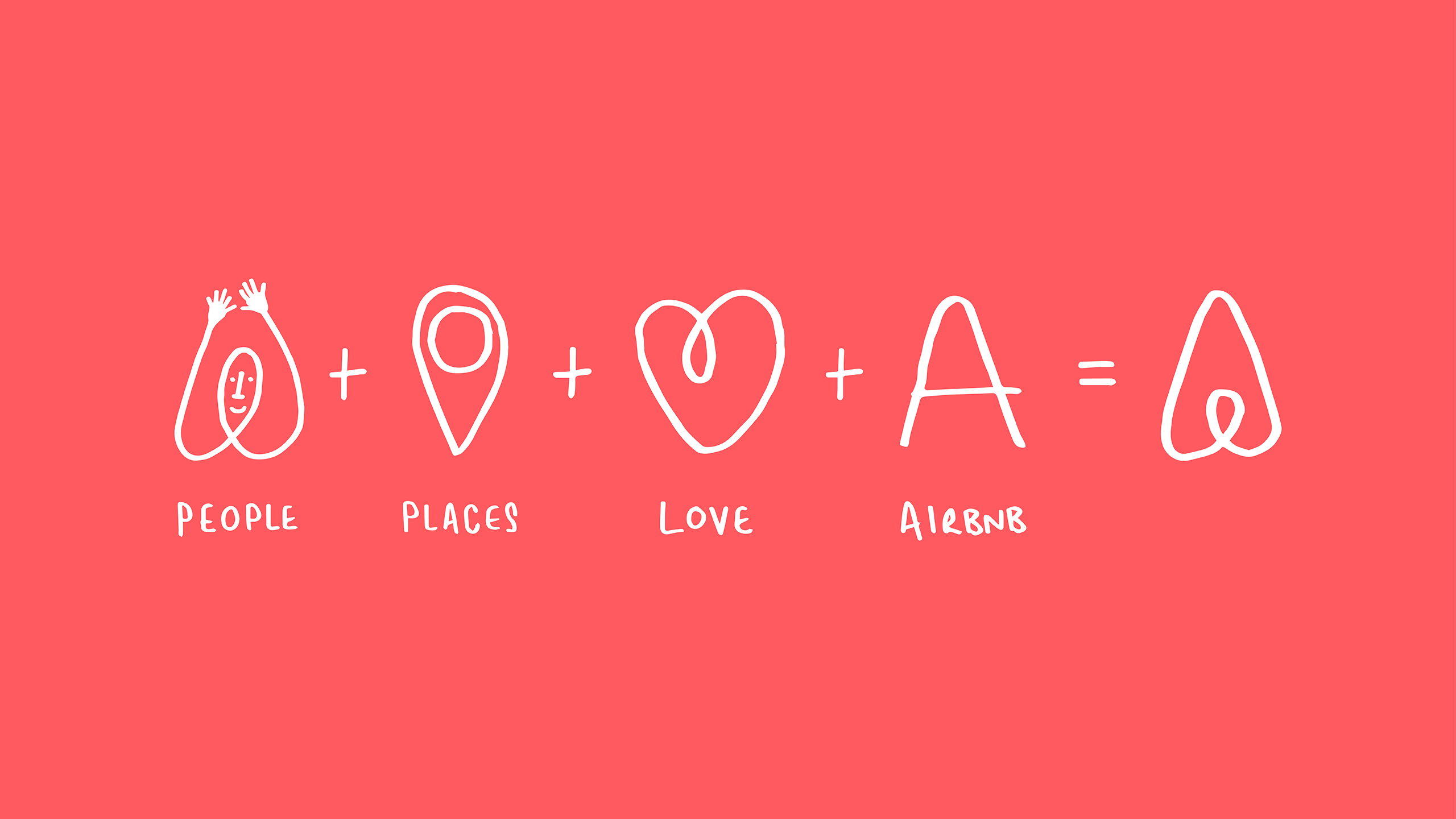 The result was Airbnb's famous 'belong anywhere' slogan, powerfully visualized by a brand new logo design. The revised logo matched the new brand positioning perfectly, with a universal 'A', designed to transcend language barriers and symbolize a united community.
Add to this a more versatile color palette and a series of illustrative, universally recognizable icons, and Airbnb's corporate identity instantly became more modern, international, and approachable.
Since 2014, Airbnb has continued to build on its corporate identity, fine-tuning its original rebrand to adapt to its changing platforms and communications. Now catering for experiences as well as bookings, and with marketing content covering everything from a print magazine to social media channels, Airbnb confirmed the importance of its visual identity in a recent blog post, stating that "design principles still guide us every day."
Most notably, this can be seen with the expansion of its 2014 illustrative route, as well as its human-led photography style. Each tweak or iteration to its strong company identity builds on Airbnb's warm, engaging, fun, and inviting brand image.
What is corporate identity to Spotify?
Spotify is another great example of a brand that uses corporate design to establish itself in diverse markets and connect with new audiences.
During its shift from a music streaming platform to a global entertainment brand, the industry disruptor has undergone several important visual changes to its corporate brand identity.
In 2015, the company ditched its solid green and white color palette and logo for a new minimalist logo design, vast 31 color palette, and gradient-style textures.
The move gave Spotify an edgier, vibrant, and bolder image that rivaled traditional entertainment brands in the music industry. Freeing itself from a rigid duo color scheme also allowed the brand to apply a consistent look and feel to its diverse content. Whether promoting a grime artist or a classical performer, all of Spotify's communications now have the same look and feel without compromising its artists.
Like Airbnb, Spotify serves as a key reminder that a company with a strong brand is one that is adapted and updated over time. In April 2020, for example, Spotify revealed a rebranding campaign that reworked its extensive color palette, tweaked its fonts, and introduced a new motion language of animations and transitions to the brand's visual identity.
What is corporate identity to NatWest?
Unlike our previous brand examples, UK firm NatWest remains firmly in its original industry of banking. However, in diversifying its offering from physical in-store services to a host of digital products, its previous corporate visual identity was due a refresh to keep up with its new online positioning.

Through "Unlocking the power of the individual cube" (aka the company's old, 2D logo), design agency FutureBrand took the brand look to a new, digitally optimized level with 3D shapes and a tricolor palette.
This logo-inspired direction resulted in more animated, playful, and colorful brand guidelines, freeing up NatWest's design team to create on-brand assets that unite the company's physical and digital spaces.
Particularly with challenger brands such as Monzo, Starling, and Revolut bursting onto the banking scene with fresh, user-friendly, and eye-catching designs, Natwest's new corporate identity has also helped it stay relevant in an increasingly noisy market.
The corporate identity take out
Design inspiration aside, these acclaimed corporate identity examples demonstrate the importance that consistency plays in branding. If you're looking to refresh or completely rebrand your company identity, your team must consider every aspect of the design process that falls under the umbrella of 'corporate identity'.