A man who knew a thing or two about brand thinking once proclaimed: "Design is not just what it looks like and feels like. Design is how it works."
When Jobs said this (now infamous) quote in 2003, branding and design worked in a very fixed way. Built on decades of traditional practices, successful brand development processes went something like this: build your brand, keep it consistent, do not waiver from the style guide under any circumstance and repeat, repeat, repeat.
This brand architecture meant that it didn't matter whether a company was operating in New York or Norway, as consumers would always get the same message, visuals and consumer experience. For a long time, it worked. Think of Coca-Cola's iconic ads, Tiffany's timeless style, McDonald's language-transcendent golden arches and catchy jingles. When it came to building a brand in the past, dedication to consistency and stability paid off.
While Jobs' words have stood the test of time, the age-old brand approach of stability matched with consistency has not. For modern enterprises, brand design has to be flexible, with the capacity to work very differently to both previous decades and previous years. With the speed and sophistication of today's technology developments, consumers are interacting with brands on an ever increasing number of channels. Following the interactive nature of digital channels, consumers hold more power than ever and brands have largely lost their autonomy over brand identity.
While brand value is still inextricably linked to consistency, enterprises also have to factor in relevance, flexibility and open-ended design - so in 2020, brands don't just have to look and feel great, they also need to work to an agile branding model.
Find out how LRW ensures brand consistency
What is agile branding?
Agile branding is the creation of a brand that can adapt to different platforms, cultural movements and consumer moments. As the antithesis to the rigid stability of old brand structures, agile branding is flexible enough to remain relevant in fast-changing environments, while always delivering the consistency of a brand's core values.

The Branding Journal have a particularly handy breakdown of agile branding:
"Agile identities are adjustable; they adapt to different contexts, like a person adapts to social situations, such as a business dinner or a Friday beer with friends. However, a brand message remains unchanged. In fact, a solid strategic base and a distinct message make it easier for an identity to adapt."
Why does agile branding matter? Because keeping up with change doesn't just equate success, it also determines whether or not your brand has a future. According to Forbes, due to globalization, technology and lower barriers to market entry, over the past decade around half the companies in the S&P 500 Index have been replaced, and by 2020 listed companies are expected to last just 15 years. The fight is to remain relevant and memorable to the consumer and if agile branding enables this change, it's needed now more than ever.
How do companies adopt an agile branding approach?
Unlike in the past when success was tied into maintaining a good-looking logo design or choosing a great brand name, agile branding is a more disruptive, ongoing process. Agile branding focusses on a single core business proposition above all, and ensures it maintains constant, while simultaneously adapting the outward processes to relevant contexts.
Just look at Google. Although they started with a basic 'search' function, their core value of access to information allowed them to grow the brand to a global entity with hundreds of different products, from Alexa to Google Play. Similarly, Spotify's 'music for everyone' proposition has allowed them to go from a streaming service to a worldwide entertainment brand. Facebook's original model of connectivity has seen the company develop from a dorm room site to one of the most influential advertising and communications brands in modern history.
What all these agile brands have in common is that they're positioned to move with the times to ensure their design works for the changing needs and behaviors of consumers. Even if a brand is steeped in history and tradition, it can move forward through agile branding - as demonstrated by Pernod Ricard's Absolut vodka.
The Absolut embracing of cultural change
Absolut, a Swedish vodka brand, has successfully lived in both traditional and agile brand models.
Absolut can claim one of the longest running print ad marketing campaigns in history - it all started with the original Absolut Perfection ad in 1981. Absolut took the initial brand strategy decision to avoid direct comparisons with rival brands through a positioning strategy which "relied on the promise of an entirely new experience."
With a bottle that looked totally different from its competitors, the 1981 ad formula of unique bottle outline + brand logo + clever word and imagery play has been used in over 1,500 variations to create smart and culturally relevant ads. Building on the notion of new experiences, Absolut tapped into the art world - starting with Andy Warhol in 1986 and going on to work with over 600 of the world's top artists including Keith Haring, Arman Armand, Romero Britto, Annie Leibovitz, Helmut Newton and Damien Hirst to reinvent their tried and tested bottle ads.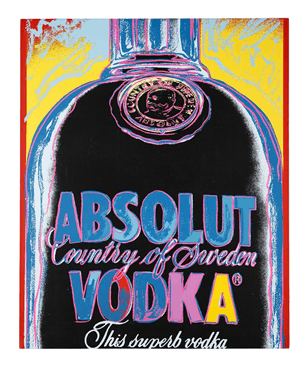 Absolut's bottle ads are iconic and provide instant brand recognition, but in today's climate of multiplying digital channels and increased category competition, there's only so much sway a run of print ads can have. The key to Absolut's current brand success hasn't been a decade old ad formula, but the way in which the drinks enterprise has moved on to adopt a more agile brand marketing model.
Stemming from its very first brand positioning of 'the promise of an entirely new experience', Absolut centralized beliefs around creating a more open, equal and inclusive world. It put down roots in the world of arts and culture and formed a brand identity that kept on top of cultural trends.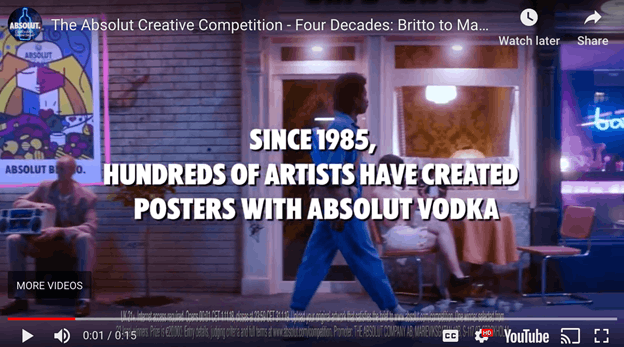 Absolut took its central beliefs and heritage into the modern era through a range of diverse campaigns. In 2016, they launched Absolut Art - an online art commerce site that 'democratized' art buying in the US. Two years later, the Absolut Creative Competition tapped into the rise of user generated content by putting creativity in the hands of their customers, with a bottle design competition to represent the slogan 'Create a Better Tomorrow, Tonight.'
Absolut's agile thinking has also allowed them to take their notion of inclusive culture to associate themselves with hugely significant cultural movements such as the rising support of the LGBT community. From the powerful "Equal Love" film to the most recent launch of Absolut Drop in February 2019, Absolut has found a way to bring a whole new level of meaning, dimension and creative opportunities to the brand.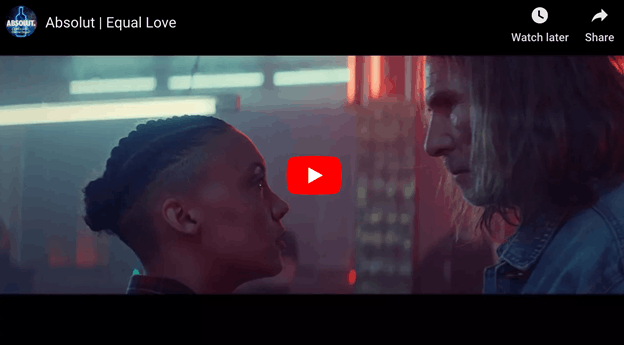 Building out from Absolut's core value, these campaigns all encouraged creativity, had deep roots in culture and embraced new experiences. Absolut's agile branding model was flexible enough to maintain relevance alongside playing into the latest cultural movements and media consumption trends as they catered for changing times and attitudes.
Read next: Designing for success - 4 elements of corporate identity
It's blue: how Innocent's agile brand responds to consumers
Agile branding responds to the opinions and inputs of consumers. Over the years, this has changed due to the increasing technological nature of communication – where once brands received feedback from consumers over physical letters or telephone calls, they can receive it more immediately from a vast range of customers over social media comments or replies. This can bring a challenge, but also highlights how successful agile branding can be when the two-way relationship is handled appropriately.
One excellent example of this is shown by Innocent, a brand known for their fruit drinks and smoothies. Innocent's branding is exceptional, and their cheeky tone of voice and humor are apparent across all their communications, from bottle labels to Instagram accounts. Their logo is a face with a halo, and they intend their communications to be 'innocent', as a reflection of the simple innocent and healthy nature of their products. Their ability to be flexible and agile in their branding was highlighted in 2019, with a new juice named 'Bolt from the blue'.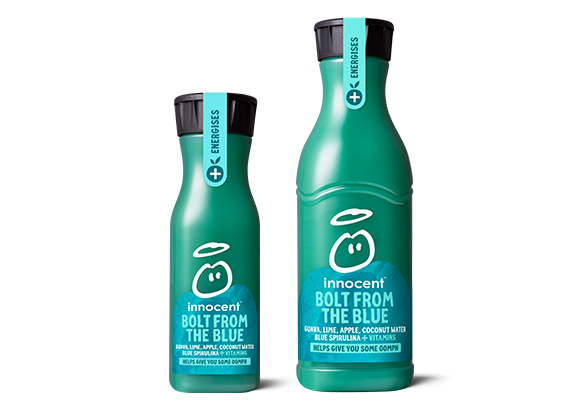 However, when the juice was released, the color was widely disputed by customers, who took to social media to complain that it was in fact, green. Rather than ignoring these comments, Innocent decided to reply and retweet a large number, reinstating that the drink was in fact blue – given their well-established brand tone of voice, this response came across as amusing and childlike. Innocent committed to their cause, and continued to respond, retweet and interact with those who stated it wasn't blue – every time insisting it was blue.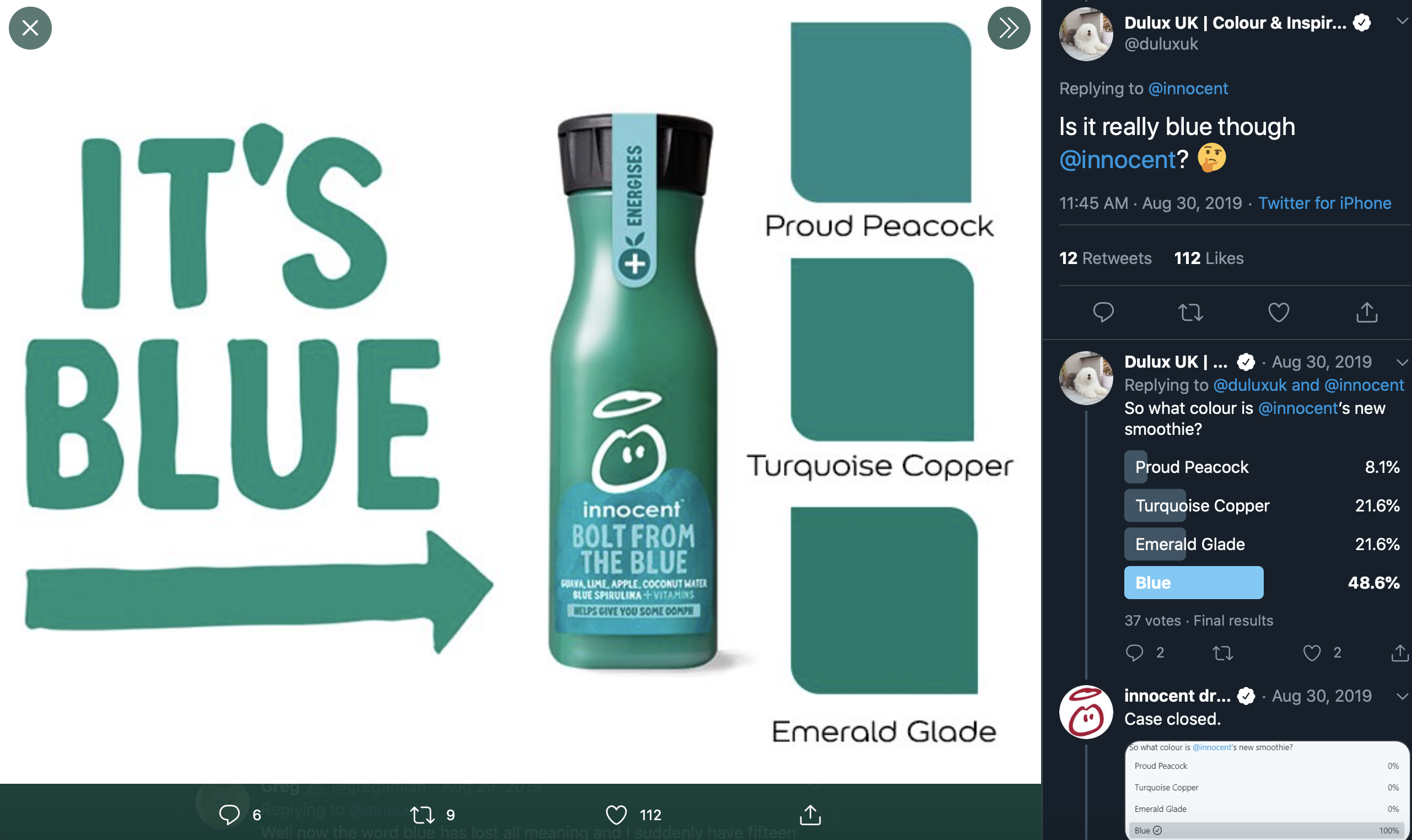 They even interacted with other brands, such as the UK Dulux Colour account who questioned whether it was blue, with the answer 'Yes', and then tweeting 'Who are you going to believe, us or The Colour Experts? Obviously us'. On just the first day of these responses, Innocent received one million organic impressions – which within just a few days had soared to over 20 million. So effective was this engagement with the audience, that Innocent focused on it and continued to respond, producing new content reiterating the message that their drink was blue, responding and retweeting comments, and even going as far as getting a member of the noughties boy band Blue to participate in a video about how the drink is blue.
Innocent chose to take their reaction further, with a promotional blue bus and blue café, abandoning their planned brand strategy for the year in favor of adapting to their consumers' response to the blue juice - all of which proved hugely successful. If Innocent had been less agile with their branding and reluctant to engage with the opinion of their customers and focused instead on their planned strategy, there would have been much less engagement and success.
Instead, Innocent were aware that they needed to respond to this unexpected consumer reaction in a brand-appropriate manner. Although the feedback may have initially looked negative, and suggested that Innocent had made a huge error in the name for the juice, instead of hiding the reaction or changing the name, they embraced the different opinion and the result was powerful. Through their response of adapting to the moment and the feedback, they managed to promote both their product and brand more than they ever expected. Brand agility like this can only come from knowing the strengths of your brand and ensuring every action, including every social media retweet is fitting and consistent with this brand image and identity.
How can companies optimize agile branding?
Agile branding is dependent on maintaining consistency alongside being able to adapt to enterprise change, at all times. When branding starts internally with employees acting as the daily communicators of your brand world, businesses need to make sure their teams are keeping up with their evolving brand identity.
By arming employees with tools such as Templafy, which are designed to answer branding identity challenges and implement brand consistency, you're ensuring every element of your communication is consistent, from email signatures to contract, sales pitches, invoices, big billboards, clever social media campaigns and the latest experiential marketing events. This allows your employees to adapt content to whatever is happening at a current moment, whilst ensuring that the brand integrity is maintained.